Samsung unveils fifth generation Galaxy S5
MANILA, Philippines - Manila's tech-crazed fans flocked to Samsung Hall for the launch of the latest member of the Galaxy S series, the Samsung Galaxy S5. The new Galaxy S5 offers consumers a refined experience with innovation of essential features for day-to-day use. It combines an advanced camera, fast network connectivity, dedicated fitness tools and enhanced device protection features as consumers stay fit and connected in style.
"With the Galaxy S5, Samsung is going back to basics to focus on delivering the capabilities that matter most to our consumers," said Coco Domingo, product marketing head for IT and Mobile at SEPCO. "Consumers are looking for mobile tools that inspire and support them as they improve their everyday lives. The Galaxy S5 represents an iconic design with essential and useful features focused on delivering a heightened smartphone experience."
Some of the amazing functions of the new Galaxy S5 include a 16-megapixel camera with an enhanced menu and user interface, an advanced High Dynamic Range (HDR) feature that reproduces natural light and color similar to how the human eye captures images, a new Selective Focus feature that focuses on a specific area of an object while simultaneously blurring out the background and vice versa, MIMO (multi-input, multi-output) technology, a comprehensive personal fitness tracker to help users monitor and manage their wellness, along with additional tools including a pedometer, diet and exercise records and a new built-in heart rate monitor.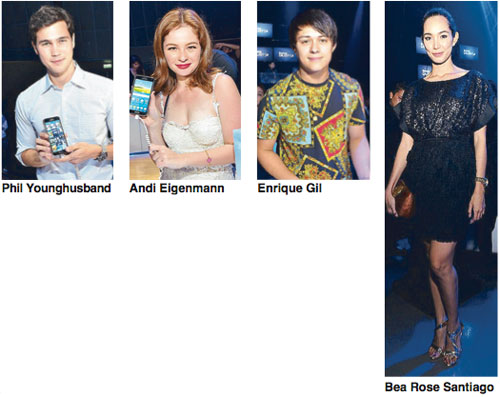 The Galaxy S5 features a perforated pattern on the back cover creating a modern glam look that comes in Charcoal Black, Shimmery White, Electric Blue and Copper Gold. It is also dust and water resistant (of up to 1 meter for 30 minutes), has a Finger Scanner and an Ultra Power Saving Mode that turns the display to black and white, and shuts down all unnecessary features to provide the consumer with up to 12 days of battery life.
The event was well-attended by Manila's hip set led by Ingrid Chua-Go, Ruby Gan, Ralph Tee Ten, Jorge and Nikka Abes, Sidney Yap, Apples Aberin, Carlos Fernandez, Duane Santos,Mars Miranda, Bea Rose Santiago, Tony Taus, Marj Sia and Harry Cheng, Gretchen Fullido and Dale Azcueta. Seen dancing to the mix of DJ Tom Taus were Enrique Gil, Gretchen Fullido, Phil and James Younghusband, JM Rodriguez, Andi Eigenmann, Steff Henares and Gino dela Peña.