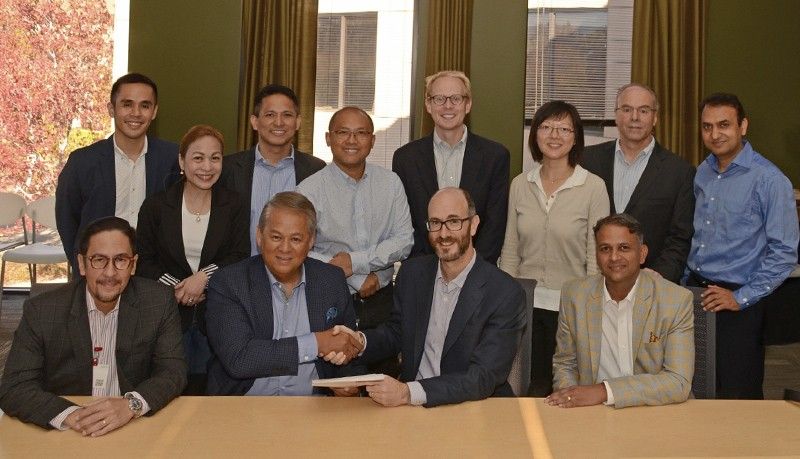 PLDT Executives pay a visit to the Google HQ in Silicon Valley to ink Google Station deal. Photo shows (front row, from left) SVP & Head of PLDT and Smart Enterprise Business Groups Jovy Hernandez, PLDT and Smart Chief Revenue Officer and ePLDT President & CEO Eric Alberto, Google Chief Business Officer for Next Billion Users Initiative David Shapiro, and Google Head of Business Development for Next Billion Users Sumeet Sharma with (back row, from left:) Head of Marketing for Google Philippines Gabby Roxas, PLDT Chief Finance Officer Chaye Cabal-Revilla, SVP & Head of PLDT Consumer Business Market Development Oscar Reyes, Country Head for Google Philippines Kenneth Lingan, Google Director of Product Management Josh Woodward, Google Head of Engineering for Next Billion Users initiative, Cynthia Kim, Google Head of Access Networks for Next Billion Users Marc Goldburg and Google Program Management Director of Suren Ruhela.
PLDT/Released
Google, Smart Wifi jointly pledge to power PHL with free and reliable internet
(Philstar.com) - January 3, 2019 - 10:40am
SILICON VALLEY — Smart Wifi joins hands with Google, to bring free internet services to the Philippines, allowing more Filipinos access to world-class Wi-Fi connectivity.
With PLDT and Smart both advocating to provide connectivity to all Filipinos nationwide, the partnership seemed only fitting. Powered by Smart Wifi's nationwide infrastructure, more citizens will be given access to connectivity through the growing number of Smart Wifi hubs throughout the country.
"All our efforts are driven primarily by our mission to provide universal access to information," said Google Next Billion Users Chief Business Officer David Shapiro.
Google is optimistic in the seamless delivery of reliable connectivity.
"We are happy to partner with Smart Wifi in giving more Filipinos access to new opportunities and learning tools through the internet—empowering them in a meaningful way," asserted Google Philippines Country Manager Kenneth Lingan.
To date, over 63 percent of Filipinos are said to have access to the Internet but the partnership aims to see growth in these numbers for the Philippines to become a global player.
As one of the most active social media users in the world, the Philippines' access to free wi-fi may be critical to the overall climate of the global economy—with studies led by the World Bank showing that GDP growth may be correlated to increased internet usage.
With the group leading the country's digital transformation, it also hopes that the partnership will expedite such evolution towards digital.
"It is an honor for us to join hands with an esteemed technology leader who shares in our vision of empowering our citizens with connectivity. More than being a testament to our technological adeptness, this milestone signifies our unwavering commitment to prompt the next chapter of digital transformation for the country," SVP and Head of PLDT and Smart Enterprise Business Groups Jovy Hernandez said of the partnership.
"Technology is a great equalizer of opportunities and as the country's premier ICT and digital services provider, we are constantly looking for ways to innovate and uplift the everyday experiences of our customers," said PLDT and Smart Chief Revenue Officer and ePLDT President and CEO Eric Alberto.