Mahitabo sa CCLEX bonggang pagbalik sa Cebu Marathon
August 13, 2022 | 12:00am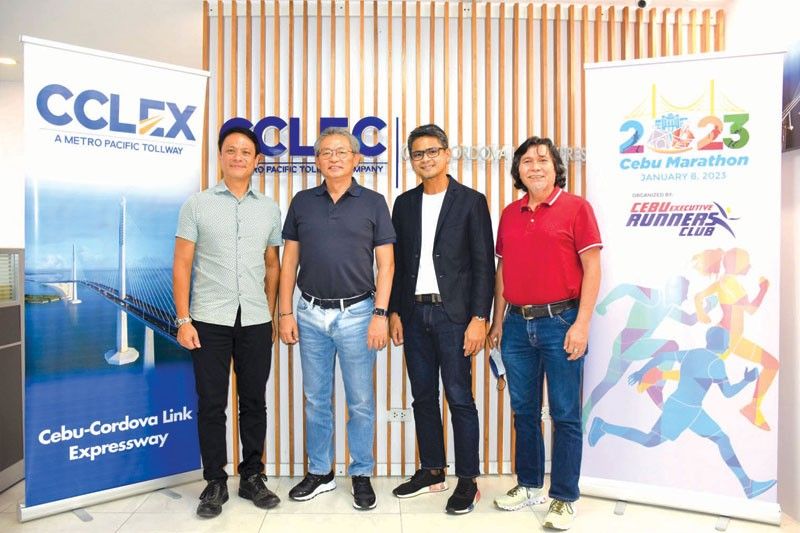 CEBU, Philippines — Human sa malampuson nga Megaworld Ironman 70.3 Philippines, ang kanindot ug katahom sa Cebu-Cordova Link Expressway (CCLEX) mapasundayag na sab pinaagi sa usa ka dakong sports event.
Kini gumikan kay ang 2023 nga edisyon sa Cebu Marathon mogamit man sa 8.9 ka kilometro nga CCLEX isip primero rota sa bongga niining pagbalik nga gikatakda sa Enero 8.
"As Cebu City mounts again the Cebu Marathon after a two-year pause, we are happy to be part of the comeback of the biggest and most festive 42K running event in the country," matud pa ni CCLEX President Allan Alfon. Ang labing bag-ong landmark ug atraksiyon sa mga turista dinhi sa Subu maoy rota sa 90km bike leg sa prestihiyosong Ironman triathlon niadtong Agosto 7.
Ning higayona, ang mga managanay na sab ang makapahimus sa makadani nga talan-awon sa makasaysayanong taytayan.
"After the success of the recently-concluded Ironman 70.3 Philippines with CCLEX hosting the exhilarating bike course, we are most excited to welcome the anticipated 8,000 runners of the Cebu Marathon," dugang pa ni Alfon.
Si Cebu City Sports Commission (CCSC) Chairman John Pages, nga kabahin sab sa Cebu Executive Runners Club (CERC) nga maoy nagorganisa sa makutas apan makalingaw nga lumba, nagkanayon nga suwerti kaayo ang mga partisipante nga makadagan sila sa CCLEX.
Gikauban ni Pages sila si CERC President Jesse Taborada ug Meyrick Jacalan sa dihang hingpit nilang gisilyohan ang ilang kasabotan uban ni Alfon kabahin sa pagpahigayon sa Cebu Marathon.
Gawas sa 42km nga aksiyon, ang Cebu Marathon naglangkob sab og 5km, 10km, ug 21km nga mga distansiya.
"Surely, CCLEX, now the longest and tallest bridge in the country, is also fast becoming a new sports icon, supporting the revival of Cebu's tourism industry and the economy. A new landmark that offers picturesque views of the Metro Cebu skyline, we can't wait to see you all at CCLEX come January 8, 2023," panapos pa ni Alfon.