Bucks kampiyon: Misakmit unang NBA title sud sa 50 ka tuig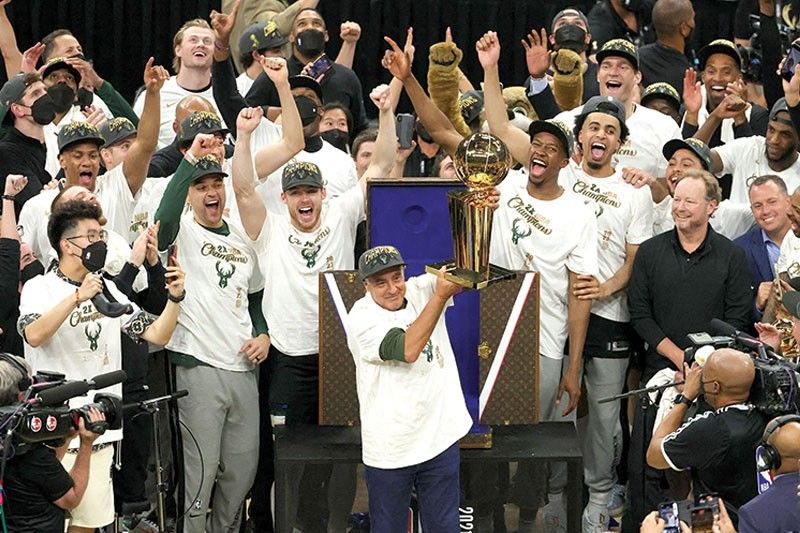 CEBU, Philippines — Si Giannis Antetokounmpo mipabuto og 50 puntos sa dalaygon kaayong salida ug ang Milwaukee Bucks milangkat sa labing una nilang NBA title sukad niadtong 1971 human gipasaop sa hingpit nga Phoenix Suns, 105-98, sa Game 6 kagahapon didto sa Fiserv Forum sa Milwaukee, Wisconsin.
Gituldokan sa Bucks ang best-of-seven NBA Finals sa baraha nga 4-2 aron mamahimong ikalima pa lamang nga team sa kasaysayan sa liga nga nakampiyon human mahagba sa nag-unang duha ka duwa sa serye.
Si Antetokounmpo, nga maoy ikapitong player sa kasaysayan sa finals nga mikadlit og 50 puntos, duna say 14 ka rebounds ug lima ka blocks sa dihang gibisbisan sa Bucks ang 50 ka tuig nilang huwaw sa kampiyonato.
"I want to thank Milwaukee for believing in me. I want to thank my teammates for playing hard with me. I'm thankful I was able to get it done," matud pa ni Antetokounmpo, nga nakigduyog nilang Michael Jordan ug Hakeem Olajuwon isip mao lamang mga players nga gibayaw nga NBA Finals MVP ug NBA Defensive Player of the Year sa susamang season.
"He's a special human being. I've learned so much from him. He's a special leader," dason pa ni Bucks coach Mike Budenholzer agig pagdayeg sa ilang alas. "These players are champions every day. They've embraced getting better every day."
Nagtabla pa unta ang iskor human sa tulo ka kuwarter, 77-77, apan si Antetokounmpo mi-iskor og otso puntos sa 10-6 run run nga nakahatag og 94-88 nga labaw sa Bucks sa pinal nga sayes minutos sa aksiyon.
Ang Suns nakasikit sa katapusang higayon sa iskor nga 96-100 sa nahibilin nga 1:14 sa duwa gumikan kay si Khris Middleton mipasud sa krusyal niyang jumper ug dayon milansang og duha ka free throws aron pagsilyo sa naglagiting nga kalamposan sa Bucks.
"I'm happy I was able to do it with this team for Milwaukee," matud pa ni Antetokounmpo. "And Coach Bud says we have to do it again."
Si Antetokounmpo nakakuha og dakong suporta gikan nilang Middleton ug Bobby Portis nga nagkumboya og 33 puntos ug ingon man ni Jrue Holiday nga mitali og 12 puntos ug 11 ka assists
Ang 36-anyos nga si Chris Paul, nga miduwa sa NBA Finals sa labing unang higayon sud sa 16 ka tuig niyang karera, maoy nangu sa Phoenix uban ang 26 puntos.
Si Devin Booker midugang og 19 puntos samtang si Jae Crowder miamot og 15 puntos ug 13 ka rebounds sa pilderong Suns, kansang kampanya nga mobira sa labing unang korona sa 53 ka tuig nga kasaysayan sa ilang prangkisa napakgang.