EDITORYAL - Dili magsalig sa US
February 3, 2023 | 12:00am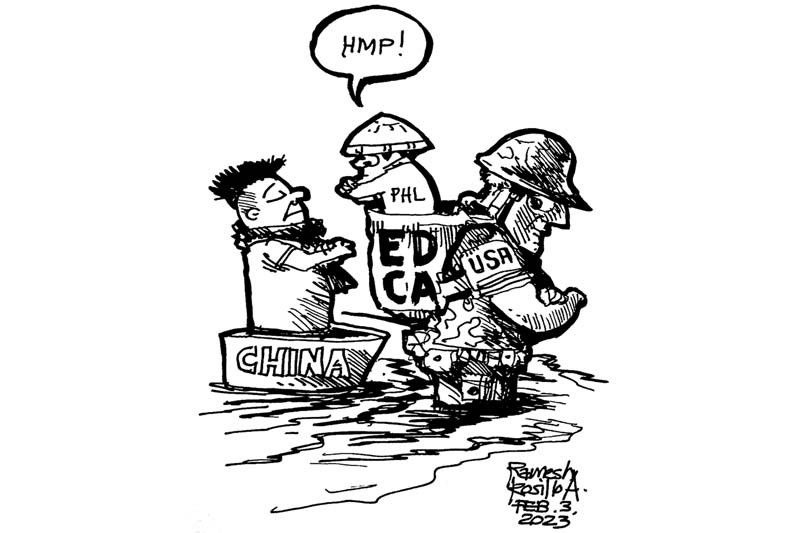 Mapun-an na sab unya ang mga lugar nga mamahimong kabahin sa kasamtangang gimentinar nga mga estratehikong dapit ubos sa Enhance Defense Cooperation Agreement (EDCA) tali sa Pilipinas ug sa Amerika.
Kining maong mga dapit naa sa sud sa mga kampo sa Armed Forces of the Philippines, walay klarong impormasyon nga gipagawas ang US ug bisan ang gobiyerno sa Pilipinas kun unsay naa aning maong mga piniling lugar.
Apan base sa ubang mga nasud nga dunay presensiya ang US, sagad aning mga lugara maoy pundohanan sa nagkalain-lain nilang mga gamit panggubat o nakaposisyon nang daan nga mga gamit sa ilang kasundalohan aron kun dunay giyera, tawo nalang maoy ilang ipadala.
Kining maong mga EDCA sites pangandam kini sa US tungod sa tensiyon karon sa Taiwan Strait. Ang China nanumpa nga ilogon og balik ang Taiwan sa bisan unsang paagi.
Ang Taiwan bisan walay pormal nga diplomatikong relasyon sa US, giisip kini sa Amerika nga dunay kagawasan pagpili sa ilang kaugmaon ug misaad nga tabangan kini pagpanalipod sa kaugalingon.,
Apan ang kataw-anan niini, dunay mga magbabalaod nga nagtuo dayong pwede ng mag-relaks ang Pilipinas sa pagpalig-on sa seguridad niini, ang uban kuwang og suporta paghatag og hustong pundo para sa modernisasyon sa AFP.
Tinuod dunay mutual defense treaty ang Pilipinas ug US, kini bisan gipalayas sila sa mga Pilipinas kaniadto tungod lang sa garbo.
Maayo nalang nga hinayhinay kining nabalik pinaagi sa Visiting Forces Agreement ug karon napalig-on pinaagi sa EDCA nga gipasiugdahan sa panahon sa kanhi administrasyon ni presidente Benigno "P.Noy" Aquino.
Sa panahon nga naa pa ang US bases, nagpabaya ang mga lider sa Pilipinas tungod kay nagsalig sa pwersa sa mga Amerikano, ang Spratly Islands ug sa West Philippine Sea dunay presensiya sa US Navy ug US Air Force nga kada adlaw.
Apan diha palang nakita ang pagka-iresponsable sa mga lider sa Pilipinas sa dihang gipalayas ang US bases ug wala diay mga gamit ang AFP nga mapadayon ang pagbantay sa teritoryo niini partikular ang West Philippine Sea.
Nagmaya ang China ug gisugdan dayon nila ang pagkamang sa WPS hangtud nga naingon na niini kini karon.
Nakat-on na unta ang mga Pilipino sa nahitabo kaniadto nga manaa pa o wala ang US magpadayon ang modernisasyon sa depensa sa nasud.