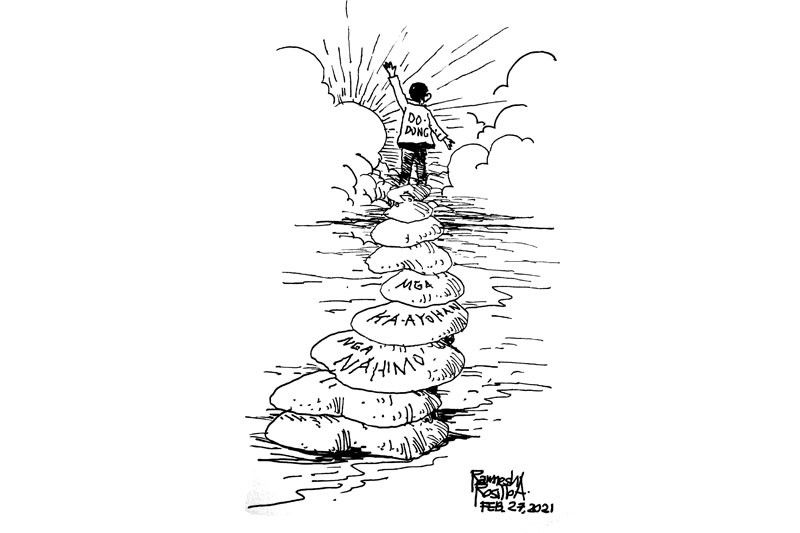 EDITORYAL - Legasiya ni Sir Dodong
(Banat) - February 27, 2021 - 12:00am
"Ang adlaw mosubang para sa tanan." Mao kini ang kanunay nga ipamulong ni The Freeman-Banat News Chairman Jose "Dodong" Gullas matag kini makig-atubang sa mga kawani niini ning pamantalaan.
Naila siya sa tawag nga Dodong mitaliwan na sa laing kalibotan niadtong adlaw nga Huwebes samtang kini na-admit sa tambalanan. Nitaliwan siya sa edad nga 87-anyos.
Ang maong mga pulong wala angkona ni Sir Dodong nga sa iya gikan, nakat-onan niya gikan sa iyang apohang si Doña Andrea nga maoy ilang gipuy-an sa iyang mga igsuon ug naghatag kaniya og giya ug impluwensiya kun nganong ganahan siyang motabang sa uban.
Sa iyang lindog dinhi sa Banat News nga "Gikan sa Tsirman" nga mogula matag adlaw nga Domingo, makadaghang higayon niyang gibalik-balik ang kaagi sa iyang kinabuhi uban sa iyang mga igsuon ug iyang panahom.
Iyaha sab gipaambit sa mga tigbasa sa Banat News ang mga pagtulon-an subay sa iyang mga kasinatian ug mga sakripisyo gikan sa pagkabata ug kun unsa niya kamahal iyang ginikanan ug ang iyang pamilya sab ang iyang pagmahal sa iyang pamilya.
Naila si Sir Dodong sa iyang pagka relihiyoso, matinabangon ug masinabtanon niadtong mga tawong labaw nga nagkinahanglan, timaan kun unsa ka maayo ang pagmatuto kanila sa ilang mga ginikanan nga silang University of the Visayas founder Vicente "Inting" Gullas ug Josefina "Pining" Gullas.
Para kang Sir Dodong, patas ang tanan sa mata sa Diyos sama ra kini sa pagsubang sa adlaw nga diin ang kahayag niini maapud para sa tanan ibabaw ning kalibotana.
Busa alang kaniya dili maayong magpakamanggihitas-on ngadto sa uban tungod kay sa iyang mga pulong pa, "Kitang tanan lumalabay lamang ug hinuwaman ra ang atong panahon ibabaw ning kalibotana."
Gawas sa pagka-relihiyoso, naila sab si Sir Dodong sa iyang pagmahal sa musika ug kulturang Sugboanon maong gitukod niya ang Tipiganan sa Kinaiyang Sugboanon nga anha gibutang karon sa JRG Halad Museum sa karaang The Freeman Building.
Tinguha niyang mapreserbar ang mga awit, musika ug kinaiyang Sugboanon alang sa mosunod nga mga henerasyon. Ang nakaayo kang Sir Dodong, daghan siyang natabangan ug dili siya makalimtan, magsilbing legasiya kining iyang mga kabilin nga angay lamang usab tipigan.
Padayon sa imong panaw Sir Dodong.