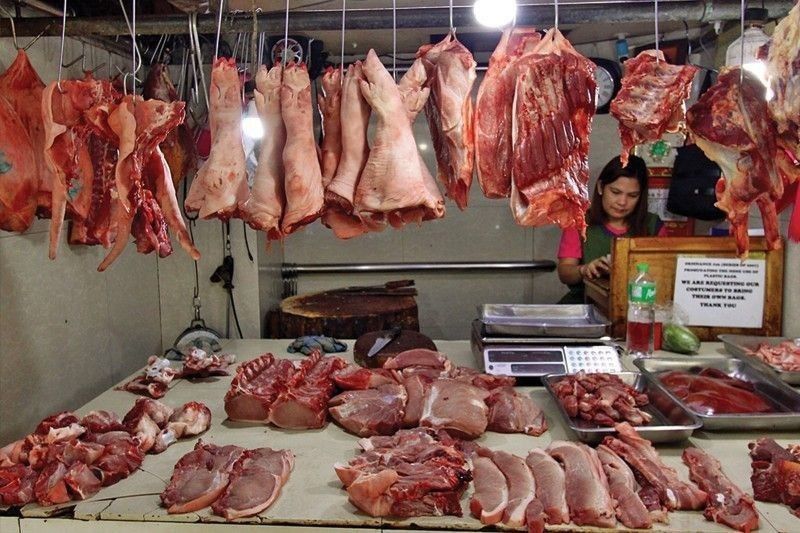 Nikunhod ang halin sa mga manindahay og karneng baboy ug ubang karne sa Carbon Public Market nunot sa taho sa African Swine Fever virus nga niigo sa ubang bahin sa
Andy Zapata Jr./File
Presyo sa karne sa baboy nikunhod
CEBU, Philippines – Nikunhod ang halin sa mga manindahay og karneng baboy ug ubang karne sa Carbon Public Market nunot sa taho sa African Swine Fever (ASF) virus nga niigo sa ubang bahin sa nasud.
Matud ni Erwin Goc-ong sa Cebu Market Vendors and Development Cooperative (CEMVEDCO) nga naobserbahan nila ang pagkunhod sa ilang halin bali og 15 porsyento.
Apan matud ni Goc-ong nga luwas ra nga kan-on ang karne sa baboy nga gitinda sa Carbon Market taliwala sa isyu sa ASF.
Gani ang mga manindahay kuyog sa taga Department of Veterinary Medicine and Fisheries sa Siyudad sa Sugbo ang nagpahigayon og boodle fight kagahapon aron sa pagpakita nga luwas kan-on ang tinda sa Carbon Public Market.
Gitambongan kini sa kadagkuan sa DVMF ug CEMVEDCO uban ni Mayor Edgardo Labella.
Sa wala pa ang isyu sa ASF, makahalin ang mga manindahay og 21 ka baboy apan karon 14 ngadto sa 16 na lang.
Gitug-an sab ni Jonil Matuguina nga nikunhod na karon ang presyo matag kilo sa baboy gikan sa P260 ngadto sa P220 na lang.
Si City Veterinarian, Dr. Jennifer Laurente, nibutyag nga wala pay tambal ug bakuna ang ASF virus nga manakod sa mga baboy apan dili kini makadaut sa katawhan.
Gawas sa mga buhing baboy, apil na ang tanang frozen ug processed pork ug pork related products gikan sa Luzon ang gi-total ban sa Probinsiya sa Sugbo. Si Gobernador Gwendolyn Garcia niluwat og laing executive order kalabot niini kagahapon human usab gideklarar na sa Department of Agriculture nga epidemic na ang ASF sa tibuok nasud.
"And if one pig is afflicted by the virus, it will mean 100% mortality for the entire stock in two to ten days. So it is highly contagious," matud ni Garcia.
Samtang ang ASF wala pa makaapekto sa mga negosyante og karneng baboy sa merkado publiko sa Dakbayan sa Mandaue.
Hinoon ang mga negosyante nabalaka tungod sa total ban nga gipatuman sa tibuok Lalawigan sa Sugbo sanglit magnihit na ang supply.
Si Mayor Jonas Cortes nisuporta sa total ban sa mga buhi ug karne nga baboy gikan sa Luzon. (Le Phyllis F. Antojado ug Romeo T. Limpangog/GMR)(BANAT NEWS)