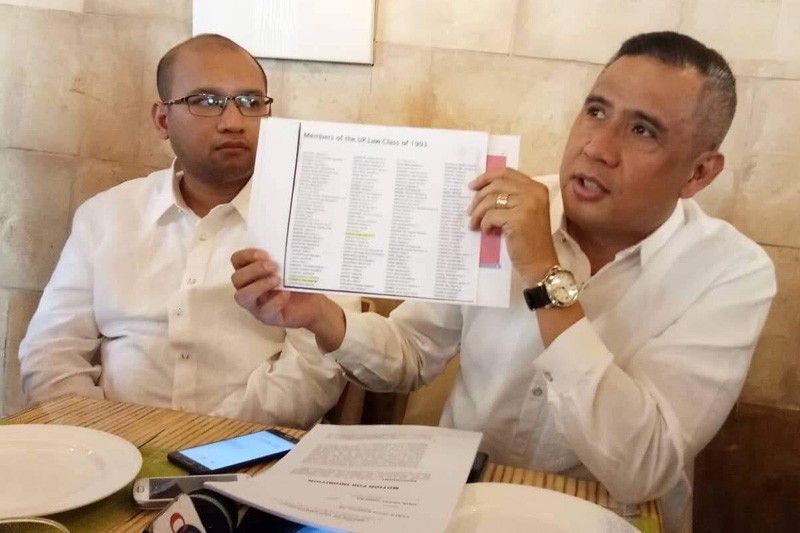 Gipakita ni Atty. Inocencio dela Cerna kining dokumento nga magpamatuod nga sila si third district congressional candidate Pablo John Garcia ug si Ombudsman Paul Elmer Clemente, classmates sa law school niadtong 1993.
Aldo Banaynal
Sonny Osmeña miduso og mosyon sa Ombudsman
CEBU, Philippines – Buot sa kampo ni Toledo City Mayor John Henry "Sonny" Osmeña nga mobuhi ang Ombudsman-Visayas sa imbestigasyon kalabot sa P210 milyones nga pundo nga giingong gi-sweldo sa mga "ghost employees" alang sa Clean and Green Program sa dakbayan.
Ang kaatbang ni Osmeña sa pagpapili pagka-kongresista sa tersero distrito karong umaabot eleksyon nga si Pablo John Garcia mihangyo sa Ombudsman nga mohimo og pagsusi sa giingong anomaloso nga programa.
Si Atty. Inocencio dela Cerna, ang abogado ni Osmeña, miduso og motion for inhibition ngadto sa Ombudsman kagahapon aron nga mobuhi kini sa pag-imbestigar human ilang nasayran nga si Garcia ug si Ombudsman Paul Elmer Clemente, klasmeyt sa UP College of Law niadtong 1993.
"It is of the humble view of the respondent that the closeness of the relationship between the complainant and Ombudsman Paul Clemente would create a misimpression of bias, partially and prejudgement to the detriment of the respondent" pagbasa sa mosyon ni Osmeña.
Si dela Cerna midugang nga "selective justice" usab ang gihimo ni Garcia sanglit ang giapil ra niini nga mga konsehal sa Toledo nga pa-imbestigaran mao ang wala sa ilang kampo. Si Garcia namasangil nga ang nahisgutang pundo sa dakbayan niadtong tuig 2018 alang sa Clean and Green Program, gisweldo ngadto sa mga JOs o "ghost employees". Kalabot sa inhibition nga gihangyo sa Ombudsman, si Garcia miangkon nga kauban sila ni Clemente.
"While it is true that we belonged to the same class in UP Law, I have not talked to Deputy Ombudsman Clemente since we graduated from law school. Remember: this is the same Deputy Ombudsman who dismissed my brother Mayor Nelson from service (although reduced by the CA recently) and suspended my brother Mayor Marlon" matud ni Garcia.
Midugang sab kini nga wala siyay problema kun kinsa o unsa nga ahensiya ang mo-imbestigar sa iyang pasangil kang Osmeña kay ang importante nga ma-imbestigaran kini. (/DILT)(BANAT NEWS)