North Korea fires three ballistic missiles, Seoul military says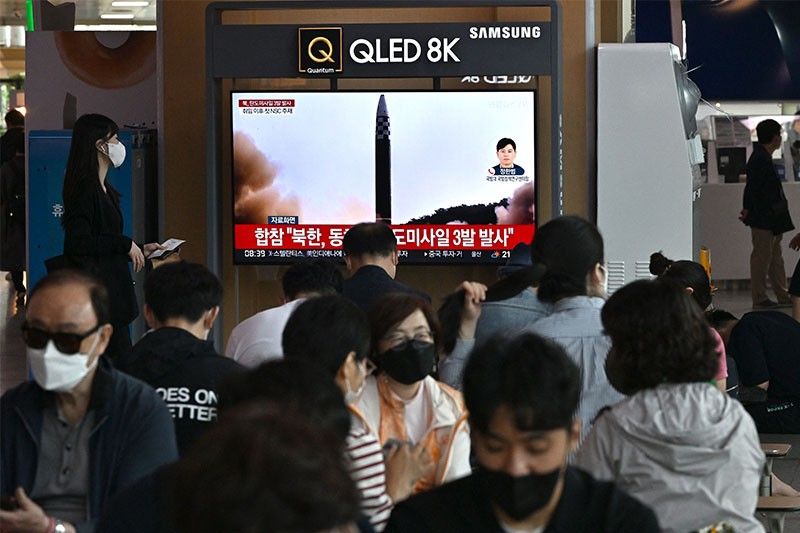 SEOUL, South Korea — North Korea fired three ballistic missiles towards the Sea of Japan early Wednesday, Seoul's military said, just one day after President Joe Biden wrapped up his first Asia visit as US leader.
South Korea's Joint Chiefs of Staff said in a statement that it had "detected at around 0600 (2100 GMT), 0637 and 0642 the firings of ballistic missiles launched from Sunan area."
Japan's coastguard warned of a "possible ballistic missile" launch from North Korea, telling vessels to stay away from fallen objects in the waters.
Japanese Prime Minister Fumio Kishida told reporters that Tokyo was trying to confirm information about the launch.
South Korea's new President Yoon Suk-yeol will oversee a meeting of the National Security Council at 0730 to discuss the launches, his office said.
Yoon, who was sworn in earlier this month, has vowed to get tough with Pyongyang after five years of failed diplomacy.
The Wednesday launches are the latest in a blitz of sanctions-busting weapons tests by Pyongyang this year, including test-firing intercontinental ballistic missiles at full range for the first time since 2017.
The latest apparent test come just days after Biden left South Korea Sunday after a trip overshadowed by US officials warning that Pyongyang's leader Kim Jong Un could carry out a nuclear test while Biden was in the region.
While in South Korea, Biden joined Yoon for talks, including discussing expanded military exercises to counter Kim's sabre rattling.
Joint exercises had been scaled back due to Covid and in order for Biden and Yoon's predecessors, Donald Trump and Moon Jae-in, to embark on a round of high-profile but ultimately unsuccessful diplomacy with North Korea.
Any build-up of forces or expansion of joint military exercises would likely enrage Pyongyang, which views the drills as rehearsals for invasion.
On his last day in Seoul, Biden told reporters he had a only a short message for Kim: "Hello. Period."
And he added that the United States was "prepared for anything North Korea does."
Covid and missiles
Kim has recently doubled down on his programme of military modernisation.
Despite struggling with a recent Covid-19 outbreak, new satellite imagery has indicated the North has resumed construction at a long-dormant nuclear reactor.
Earlier this month, North Korea confirmed its first ever Omicron cases in Pyongyang, and the virus has since torn through its unvaccinated population of 25 million.
More than three million people have been sick with "fever" North Korean state media said Wednesday, with 68 deaths since the outbreak began in late April.
How that crisis might impact Kim's decision on nuclear tests is one of the many unknowns that US and South Korean officials have been weighing.
On May 12, North Korea test-fired ballistic missiles the same day that leader Kim declared an "emergency" over the Covid outbreak.
A few days earlier, North Korea test-fired a submarine-launched ballistic missile, which itself came just three days after a separate ballistic missile launch.
North Korea's state media, which typically reports on weapons tests within 24 hours of a successful launch, has not commented on any of those tests.
South Korea said last week that North Korea's preparations for a nuclear test had been completed, and they were waiting for the right time.
As It Happens
LATEST UPDATE: June 6, 2022 - 9:01am
South Korean officials were briefing the White House Thursday on the outcome of their pathfinding meeting with North Korean leader Kim Jong Un.
Seoul has already publicized that North Korea offered talks with the United States on denuclearization and normalizing ties, a potential diplomatic opening after a year of escalating tensions over the North's nuclear and missile tests. The rival Koreas also agreed to hold a leadership summit in late April.
Top Trump administration officials were getting a chance to hear firsthand from South Korean national security director, Chung Eui-yong, who led the delegation that went to Pyongyang. — Associated Press
June 6, 2022 - 9:01am
South Korea and the United States fired eight ballistic missiles on Monday in response to North Korean weapons tests the previous day, Seoul's military says.
The Joint Chiefs of Staff say the allies launched the ground-to-ground Army Tactical Missile System (ATACMS) missile at targets in the East Sea, also known as the Sea of Japan, in the early morning.
The 10-minute volley comes a day after North Korea launched eight short-range ballistic missiles following a South Korea-US joint military exercise involving a US aircraft carrier.
"Our military strongly condemns the North's series of ballistic missile provocations and sternly urges it to immediately stop acts that raise military tensions on the peninsula," it adds. — AFP
June 5, 2022 - 9:02am
South Korea's military says North Korea launched at least one ballistic missile into waters off its east coast, the latest in a recent series of weapons tests.
Pyongyang has doubled down on upgrading its weapons programme this year despite facing crippling economic sanctions.
"North Korea fired an unidentified ballistic missile(s) into the East Sea," Seoul's Joint Chiefs of Staff says Sunday morning, referring to the Sea of Japan. — AFP
June 3, 2022 - 11:33am
North Korea skips the diplomatic niceties for a combative tone when it took the helm of the Conference on Disarmament.
"My country is still at war with the United States," declares Pyongyang's ambassador Han Tae-Song.
Around 50 countries voiced their outrage that unpredictable nuclear-armed North Korea is being tasked with chairing the world's most foremost multilateral disarmament forum for the next three weeks. — AFP
June 1, 2022 - 9:22am
The United States warns that it will try again to toughen UN sanctions if North Korea tests a nuclear weapon, after a bid last week was vetoed by China and Russia.
Asked if the United States would make a new attempt at the Security Council if North Korea goes ahead with a feared nuclear test, US Ambassador Linda Thomas-Greenfield says: "Absolutely we will."
"First of all we need to enforce the sanctions that we have already authority to enforce," she tells reporters. — AFP
May 27, 2022 - 8:06am
China and Russia on Thursday vetoed tougher United Nations sanctions against North Korea, rejecting a US effort to punish Pyongyang for testing an intercontinental ballistic missile.
The resolution enjoyed the support of the 13 other members of the Security Council, although some US allies quietly wondered why Washington went ahead with the vote knowing the unflinching opposition from Beijing and Moscow.
China, the closest ally of North Korea, and Russia, whose relations with the West have sunk over its invasion of Ukraine, both said they would have preferred a non-binding statement rather than a fresh resolution with teeth against Pyongyang.
The United States "should not replace one-sided emphasis on the implementation of sanctions alone. It should also work to promote the political solution," said China's ambassador to the United Nations, Zhang Jun. — AFP