Pope wants to meet Putin, compares Ukraine war to Rwanda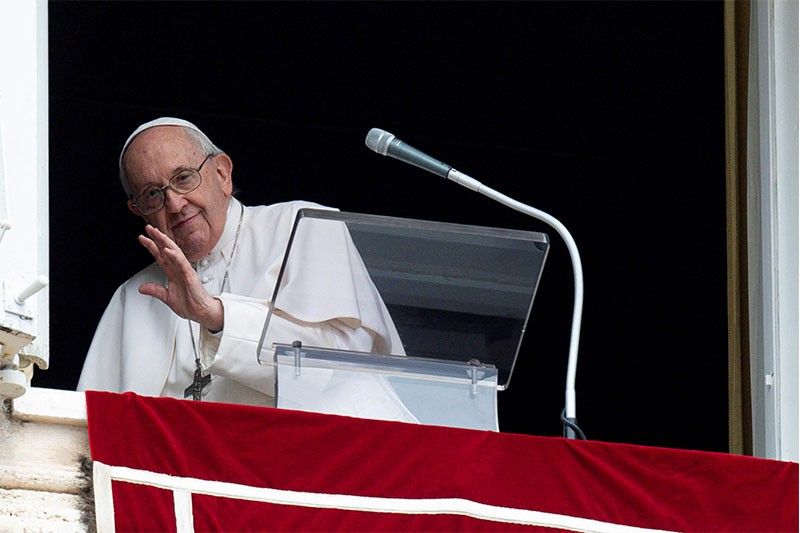 VATICAN CITY, Holy See — Pope Francis said in an interview published Tuesday that he requested a meeting with Russian President Vladimir Putin over Ukraine, while comparing the scale of the bloodshed to Rwanda's genocide.
The pontiff told Italy's Corriere Della Sera newspaper that he had sent a message to Putin around 20 days into the conflict saying that "I was willing to go to Moscow".
"We have not yet received a response and we are still insisting, though I fear that Putin cannot, and does not, want to have this meeting at this time," Francis said.
"But how is it possible to not stop such brutality? Twenty-five years ago, we lived through the same thing with Rwanda," he said.
About 800,000 people were killed between April and July 1994 as the extremist Hutu regime tried to wipe out Rwanda's Tutsi minority, in one of the 20th century's biggest massacres.
The pope has repeatedly called for peace in Ukraine and denounced a "cruel and senseless war" without mentioning Putin or Moscow by name.
"I'm not going to Kyiv for now. I feel I shouldn't go. I have to go to Moscow first, I have to meet Putin first," he said.
Francis also said Russian Orthodox Patriarch Kirill, a close Putin ally, "cannot become Putin's altar boy".
Dialogue with the Orthodox Church, which separated from the Catholic Church in 1054, is a priority of Francis's pontificate.
But since Russia invaded Ukraine on February 24, the pope's calls for peace have contrasted with Kirill's defence of Putin's fight against Russia's "external and internal enemies".
'Barking of NATO'
Questioning the conflict's causes, the pope spoke of an "anger" in the Kremlin which could have been "facilitated" by "the barking of NATO at Russia's door".
The remark sparked a reaction in Poland where Education Minister Przemyslaw Czarnek said on public television: "For sure, many of us are taking our heads in our hands on hearing what the pope has said."
In the interview, the pope also addressed the pain in his knee that has forced him to cancel various public engagements in recent months.
"I have a torn ligament, I will undergo an intervention with infiltration, and we'll see," he said.
The Vatican would not say what the pontiff was being injected with or when, but a source told AFP the ligament problem was linked to chronic arthritis in his right knee.
Infiltration can involve injecting drugs directly into inflamed or damaged joints and has an immediate effect.
"I've been like this for a while, I can't walk," Francis told Corriere della Sera.
"Once upon a time, popes were carried on gestatorial chairs," he said, referring to the ancient shoulder-carried ceremonial throne on which popes were borne aloft until 1978.
He appeared to rule out reviving the throne.
"A bit of pain, of humility, is necessary," he said.
Francis told a newspaper in Argentina in April he was treating the torn ligament by putting ice on it and taking some painkillers.
As It Happens
LATEST UPDATE: June 28, 2022 - 8:16am
President Vladimir Putin says he hopes that Moscow and the West could find a solution to the raging security crisis over Ukraine, but also accused Washington of using Kyiv as a "tool" against Russia.
"I hope that in the end we will find a solution, although it will not be simple," Putin says, indicating he was ready for more talks with the West, which has accused Moscow of massing more than 100,000 troops on the border and plotting to invade Ukraine.
"It seems to me that the United States is not so much concerned about the security of Ukraine... but its main task is to contain Russia's development," Putin says. — AFP
June 28, 2022 - 8:16am
A Russian missile strike on a crowded mall in the central Ukrainian city of Kremenchuk killed at least 16 people, the head of emergency services says early Tuesday, sparking international outrage.
"The Russian strike today on the shopping centre in Kremenchuk is one of the most brazen terrorist acts in European history," Ukrainian President Volodymyr Zelensky said in his evening broadcast posted on Telegram.
"As of now, we know of 16 dead and 59 wounded, 25 of them hospitalised. The information is being updated," emergency services chief Sergiy Kruk says. — AFP
June 27, 2022 - 1:20pm
A former South Korean Navy SEAL turned YouTuber who risked jail time to leave Seoul and fight for Ukraine says it would have been a "crime" not to use his skills to help.
Ken Rhee, an ex-special warfare officer, signed up at the Ukrainian Embassy in Seoul the moment President Volodymyr Zelensky asked for global volunteers and was fighting on the front lines near Kyiv by early March.
To get there, he had to break South Korean law — Seoul banned its citizens from travelling to Ukraine, and Rhee, who was injured in a fall while leading a special operations patrol there, was met at the airport by 15 police officers on his return.
But the celebrity ex-soldier, who has a YouTube channel with 700,000 followers and documented much of his Ukraine experience on his popular Instagram account, says he has no regrets.
"You're walking down the beach and you see a sign by the water saying 'no swimming' — but you see someone drowning. It's a crime not to help. That's how I see it," he told AFP.
Rhee was born in South Korea but raised in the United States. He attended the Virginia Military Institute and planned to join the US Navy SEALS, but his father — a "patriot", he says — convinced his son to return to South Korea to enlist.
He served for seven years, undergoing both US and Korean SEAL training and doing multiple stints in war zones in Somalia and Iraq before leaving to set up a defence consultancy.
"I have the skillset. I have the experience. I was in two different wars, and going to Ukraine, I knew I could help," he said, adding that he viewed breaking South Korea's passport law to leave as equivalent to a "traffic violation". — AFP
June 26, 2022 - 2:40pm
Indonesian President and G20 chairman Joko Widodo set off on Sunday to Europe where he said he plans to visit Russia and Ukraine and meet with the countries' leaders to urge peace talks.
Widodo departed for Germany to attend as a guest for the G7 summit from June 26 to 27, and he will then go to the Ukraine capital Kyiv to meet President Volodymyr Zelensky.
"The mission is to ask... President Zelensky to open a dialogue forum for peace, to build peace because the war has to be stopped," he told a press conference in Jakarta.
The two leaders will also discuss the food supply chain "that needs to be reactivated" soon, Widodo said. From Kyiv, Widodo is scheduled to visit Moscow and meet with Russia's Vladimir Putin.
The visit to Moscow is planned for June 30, Indonesian authorities said earlier. — AFP
June 26, 2022 - 1:36pm
Four explosions were heard in the Ukrainian capital Kyiv early Sunday, with AFP journalists reporting a residential complex near the centre of the city had been hit, causing a fire and cloud of grey smoke.
The blasts occurred around 6:30 am (0330 GMT), half an hour after air raid sirens sounded in the capital, which has not not come under Russian bombardment for nearly three weeks.
There was no immediate information on casualties.
An AFP colleague living in the same residential complex heard a loud buzz preceding the explosions.
"Several explosions in the Shevchenkivsky district," Kyiv mayor Vitali Klitschko said on Telegram.
"Ambulances and rescuers are on site. In two buildings, the rescue and evacuation of residents is underway," he added. — AFP
June 24, 2022 - 8:07am
The United States is sending a new batch of military assistance to Ukraine, the White House says, with the $450 million shipment including four more advanced rocket systems to use against Russian invasion forces.
"This package contains weapons and equipment, including new High Mobility Artillery Rocket Systems," White House spokesman John Kirby says. Also included are tens of thousands of rounds of artillery ammunition and patrol boats.
The rocket systems known as HIMARS are at the top of Ukraine's wish list as the pro-Western country battles a Russian invasion force advancing through the east of the country with the help of a significant advantage in heavy artillery. — AFP