North Korea boasts of 'invincible power' ahead of key military anniversary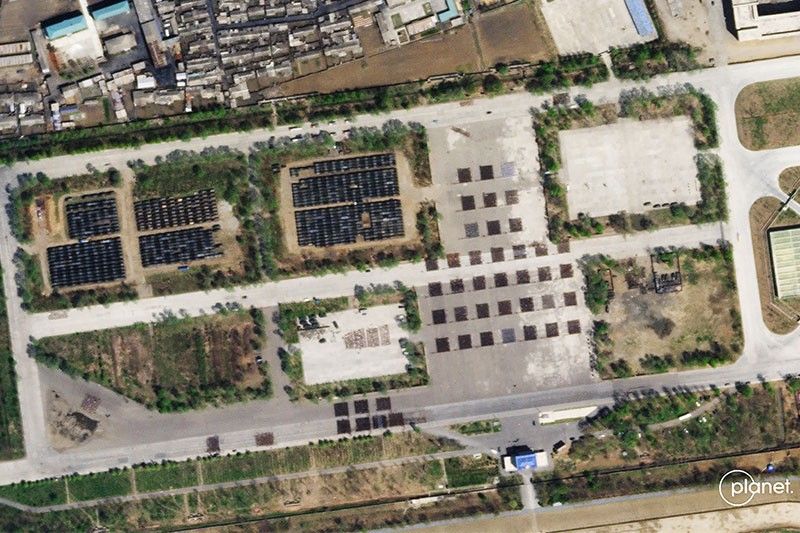 SEOUL, South Korea — North Korea's state media boasted Sunday that its armed forces had "gained invincible power" under leader Kim Jong Un as it prepares for a major army holiday that analysts say could be marked with a military parade or major weapons test.
North Korea on Monday celebrates the 90th anniversary of the founding of the Korean People's Revolutionary Army and the nuclear-armed country has staged military parades in the past to mark key holidays.
Pyongyang has carried out more than a dozen weapons tests this year, including firing an intercontinental ballistic missile at full range for the first time since 2017.
A report by the North's official Korean Central News Agency listed the history of the country's military achievements, from its battles against the United States in the 1950-53 Korean War to smaller conflicts.
"All the people of the country are looking back deeply on the history of the 100 victory of our revolutionary armed forces," it said.
The report added Kim had further propelled the country's military might with his "genius military ideology, excellent military command and unparalleled courage and guts".
"Our revolutionary armed forces have gained invincible power that the world cannot ignore," it said, in an apparent reference to the North's nuclear arsenal.
Signs that Pyongyang was preparing for its "biggest ever military parade" to mark the upcoming anniversary have been detected, Yonhap news agency reported, citing multiple unnamed government sources.
The parade was likely to take place at midnight, the report said, involving around 20,000 troops and the North's most sophisticated weaponry including the "monster" Hwasong-17 ICBM as well as hypersonic and submarine-launched ballistic missiles.
North Korea had been widely expected to showcase its military strength to mark the 110th anniversary of the birth of its founding leader and Kim's grandfather Kim Il Sung on April 15, but instead, the day was celebrated with a civilian parade.
Satellite imagery has also shown continued preparations, with thousands of North Korean troops and scores of vehicles marching in formation at a parade training ground in Pyongyang.
"Typically, troops depart the training ground as soon as the parade is complete, so their presence further indicates an upcoming event," Martyn Williams, a fellow at the Stimson Center, wrote on the 38 North website.
US and South Korean officials and analysts have also warned Pyongyang could resume nuclear weapons testing for the first time since 2017, citing renewed activity at its key testing site.
As It Happens
LATEST UPDATE: June 6, 2022 - 9:01am
South Korean officials were briefing the White House Thursday on the outcome of their pathfinding meeting with North Korean leader Kim Jong Un.
Seoul has already publicized that North Korea offered talks with the United States on denuclearization and normalizing ties, a potential diplomatic opening after a year of escalating tensions over the North's nuclear and missile tests. The rival Koreas also agreed to hold a leadership summit in late April.
Top Trump administration officials were getting a chance to hear firsthand from South Korean national security director, Chung Eui-yong, who led the delegation that went to Pyongyang. — Associated Press
June 6, 2022 - 9:01am
South Korea and the United States fired eight ballistic missiles on Monday in response to North Korean weapons tests the previous day, Seoul's military says.
The Joint Chiefs of Staff say the allies launched the ground-to-ground Army Tactical Missile System (ATACMS) missile at targets in the East Sea, also known as the Sea of Japan, in the early morning.
The 10-minute volley comes a day after North Korea launched eight short-range ballistic missiles following a South Korea-US joint military exercise involving a US aircraft carrier.
"Our military strongly condemns the North's series of ballistic missile provocations and sternly urges it to immediately stop acts that raise military tensions on the peninsula," it adds. — AFP
June 5, 2022 - 9:02am
South Korea's military says North Korea launched at least one ballistic missile into waters off its east coast, the latest in a recent series of weapons tests.
Pyongyang has doubled down on upgrading its weapons programme this year despite facing crippling economic sanctions.
"North Korea fired an unidentified ballistic missile(s) into the East Sea," Seoul's Joint Chiefs of Staff says Sunday morning, referring to the Sea of Japan. — AFP
June 3, 2022 - 11:33am
North Korea skips the diplomatic niceties for a combative tone when it took the helm of the Conference on Disarmament.
"My country is still at war with the United States," declares Pyongyang's ambassador Han Tae-Song.
Around 50 countries voiced their outrage that unpredictable nuclear-armed North Korea is being tasked with chairing the world's most foremost multilateral disarmament forum for the next three weeks. — AFP
June 1, 2022 - 9:22am
The United States warns that it will try again to toughen UN sanctions if North Korea tests a nuclear weapon, after a bid last week was vetoed by China and Russia.
Asked if the United States would make a new attempt at the Security Council if North Korea goes ahead with a feared nuclear test, US Ambassador Linda Thomas-Greenfield says: "Absolutely we will."
"First of all we need to enforce the sanctions that we have already authority to enforce," she tells reporters. — AFP
May 27, 2022 - 8:06am
China and Russia on Thursday vetoed tougher United Nations sanctions against North Korea, rejecting a US effort to punish Pyongyang for testing an intercontinental ballistic missile.
The resolution enjoyed the support of the 13 other members of the Security Council, although some US allies quietly wondered why Washington went ahead with the vote knowing the unflinching opposition from Beijing and Moscow.
China, the closest ally of North Korea, and Russia, whose relations with the West have sunk over its invasion of Ukraine, both said they would have preferred a non-binding statement rather than a fresh resolution with teeth against Pyongyang.
The United States "should not replace one-sided emphasis on the implementation of sanctions alone. It should also work to promote the political solution," said China's ambassador to the United Nations, Zhang Jun. — AFP