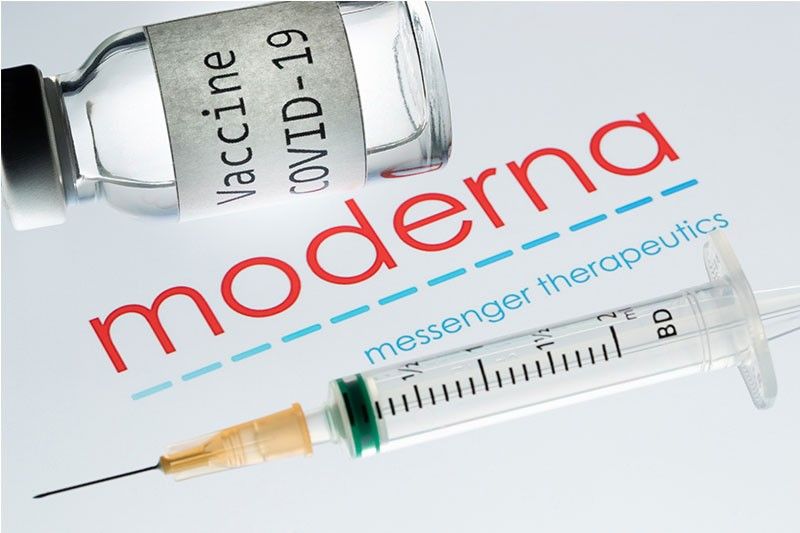 This file photo taken on November 18, 2020 shows a syringe and a bottle reading "Vaccine Covid-19" next to the Moderna biotech company logo. American experts were set to discuss on December 17, 2020 if Moderna's Covid-19 vaccine should be authorized, as European nations vowed to get their coronavirus inoculation campaigns rolling before the end of the year. Surges in infections have prompted tighter restrictions in several European countries, while the United States -- the worst-hit nation in the world -- set a double record, with more than 3,700 deaths and 250,000 new cases in 24 hours on December 16, 2020.
AFP/Joel Saget
US begins rolling out Moderna vaccine: official
(Agence France-Presse) - December 20, 2020 - 9:17am
NEW YORK, United States — The first of millions of doses of Moderna's COVID-19 vaccine were being prepared Saturday for shipping to locations across the United States, a top official said, hours after it was authorized for use in the hardest-hit country in the world.
The US Food and Drug Administration (FDA) announced late Friday that it had granted emergency approval for the vaccine, a week after it did the same with the vaccine from Pfizer and BioNTech.
"Distribution of the Moderna vaccine has already begun," said General Gus Perna, who is overseeing the massive logistical operation as part of the government's Operation Warp Speed.
On Saturday, the first doses were being moved from the manufacturing center in Bloomington, Indiana, to warehouses operated by logistics firm McKesson in preparation for shipping on Sunday.
"Boxes are being packed and loaded today. Trucks will begin rolling out tomorrow from FedEx and UPS," the general said at a press briefing.
Pfizer's vaccine must be stored at -70 degrees Celsius (-94 degrees Fahrenheit), a temperature much lower than standard freezers and which forced the company to develop special containers for transport.
But the Moderna vaccine can be stored at -20 degrees Celsius (-4 degrees Fahrenheit). Perna said the less stringent conditions allow "jurisdictions the flexibility to support hard to reach small and more rural areas," though he added that was up to state authorities.
Since the FDA granted Pfizer/BioNTech vaccine emergency authorization one week ago, some 2.9 million doses have been delivered in the US, according to the general.
He said the government still expects to have delivered 20 million doses of vaccine by the end of the year, although that figure may only be reached in the first week of January.
As It Happens
LATEST UPDATE: April 16, 2021 - 5:21pm
Pharma giants Sanofi and GSK said on July 29, 2020, that they have agreed to supply Britain with up to 60 million doses of a potential COVID-19 vaccine. The agreement covers a vaccine candidate developed by France's Sanofi in partnership with the UK's GSK and is subject to a "final contract."
This thread collects some of the major developments in the search for a vaccine to ease the new coronavirus pandemic. (Main photo by AFP/Joel Saget)
April 16, 2021 - 5:21pm
The European Union is very unlikely to renew its COVID-19 vaccine contracts with pharmaceutical company AstraZeneca, a French minister says.
Denmark this week banned the use of AstraZeneca jabs over blood clot concerns, just as the EU said it was expecting 50 million Pfizer vaccine doses earlier than expected.
No final EU decision had been taken, French Industry Minister Agnes Pannier-Runacher tells RMC radio, but "it is highly probable" that no further AstraZeneca doses would be ordered. — AFP
April 16, 2021 - 1:03pm
The head of Pfizer says in an interview that people will "likely" need a third dose of his company's COVID-19 shot within six to 12 months of vaccination, while elsewhere defending the relatively higher cost of the jab.
CEO Albert Bourla also says annual vaccinations against the coronavirus may well be required.
"We need to see what would be the sequence, and for how often we need to do that, that remains to be seen," Bourla tells CNBC in an interview. — AFP
April 15, 2021 - 8:36am
A pause on all US vaccinations with the Johnson & Johnson Covid shot will continue for at least another week after members of a government-convened expert panel said Wednesday they needed more time to assess its possible links to a clotting disorder.
The Centers for Disease Control and Prevention (CDC) convened a meeting a day after authorities reported six cases of women developing brain clots along with low blood platelet counts, including one death, within two weeks of people getting the one-dose Covid-19 vaccine.
The shot has been given to some 7.2 million Americans, and participants at the meeting were told on Wednesday a seventh case involving a 28-year-old woman has been identified. — AFP
April 14, 2021 - 6:46pm
Russian President Vladimir Putin said Wednesday he has received the second dose of a vaccine against the coronavirus and said he hopes Russians follow his example.
"I want to inform you that right now, before entering this room, I also received the second vaccination," he said at a televised meeting. "I assume that you, taking care of yourself and your loved ones, will do the same and follow my example." — AFP
April 13, 2021 - 2:51pm
A leading local drugmaker says India has authorized the Sputnik V COVID-19 vaccine in a boost for the nation's inoculation drive as infection rates soar to record highs.
Russia's Sputnik V is the third vaccine to be approved by India after the Oxford-AstraZeneca vaccine and Covaxin, which was developed by Indian firm Bharat Biotech.
"We are very pleased to obtain the emergency use authorisation for Sputnik V in India," says G.V. Prasad, co-chair of pharmaceutical company Dr Reddy's Laboratories, in a statement. — AFP