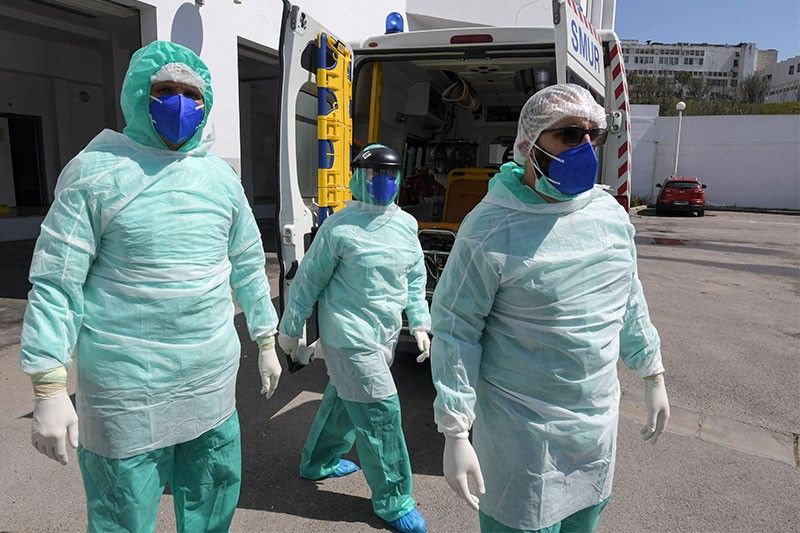 A doctor (L), nurse (C), and paramedic rescuer (R) of SAMU Tunisia (Urgent Medical Aid Service), dressed in personal protective equipment (PPE) head out to visit a COVID-19 coronavirus patient in the capital Tunis on April 6, 2020.
AFP/Fethi Belaid
World short of six million nurses, WHO says
(Agence France-Presse) - April 7, 2020 - 8:16am
GENEVA, Switzerland — As COVID-19 captures global headlines, the World Health Organization (WHO) warned Tuesday that the world needs nearly six million nurses.
The UN's health agency along with partners Nursing Now and the International Council of Nurses (ICN) underscored in a report the crucial role played by nurses, who make up more than half of all health workers worldwide.
"Nurses are the backbone of any health system," WHO chief Tedros Adhanom Ghebreyesus said in a statement.
"Today, many nurses find themselves on the frontline in the battle against COVID-19," he noted, adding that it was vital they "get the support they need to keep the world healthy."
The report said that there are just under 28 million nurses on the planet.
In the five years leading up to 2018, the number grew by 4.7 million.
"But this still leaves a global shortfall of 5.9 million," the WHO said, pointing out that the greatest gaps were in poorer countries in Africa, southeast Asia, the Middle East and parts of South America.
The report urged countries to identify gaps in their nursing workforce and invest in nursing education, jobs and leadership.
Shortages 'exhaust workforce'
ICN chief executive Howard Catton told a virtual briefing that infection rates, medication errors and mortality rates "are all higher where there are too few nurses".
Furthermore, "shortages exhaust our current nursing workforce", he added.
In fighting the pandemic, Mary Watkins, who co-chaired the report for Nursing Now, called for urgent investment in virus tests for healthcare workers.
"We have a very high proportion of healthcare workers not going to work because they're afraid that they've been infected and that they can't prove that they have not got the infection -- or that they've had it, and they're over it," she said.
Catton said that 23 nurses had died in Italy and cited figures suggesting that around 100 health workers had died around the world.
Meanwhile he said there were reports of nine percent of health workers being infected in Italy and "we're now hearing of rates of infections up to 14 percent in Spain".
He also cited reports of "completely unacceptable and reprehensible" attacks on health workers battling COVID-19, largely due to ignorance about their work, combined with countries not doing enough to protect them.
"COVID is putting it into a very stark lens for us all," he said, though he welcomed the growing appreciation in some countries of nurse's work.
Catton said that could help change perceptions of the value of nursing — which in turn might help make it a more attractive profession.
Male recruitment
Beyond COVID-19, Watkins said many wealthier countries were not producing enough nurses to meet their own healthcare needs, and were therefore reliant on migration, exacerbating shortages in poorer countries.
"Eighty percent of the world's nurses only currently serve 50 percent of the world's population," she noted.
Catton warned of risks that richer countries would rely on the Philippines and India to "supply the world with nurses", which could lead to significant shortages in India.
The experts said nursing remains female-dominated and needed to recruit more men.
"There is clear evidence that where there are more men in any profession in the world, the pay and the terms and conditions improve," Watkins said.
As It Happens
LATEST UPDATE: January 16, 2021 - 2:04pm
Follow this page for updates on a mysterious pneumonia outbreak that has struck dozens of people in China.
January 16, 2021 - 2:04pm
India is set to begin one of the world's largest coronavirus vaccination drives Saturday as the pandemic spread at a record pace and global COVID-19 deaths surged past two million.
The World Health Organization has called for accelerating vaccine rollouts worldwide as well as ramping up efforts to study the sequencing of the virus, which has infected more than 93 million people globally since it was first detected in China in late 2019.
India, home to 1.3 billion people, has the world's second-largest caseload, and the government has given approvals to two vaccines -- though one is yet to complete clinical trials -- aiming to inoculate around 300 million people by July. — AFP
January 16, 2021 - 10:26am
US Secretary of State Mike Pompeo alleges there were COVID-like illnesses among staff at a Chinese virology institute in autumn 2019, casting further blame on Beijing as health experts arrived in the country to probe the pandemic's origins.
The top US diplomat in a statement urged the World Health Organization team that landed Thursday in Wuhan, where COVID-19 was first detected, to "press the government of China" on the "new information."
"The United States government has reason to believe that several researchers inside the (Wuhan Institute of Virology) became sick in autumn 2019, before the first identified case of the outbreak, with symptoms consistent with both COVID-19 and common seasonal illnesses," Pompeo says. — AFP
January 16, 2021 - 9:06am
The global death toll from COVID-19 has surpassed two million, with the World Health Organization urging mass vaccinations as the pandemic progresses at a record pace.
As of 1825 GMT on Friday, at least 2,000,066 people worldwide had been confirmed dead of the virus that first emerged in Wuhan, China, in late 2019, according to an AFP tally.
The grim milestone came as US pharmaceutical giant Pfizer said shipments of its vaccines would slow for a period in late January -- a blow to fledgling campaigns to immunize people against the virus. — AFP
January 15, 2021 - 5:37pm
China has sent over 20,000 rural residents living in the epicentre of the country's latest virus outbreak to state-run quarantine facilities, as Beijing on Friday reported the worst nationwide figures since March.
The country had largely brought the virus under control after strict measures including mass testing and travel restrictions, but recent weeks have seen numbers climbing again, especially in the north, prompting a fresh wave of lockdowns.
Another 144 infections were reported by the National Health Commission on Friday -- the highest single-day tally since March last year -- mostly in Hebei province where more than 22 million people are in lockdown. — AFP
January 15, 2021 - 12:52pm
Germany has recorded more than two million coronavirus cases since the start of the pandemic, the Robert Koch Institute health agency says Friday.
Europe's most populous country added another 22,368 cases over the past 24 hours, it said, bringing the total to 2,000,958.
It also reported another 1,113 fatalities from Covid-19, taking the overall death toll up to 44,994. — AFP