'Superheroes': Coronavirus survivors donate plasma hoping to heal the sick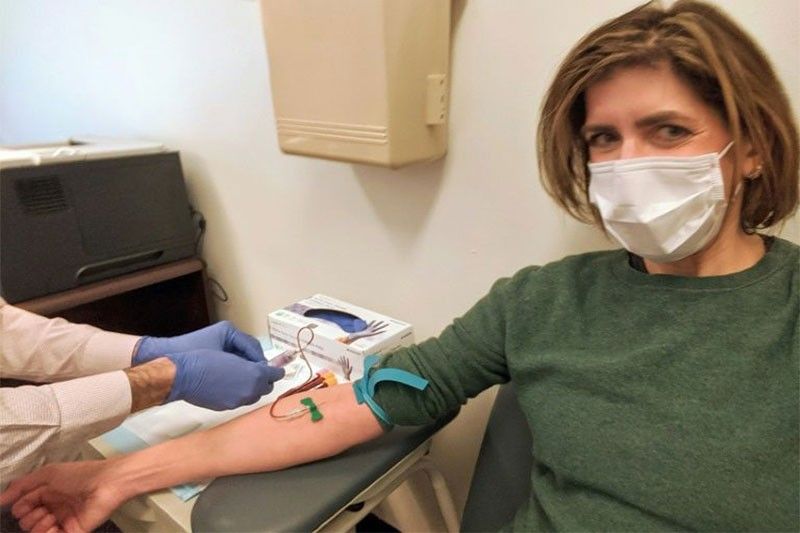 NEW YORK, United States — As she emerges from quarantine, recovered COVID-19 patient Diana Berrent is eager to join the battle against the pandemic and donate precious antibodies that researchers hope might help others.
In mid-March, the New Yorker woke up with a 102-degree (39 Celsius) fever and intense chest heaviness, becoming one of the first from her Long Island neighborhood to test positive for coronavirus.
This week, Berrent was the first survivor in her state screened for antibodies — immune system-generated proteins that can ward off viruses -—to contribute to initial tests seeking treatment for the infection that's left more than 51,000 people dead worldwide.
Convalescent plasma, the fluid in blood teeming with antibodies post-illness, has proven effective in small studies to treat infectious diseases including Ebola and SARS.
Now, the US Food and Drug Administration has greenlit physicians to experiment with the strategy as coronavirus patients fill hospitals and the nation's positive caseload spikes to over 236,000.
Bruce Sachias, chief medical officer of the New York Blood Center — which will collect, test and distribute donations in the city — said while there is reason to believe plasma transfusions can help alleviate the current crisis, tests underway are not intended to yield golden-ticket solutions.
"It's really important for us to be very cognizant of the fact that we're still in very new territory," he said.
Crisis mode
Eldad Hod and Steven Spitalnik — transfusion medicine doctors leading trials at Columbia University's Irving Medical Center — are cautiously optimistic but, like Sachias, emphasize the unknowns.
Spitalnik told AFP they believe "within seven to 14 days after the onset of an infection, that people will develop an immune response and eventually make high amounts of antibodies -- although exactly when the peak of antibody production will be, we don't know."
He said some data suggests antibody production could peak around 28 days post-infection, and hopes the new research could provide a clearer picture.
Hod said each donation "can potentially save three to four lives."
The primary goal now is acquiring a significant plasma stock, so researchers can conduct formal studies with control groups who would receive non-convalescent plasma, and others the antibody-packed donations.
Initial plasma, however, will be distributed for "compassionate use," Hod said — to patients outside studies but for whom other strategies have failed.
They also aim to test treatments on already-hospitalized patients and as a preventative therapy in settings like nursing homes.
Spitalnik said that normally they would want "highly controlled" clinical trials, which take longer but are more definitive.
But "this is a crisis," he said.
"We understand and we are amenable to doing things that will take shorter amounts of time — but hopefully we'll yield at least some rigorous results."
Internal hazmat suit
Berrent is eager to open her personal blood bank and crossing her fingers in hope the process can prove life-saving.
"We can be superheroes," the 45-year-old photographer told AFP.
"These are unprecedented, frightening times where everything is beyond our control — except for we as survivors can help," Berrent said.
"We can be the ones running towards the fire in our own internally built hazmat suit. And that is a tremendous opportunity — how could you not take advantage of that?"
Berrent's antibody levels met donation requirements — but she is waiting on results of a nasal swab test to make sure any remnants of coronavirus have dissipated.
In the meantime, she's started the more than 17,000-member Facebook group "Survivor Corps" to mobilize other survivors to share their immunity.
"I can't wait to donate," Berrent said. "We need a forward-looking solution-based approach that offers hope because things are very, very bleak right now."
'Science will win'
A Houston hospital has already transfused plasma from a recovered patient into someone critically ill, though it's still too early to determine efficacy.
Sachias said hundreds of people who believe they have recovered from COVID-19 have applied to help in New York, the US epicenter of the highly contagious virus that accounts for nearly half of related deaths stateside.
As their research gets underway, Hod said one silver lining of coronavirus' global scale has been the boost to collaborative scientific efforts, saying data is being shared more openly than ever before.
"I think a lot of the scientific community has tried to put their egos aside... and banded together to try and work together for the common good," he said.
"And I think in the end, science will win."
As It Happens
LATEST UPDATE: October 12, 2021 - 1:53pm
Follow this page for updates on a mysterious pneumonia outbreak that has struck dozens of people in China.
October 12, 2021 - 1:53pm
Elated Sydneysiders celebrate the end of almost four months of coronavirus lockdown, putting behind them a period of "blood, sweat and no beers" in Australia's largest city.
Sydney's more than five million residents were subjected to a 106-day lockdown, designed to limit the march of the highly transmissible Delta variant.
With new infections now falling -- New South Wales state recorded 496 cases on Monday -- and more than 70% of over-16s fully vaccinated, the city is dusting off the cobwebs. — AFP
October 11, 2021 - 8:38pm
The Kremlin on Monday described Russia's COVID fatality toll as "high" and the country's vaccination rate as "unacceptably" low, even as it rejected new restrictions so as to protect the economy.
Officials on Monday registered 957 new deaths from Covid-19 over 24 hours, bringing the country's total fatalities to 217,372 -- the highest toll in Europe -- even as authorities are accused of downplaying the severity of Russia's outbreak.
Under a broader definition of deaths linked to the virus, the Rosstat statistics agency said Friday that by the end of August more than 400,000 people in Russia had died with the coronavirus.
The growing toll from the virus comes as Russia's jab drive has stalled. As of Monday, just over 30 percent of Russians had been fully vaccinated, according to the Gogov website, which tallies COVID-19 data from the regions.
"Yes, indeed, the level of vaccinations we have is small, unacceptably small," Kremlin spokesman Dmitry Peskov told reporters, saying that this is the reason for "such a high mortality rate." -- AFP
October 9, 2021 - 10:45am
A major study shows that cases of depression and anxiety surged by more than a quarter globally during the first year of the pandemic, especially among women and young adults.
In the first worldwide estimate of the mental health impact of COVID-19, researchers estimated that 2020 saw an additional 52 million people suffer from major depressive disorder, and an additional 76 million cases of anxiety.
These represent a 28- and 26-percent increase in the two disorders respectively, according to the study, published in The Lancet medical journal. — AFP
October 6, 2021 - 8:44pm
The novel coronavirus has killed at least 4,813,581 people since the outbreak emerged in China in December 2019, according to a tally from official sources compiled by AFP on Wednesday.
At least 235,767,340 cases of coronavirus have been registered.
The vast majority have recovered, though some have continued to experience symptoms weeks or even months later.
October 4, 2021 - 7:08am
The pandemic has killed at least 4,795,274 since the outbreak emerged in China in December 2019, according to an AFP compilation of official data.
The US is the worst-affected country with 700,982 deaths, followed by Brazil with 597,723, India with 448,817, Mexico 278,592 and Russia which has a death toll of 209,918. — AFP