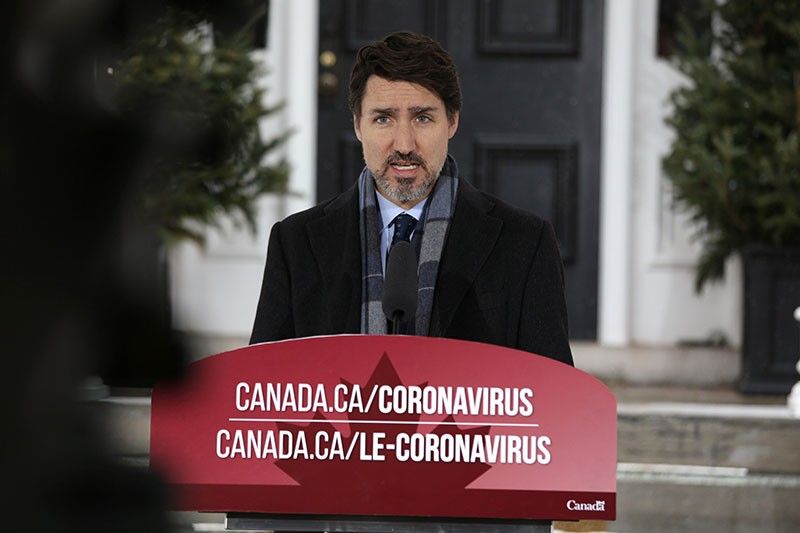 In this file photo Canadian Prime Minister Justin Trudeau speaks during a news conference on COVID-19 situation in Canada from his residence March 23, 2020 in Ottawa, Canada. Prime Minister Justin Trudeau's online plea for people to stay home during the coronavirus pandemic has gone viral, with actor Ryan Reynolds, musician Michael Buble and other Canadian celebrities on March 24, 2020 helping to spread the word. In the one-minute video the prime minister looks tired and a bit disheveled as he speaks to the nation from his kitchen in his second week of self-isolation with his family after his wife Sophie was diagnosed with the COVID-19 virus.
AFP/Dave Chan
Canada objects to US plan to post troops at border
OTTAWA, Canada — Canada opposes a plan by the United States to send troops to its northern frontier to catch border jumpers who may be carrying COVID-19, Prime Minister Justin Trudeau said Thursday.
Trudeau and Deputy Prime Minister Chrystia Freeland were responding to a Global News report that said White House officials are discussing such a military deployment to the recently closed border, the world's longest at 8,900 kilometers (5,500 miles).
Amid the coronavirus pandemic it was temporarily shut as of Saturday to all non-essential travelers on both sides, but not cross-border trade.
"Canada and the United States have the longest unmilitarized border in the world. And it is very much in both of our interests for it to remain that way," Trudeau told a daily briefing.
He said his administration has highlighted to the US that the flow of people and trade "has benefited our two countries and our economies tremendously. And we feel that it needs to remain that way."
Freeland went further, warning: "In Canada's view this is an entirely unnecessary step which we would view as damaging to our (bilateral) relationship."
She noted at a news conference that Washington had yet to make a decision, but added, "We do not believe at all that there would be a public health justification for (the US) to take this action.
"We've said we don't think this is the right way to treat a trusted friend and a military ally."
American troops
An estimated 400,000 people and $2 billion worth of goods normally cross the border each day.
Global News said fewer than 1,000 American troops would be stationed within 30 kilometers (20 miles) of the Canadian frontier, between official border checkpoints, and use sensor technologies to detect irregular crossers.
Under the proposal, the US military would advise American border agents, who would be sent to intercept them.
According to the latest government data, US officials apprehended 4,400 migrants at the Canada-US border in the 12 months to September 30, 2019, compared to 15,700 who crossed irregularly into Canada from the United States during the period.
The number of coronavirus cases in Canada on Thursday surpassed 4,000 including 39 deaths, according to public health authorities. The number of US cases, meanwhile, topped 83,000, including more than 1,200 deaths, according to a tally by Johns Hopkins University.
Freeland said Ottawa "forcefully" pushed back against the border proposal, reminding in discussions with US officials that the two nations are "very close military allies," including partners in NORAD and NATO.
She also pointed to the recently ratified US-Mexico-Canada free trade pact and last week's agreement on border restrictions as evidence the two countries can work well together.
"In view of all of these connections and the importance of the (bilateral) relationship, Canada is strongly opposed to this US proposal," she said.
As It Happens
LATEST UPDATE: April 16, 2021 - 7:16am
Follow this page for updates on a mysterious pneumonia outbreak that has struck dozens of people in China.
April 16, 2021 - 7:16am
Public hospitals are critically short on the drugs needed to intubate Covid-19 patients in Sao Paulo, the most populous state in Brazil, officials said Thursday, warning of a potential public health catastrophe.
Sixty-eight percent of public clinics have run out of neuromuscular blockers, which are used to relax a patient's muscles during intubation, and 61 percent are out of sedatives, a report from the state council of municipal health secretaries (Cosems-SP) found.
"The situation regarding supplies of medications for intubation worsened over the past week," it said, amid a deadly new surge of Covid-19 in Brazil. — AFP
April 15, 2021 - 6:34pm
India's daily coronavirus caseload doubles in 10 days, with a record 200,000 new infections logged Thursday as authorities grapple with shortages of vaccines, treatments and hospital beds.
Having let its guard down with mass religious festivals, political rallies and crowds at cricket matches, India is experiencing a vicious second wave, recording almost two million fresh infections this month alone.
This week, it overtook Brazil to become the country with the second-highest number of cases worldwide, after the United States. — AFP
April 13, 2021 - 12:47pm
The English variant of the novel coronavirus does not increase the severity of COVIDompared to other strains, according to research published Tuesday that also confirmed its increased transmissibility.
The variant, known as B117, is now the dominant viral strain across much of Europe, and previous studies had shown it was linked to a higher likelihood of death than normal variants. — AFP
April 7, 2021 - 6:09pm
Prime Minister Narendra Modi's home state Gujarat becomes the latest to tighten coronavirus curbs as India's infections surge to a record of almost 116,000 new cases in 24 hours.
Experts blame the country's fresh wave on people ignoring guidelines and attending huge religious and political events, as well as weddings and cricket matches in recent months.
India has now recorded 12.8 million cases, the third-highest behind the United States and Brazil, although those nations have much smaller populations. More than 166,000 Indians have died. — AFP
April 7, 2021 - 9:24am
Brazil registers more than 4,000 Covid-19 deaths in 24 hours for the first time Tuesday, the health ministry says, as the country reeled from a surge of infections that has made it the current epicenter of the pandemic.
The coronavirus claimed 4,195 lives in the deadliest day of the pandemic yet for the hard-hit country, whose total reported death toll is now nearly 337,000, second only to the United States.
Brazil's health system is buckling under the strain of the latest virus wave, which has forced doctors into agonizing decisions over which patients to give life-saving care and led cemeteries to hold nighttime burials to deal with the crush of coffins. — AFP