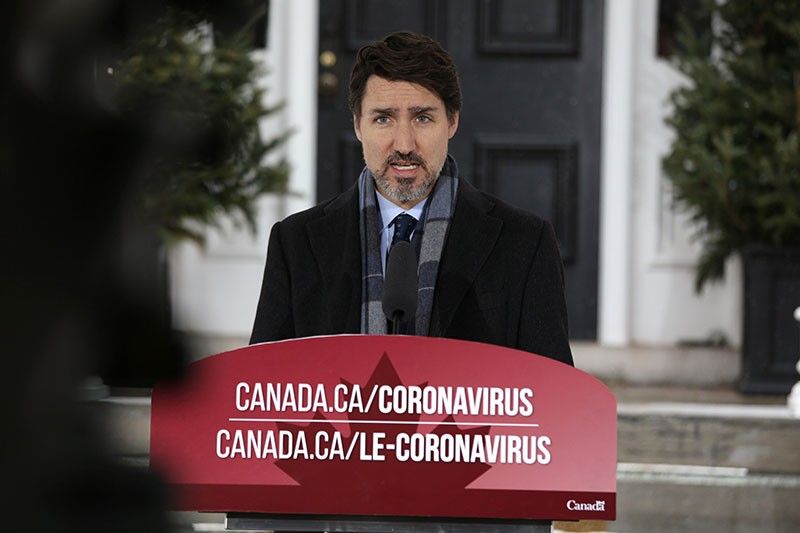 In this file photo Canadian Prime Minister Justin Trudeau speaks during a news conference on COVID-19 situation in Canada from his residence March 23, 2020 in Ottawa, Canada. Prime Minister Justin Trudeau's online plea for people to stay home during the coronavirus pandemic has gone viral, with actor Ryan Reynolds, musician Michael Buble and other Canadian celebrities on March 24, 2020 helping to spread the word. In the one-minute video the prime minister looks tired and a bit disheveled as he speaks to the nation from his kitchen in his second week of self-isolation with his family after his wife Sophie was diagnosed with the COVID-19 virus.
AFP/Dave Chan
Canada objects to US plan to post troops at border
OTTAWA, Canada — Canada opposes a plan by the United States to send troops to its northern frontier to catch border jumpers who may be carrying COVID-19, Prime Minister Justin Trudeau said Thursday.
Trudeau and Deputy Prime Minister Chrystia Freeland were responding to a Global News report that said White House officials are discussing such a military deployment to the recently closed border, the world's longest at 8,900 kilometers (5,500 miles).
Amid the coronavirus pandemic it was temporarily shut as of Saturday to all non-essential travelers on both sides, but not cross-border trade.
"Canada and the United States have the longest unmilitarized border in the world. And it is very much in both of our interests for it to remain that way," Trudeau told a daily briefing.
He said his administration has highlighted to the US that the flow of people and trade "has benefited our two countries and our economies tremendously. And we feel that it needs to remain that way."
Freeland went further, warning: "In Canada's view this is an entirely unnecessary step which we would view as damaging to our (bilateral) relationship."
She noted at a news conference that Washington had yet to make a decision, but added, "We do not believe at all that there would be a public health justification for (the US) to take this action.
"We've said we don't think this is the right way to treat a trusted friend and a military ally."
American troops
An estimated 400,000 people and $2 billion worth of goods normally cross the border each day.
Global News said fewer than 1,000 American troops would be stationed within 30 kilometers (20 miles) of the Canadian frontier, between official border checkpoints, and use sensor technologies to detect irregular crossers.
Under the proposal, the US military would advise American border agents, who would be sent to intercept them.
According to the latest government data, US officials apprehended 4,400 migrants at the Canada-US border in the 12 months to September 30, 2019, compared to 15,700 who crossed irregularly into Canada from the United States during the period.
The number of coronavirus cases in Canada on Thursday surpassed 4,000 including 39 deaths, according to public health authorities. The number of US cases, meanwhile, topped 83,000, including more than 1,200 deaths, according to a tally by Johns Hopkins University.
Freeland said Ottawa "forcefully" pushed back against the border proposal, reminding in discussions with US officials that the two nations are "very close military allies," including partners in NORAD and NATO.
She also pointed to the recently ratified US-Mexico-Canada free trade pact and last week's agreement on border restrictions as evidence the two countries can work well together.
"In view of all of these connections and the importance of the (bilateral) relationship, Canada is strongly opposed to this US proposal," she said.
As It Happens
LATEST UPDATE: March 28, 2020 - 6:29pm
Follow this page for updates on a mysterious pneumonia outbreak that has struck dozens of people in China.
March 28, 2020 - 6:29pm
Iran announces that 139 more people had died from the novel coronavirus, raising the official death toll to 2,517 in one of the world's worst-affected countries.
Health ministry spokesman Kianoush Jahanpour says in a press conference that 3,076 more cases had been confirmed in the past 24 hours, bringing the total number of infections to 35,408. — AFP
March 28, 2020 - 3:53pm
Actress Iza Calzado tested positive for the coronavirus disease, her manager says.
March 28, 2020 - 1:30pm
Toyota Makati Inc. announces that a team member tested positive for COVID-19.
"The safety and security of our employees, customers, and all of our stakeholders, is paramount to us. Keeping this in mind, and under the guidance and support of the relevant national and local authorities, we are taking immediate and comprehensive actions necessary, including disinfection of the dealership, to prevent any spread of the virus," the company says.
"Furthermore, all employees who have had close contact with the infected member have been quarantined," it adds.
March 28, 2020 - 10:43am
The United States now has more than 100,000 confirmed cases of the new coronavirus, a tracker maintained by Johns Hopkins University shows.
There have been 100,717 cases including 1,544 deaths as of 6:00 pm Eastern time (2200 GMT).
The biggest cluster by far is in New York, home to almost half the cases, overwhelming the hospital system. — AFP
March 28, 2020 - 9:08am
Manila Development Authority General Manager Jojo Garcia has tested positive for the coronavirus disease.
"I wish to inform everyone that I will have to work from home as I have been found positive for COVID-19," Garcia says in a statement.
"I embrace this challenge with full trust and faith in God that I will overcome the same with your prayers," he adds.