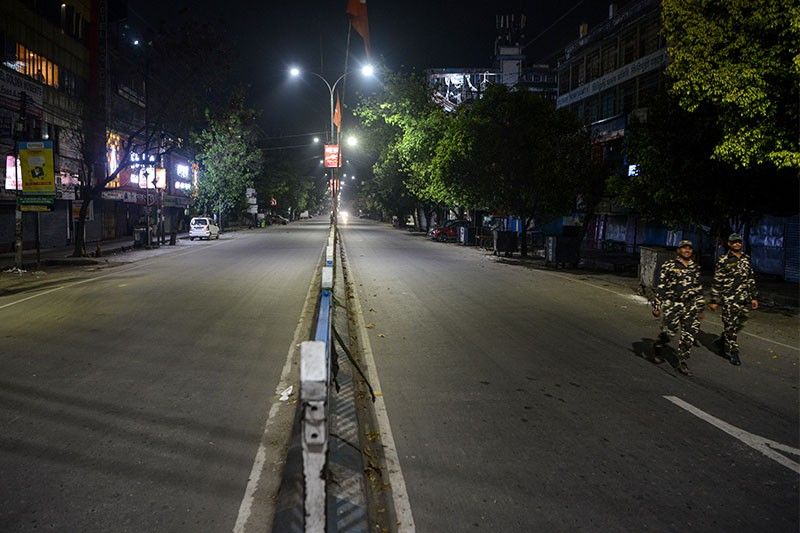 Security personnel patrol on a deserted street during the first day of a 21-day government-imposed nationwide lockdown as a preventive measure against the COVID-19 coronavirus in Siliguri on March 25, 2020.
AFP/Diptendu Dutta
Virus death toll passes 20,000, three billion under lockdown
Hazel Ward
(Agence France-Presse) - March 26, 2020 - 8:21am
MADRID, Spain — More than three billion people are living under lockdown measures as soaring death tolls in Europe and the US on Wednesday underlined a United Nations warning that the coronavirus pandemic threatens all of humanity.
As the global death toll soared past 20,800, Spain joined Italy in seeing its number of fatalities overtake China, where the virus first emerged just three months ago.
"COVID-19 is threatening the whole of humanity — and the whole of humanity must fight back," UN Secretary General Antonio Guterres said, launching an appeal for $2 billion to help the world's poor.
"Global action and solidarity are crucial. Individual country responses are not going to be enough."
Markets rebounded after Washington vowed to spend $2 trillion to fend off a US economic collapse, while governments elsewhere were taking ever more dramatic steps to contain the disease.
India's stay-at-home order for its 1.3 billion people is now the biggest, taking the total number of people facing restrictions on their daily lives to more than three billion.
Russia, which announced the death of two patients who tested positive for coronavirus on Wednesday, is expected to follow suit.
President Vladimir Putin declared next week a public holiday and postponed a public vote on controversial constitutional reforms, urging people to follow instructions given by authorities.
In Britain, heir to the throne Prince Charles became the latest high-profile figure to become infected, though he has suffered only mild symptoms.
The G20 major economies will hold an emergency videoconference on Thursday to discuss a global response to the crisis, as will the 27 leaders of the European Union, the outbreak's new epicentre.
China has begun to relax its own draconian restrictions on free movement in the province of Hubei -- the original epicentre of the outbreak -- after the country reported no new cases.
Crowds jammed trains and buses in the province as people took their first opportunity to travel.
But Spain saw the number of deaths surge to 3,434 after 738 people died in the past 24 hours and the government announced a 432-million-euro ($467 million) deal to buy medical supplies from Beijing.
'People dying alone'
At La Paz university hospital in Madrid, accident and emergency nurse Guillen del Barrio sounded bereft as he related what happened overnight.
"It is really hard, we had feverish people for many hours in the waiting room," the 30-year-old told AFP.
"Many of my colleagues were crying because there were people who are dying alone, without seeing their family for the last time."
Spain and Italy were joined by France and six more EU countries in urging Germany and the Netherlands to allow the issue of joint European bonds to cut borrowing costs and stabilise the eurozone economy.
The call is likely to fall on deaf ears when EU leaders talk on Thursday — with northern members wary of pooling debt with big spenders — but they will sign off on an "unprecedented" recovery plan.
The death toll in Italy jumped in 24 hours by 683 to 7,503 — by far the highest of any country.
The number of French deaths was up by 231 on Wednesday to 1,331, and metro and rail services in Paris were cut to a minimum.
Coronavirus cases are also spreading in the Middle East, where Iran's death toll topped 2,000, and in Africa, where Mali declared its first case and several nations announced states of emergency.
And in Japan, which has postponed this year's Olympic Games, Tokyo's governor urged residents to stay home this weekend, warning of a possible "explosion" of the coronavirus.
Jerusalem's Church of the Holy Sepulchre, believed by Christians to house Christ's tomb, was shut as Israel tightened movement restrictions.
The impact of the pandemic is also hitting European football, with leagues and tournaments cancelled, while the fate of the Wimbledon tennis tournament could be decided next week.
'Wartime level of investment'
The economic damage of the virus — and the lockdowns — could also be devastating, with fears of a worldwide recession worse than the financial meltdown more than a decade ago.
But financial markets rose after US leaders agreed a stimulus package worth roughly 10 percent of their economy, an injection Senate Majority Leader Mitch McConnell said represented a "wartime level of investment."
Meanwhile, more than half of all Americans have been urged to stay at home, including in the largest state of California.
The country has at least 62,000 cases and 869 people have died.
New York Governor Andrew Cuomo said the state had 285 deaths and that cases were projected to only peak in 21 days with 30,000 ventilators needed by then.
President Donald Trump has voiced hope the US will be "raring to go" by mid-April, but his optimism appeared to stand almost alone among world leaders.
Anxious Indians raced for supplies after the government ordered the world's second-biggest population not to leave their houses for three weeks from Wednesday.
"To save India, to save its every citizen, you, your family... every street, every neighbourhood is being put under lockdown," Prime Minister Narendra Modi said.
Whether the order will be obeyed in full remained to be seen. Mumbai vegetable trader Rafiq Ansari said his customers were getting angry over shortages and price hikes.
"I don't understand what's going on," the 35-year-old told AFP. "We are going to face major shortages in the days ahead."
Many governments are listening to health experts who warn the only way to slow the epidemic — and save the lives of the elderly and vulnerable — is by imposing "social isolation" measures. — with Philippe Rater at the United Nations
As It Happens
LATEST UPDATE: January 27, 2021 - 12:27pm
Follow this page for updates on a mysterious pneumonia outbreak that has struck dozens of people in China.
January 27, 2021 - 12:27pm
Hong Kong has begun using "ambush lockdowns" to suddenly close off and test everyone inside neighbourhoods where coronavirus cases have spiked, as a spate of recent outbreaks lay bare the rampant inequality in the wealthy Chinese finance hub.
Police cordoned off a row of densely packed tenement buildings in the Yau Ma Tei area overnight on Tuesday through to Wednesday morning to conduct mandatory tests.
The new tactic involves authorities giving no warning of an impending lockdown.
City leader Carrie Lam said such "ambush style" lockdowns were needed to ensure people did not flee before testers move in.
"I thank residents in the restricted area for their cooperation," she wrote on her Facebook page Wednesday as the lockdown was lifted. —AFP
January 26, 2021 - 1:07pm
Mexico's coronavirus death toll has surpassed 150,000, the government says, a day after President Andres Manuel Lopez Obrador announced he had Covid-19.
The health ministry reports 659 more deaths in its daily update, taking the total to 150,273, behind only the United States, Brazil and India.
The overall number of infections registered now stands at more than 1.77 million in the nation of around 128 million, an increase of 8,521 from the previous day. — AFP
January 26, 2021 - 11:41am
Thousands of Australians defy coronavirus rules to protest the country's national day, held on the anniversary of British colonization of the vast continent that its Indigenous population brands "Invasion Day".
Officially recognized as Australia Day, January 26 also sees annual rallies drawing attention to the injustices faced by Indigenous people and calling on the government to change the date of the national holiday.
The celebration of the origins of the modern nation is a time of mourning for Indigenous Australians, who have inhabited the land for 65,000 years and view the arrival of British settlers in 1788 as the beginning of two centuries of pain and suffering.
Thousands of people gathered at a central Sydney park in defiance of police threats of fines and arrests for breaching a 500-person limit on gathering in public places, though organizers called off a march through the city that usually follows. — AFP
January 26, 2021 - 7:38am
The Netherlands was hit by a second wave of riots Monday evening, as protesters again went on the rampage in several cities following the introduction of a coronavirus curfew over the weekend.
Riot police clashed with groups of protesters in Amsterdam as well as the port city of Rotterdam, where people smashed shop windows and ransacked their supplies.
The unrest also hit Amersfoort in the east, the small southern city of Geleen near Maastricht, The Hague and Den Bosch, police and news reports said.
More than 70 people had been rounded up by 2200 GMT, public newscaster NOS reported.
Geleen police said in an earlier tweet that they were dealing with "rioting youths who are throwing fireworks". — AFP
January 25, 2021 - 2:17pm
New Zealand's first case of coronavirus in the community for more than two months has been identified as the more contagious South African variant, prompting Australia to suspend quarantine-free travel from the neighbouring country for at least 72 hours.
A 56-year-old New Zealander, who recently returned from Europe, tested positive on Saturday to the infectious strain, 10 days after she completed her compulsory two weeks in isolation.
New Zealand has been widely praised for its handling of the pandemic, with just 25 deaths from 1,927 confirmed virus cases in a population of five million. — AFP