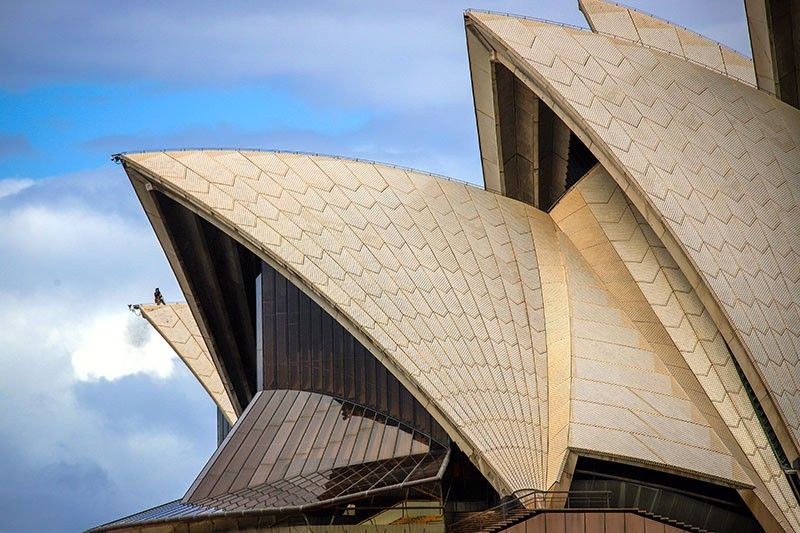 A worker (L) stands atop of the roof of the Sydney Opera House in Sydney on March 17, 2020. Management of the iconic building on March 17 announced the cancellation of all public performances until March 29, based on the latest health advice and developments in the evolving COVID-19 coronavirus situation.
AFP/David Gray
Australia orders citizens not to travel abroad
(Agence France-Presse) - March 18, 2020 - 7:50am
SYDNEY, Australia — Australia ordered its citizens Wednesday to halt all overseas travel in an unprecedented move designed to choke off the spread of the coronavirus epidemic.
Prime Minister Scott Morrison announced at a press conference what he called an "indefinite ban" on foreign travel alongside a crackdown on indoor gatherings in Australia of more than 100 people.
"This is a once-in-100-year type event," Morrison said of the pandemic. "We haven't seen this sort of thing in Australia since the end of the first World War."
"We are going to keep Australia running, we are going to keep Australia functioning, (but) it won't look like it normally does," he said, warning that the measures being taken would last at least six months.
Australia has so far recorded more than 450 confirmed cases of coronavirus, with the numbers escalating daily. There have so far been just five fatalities.
Morrison rejected calls for the government to order schools to close, as has been done in other countries, saying the impact on society and the economy from such a closure would be "severe".
"Whatever we do we have to do for at least six months," he said, adding that among other consequences a long school closure would remove 30 percent of workers from the health industry as parents remained home with their kids.
The ban on overseas travel came as Australia's two main airlines, Qantas and Virgin Australia, slashed international flights 90 percent and 100 percent respectively.
Acknowledging it was "the first time that has ever happened in Australia's history," he said the ban was needed to stop travelers from bringing more coronavirus cases into the country.
The ban on indoor gatherings of more than 100 people applies to "non-essential" gatherings and excluded public transportation, shopping sites and school.
The government had already banned outdoor events of more than 500 people, dealing a severe blow to spectator sports in the sports-mad nation.
As It Happens
LATEST UPDATE: August 7, 2020 - 7:49am
Follow this page for updates on a mysterious pneumonia outbreak that has struck dozens of people in China.
August 7, 2020 - 7:49am
The number of coronavirus cases recorded worldwide has passed 19 million, according to an AFP tally from official sources at 2300 GMT Thursday.
At least 19,000,553 cases and 712,315 deaths have now been registered.
Forty percent of cases were in the United States and Brazil, the two worst-affected countries with 4,870,367 cases (159,864 deaths) and 2,912,212 infections (98,493 deaths) respectively. — AFP
August 7, 2020 - 7:40am
The number of COVID-19 cases in Africa has risen to over one million, with more than half registered in South Africa, according to an AFP count late Thursday.
The continent's worst-hit nation has registered 538,184 infections, including over 8,000 new cases on Thursday, and 9,604 deaths.
Egypt has recorded around 95,000 COVID-19 cases while the figure in Nigeria is 45,000.
South Africa's infection figures are the fifth-highest after the US, Brazil, India and Russia. — AFP
August 6, 2020 - 8:49pm
Germany will introduce mandatory coronavirus tests for travellers returning from designated risk zones from Saturday, the country's health minister said.
Having announced the measure last week, minister Jens Spahn said it would take effect from this weekend, as fears grow over rising case numbers blamed on summer holidays and local outbreaks.
"It is already the case that travellers from risk zones are obliged to either go into a two-week quarantine or provide an up-to-date negative test result," he said at a press conference Thursday.
From Saturday, "travelers entering Germany will have to bring a test result with them or be tested on arrival", he added, confirming once again that the tests would be paid for by the government. — AFP
August 6, 2020 - 9:43am
According to a tally by Johns Hopkins University, the United States added 1,262 more deaths to its COVID-19 toll in the 24 hours ending at 8:30 pm Wednesday.
The world's largest economy also added 53,158 new cases of the virus, the Baltimore-based institution's tracker shows.
The US has now recorded 4,818,328 total cases, which have resulted in 157,930 deaths, making it by far the worst-hit country in the world. — AFP
August 5, 2020 - 4:28pm
The Department of Health reports 3,462 additional cases of COVID-19 infections in the Philippines, bringing the national tally to 115,980.
222 more people recovered while nine more patients succumbed to COVID-19.