Hong Kong Disneyland closing over novel coronavirus fears
January 26, 2020 | 12:10pm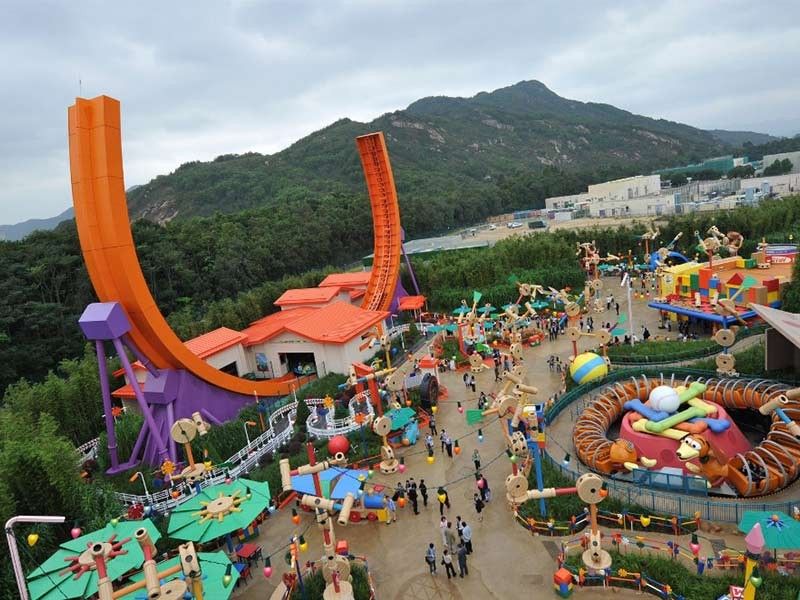 HONG KONG, China — Hong Kong's Disneyland announced it was shutting its doors on Sunday until further notice over the deadly virus outbreak in central China, a day after city authorities classified the crisis as an emergency.
The park said it was taking the step to protect "the health and safety of our guests and cast members" and said refunds would be given.
Ocean Park, a rival amusement park on Hong Kong's main island, said it was also closing its doors.
On Saturday, Hong Kong classified the outbreak as an "emergency" — the city's highest warning tier — and announced ramped-up measures to reduce the risk of further infections.
The move came as city leader Carrie Lam faced criticism in some quarters over her administration's response to the crisis, including calls to halt, or limit, arrivals from the Chinese mainland where the epidemic began.
Of the five people who have tested positive for the virus in Hong Kong so far, four arrived via a newly built high-speed train terminal which connects with the mainland.
Lam has resisted closing the border, saying the crisis is not yet at a point where such a drastic measure is needed.
But she has announced all mainland arrivals must now sign health declaration forms.
A series of public events, including a Lunar New Year gala and next month's marathon have also been cancelled.
On Sunday, the nearby gambling hub of Macau announced three more cases of the novel coronavirus, bringing its total to five.
All three new cases were women who came from the central Chinese city of Wuhan, the epicentre of the epidemic. One of the women had arrived in Macau via Hong Kong, authorities said.
The closure of Disneyland and Ocean Park will pile fresh misery on Hong Kong's tourism, leisure and retail industries which have already been battered by more than seven months of often-violent pro-democracy protests.
Ocean Park is on track to receive a HK$10.6 billion (US$1.3 billion) government bailout over grim ticket sales in recent years.
Combined with the US-China trade war fallout, the protests have helped tip Hong Kong into recession and the virus outbreak has only compounded the city's economic woes.
Shanghai's Disneyland also closed from Saturday in response to the coronavirus outbreak.
Hong Kong has firsthand experience of deadly viral outbreaks.
Nearly 300 people were killed in the city by Severe Acute Respiratory Syndrome (SARS) in 2003, a tragedy that left a profound psychological impact on one of the most densely populated places on earth.
As It Happens
LATEST UPDATE: September 20, 2021 - 8:29pm
Follow this page for updates on a mysterious pneumonia outbreak that has struck dozens of people in China.
September 20, 2021 - 8:29pm
The COVID-19 pandemic sped up the shift of innovation from Europe and North America towards Asia, UN world rankings showed Monday.
The Global Innovation Index 2021, from the United Nations' World Intellectual Property Organization, showed surging performances by South Korea and China.
"The pandemic has accelerated the long-term geographical shift of innovation activities toward Asia, even if Northern America and Europe continue to host some of the world's leading innovators," said WIPO.
While the top four in the global rankings remained the same as last year — with Switzerland leading for the 11th year running followed by Sweden, the United States and Britain — South Korea leapt five places to fifth.
The index found "substantial increases in brand values in Korea, in trademarks being filed, but also in cultural and creative services exports," index co-editor Sacha Wunsch-Vincent told reporters, citing the K-Pop phenomenon. — AFP
September 19, 2021 - 4:17pm
Australia's second-largest city will exit its coronavirus lockdown in late October if vaccine targets are met under an official roadmap released Sunday.
About five million people in Melbourne have been under stay-at-home orders since August 5, the sixth lockdown they have endured so far during the COVID-19 pandemic.
Officials in Victoria state, which includes Melbourne, announced those orders would be lifted when 70 percent of over-16s are fully vaccinated. They projected that target would be reached around October 26.
"Lockdown will end. The (limited) reasons to leave your home and the curfew will no longer be in place," Victoria premier Dan Andrews said, adding that a raft of restrictions would still be enforced.
Restaurants and pubs will be allowed to reopen but only with a maximum of 50 fully vaccinated people seated outdoors, while a ban on visitors to homes will remain in place. — AFP
September 17, 2021 - 7:07pm
The novel coronavirus has killed at least 4,667,150 people since the outbreak emerged in China in December 2019, according to a tally from official sources compiled by AFP.
At least 226,967,810 cases of coronavirus have been registered.
The vast majority have recovered, though some have continued to experience symptoms weeks or even months later.
September 14, 2021 - 8:48pm
Frontline health and social care workers, older people and the clinically vulnerable in Britain will start to receive a booster jab against COVID-19 from next week, the government says.
Health minister Sajid Javid tells parliament he had approved a recommendation from advisory body the Joint Committee on Vaccination and Immunisation (JCVI) to start the programme.
He also approved a controversial proposal to offer jabs to children aged 12-15 as concern mounts about the spread of the virus in schools. — AFP
September 14, 2021 - 5:51pm
All children aged 12-15 will be offered COVID-19 vaccinations, Britain announces, following the advice of four top medical officers.
Britain has been one of the countries hardest hit by COVID-19, recording more than 134,000 deaths.
Despite a succesful vaccination programme, case rates remain stubbornly high due to the emergence of the Delta variant, and officials are anxious about them rising further now that schools have returned after the summer break. — AFP