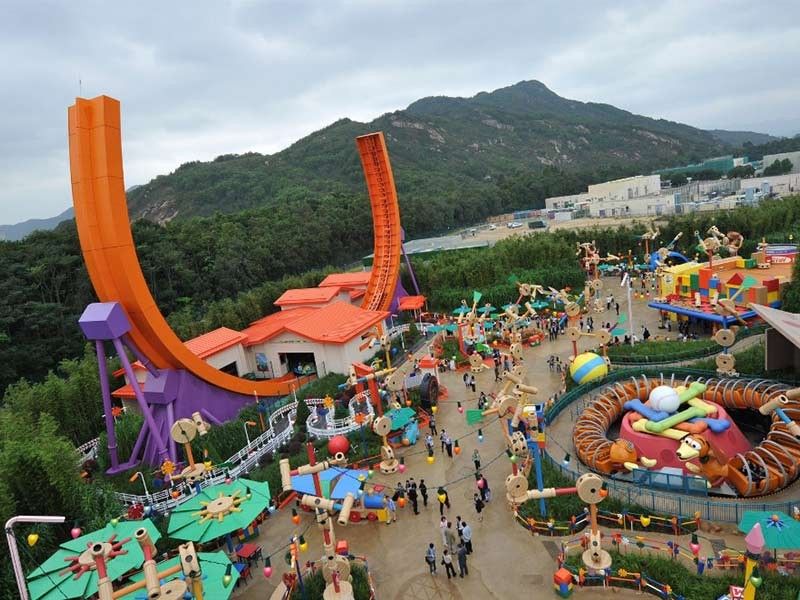 This file photo taken on November 17, 2011 shows a general view of Toy Story Land at Hong Kong's Disneyland. Hong Kong's Disneyland announced it was shutting its doors on January 26, 2020 until further notice over the deadly virus outbreak in central China, a day after city authorities classified the crisis as an emergency.
AFP / Aaron Tam
Hong Kong Disneyland closing over novel coronavirus fears
(Agence France-Presse) - January 26, 2020 - 12:10pm
HONG KONG, China — Hong Kong's Disneyland announced it was shutting its doors on Sunday until further notice over the deadly virus outbreak in central China, a day after city authorities classified the crisis as an emergency.
The park said it was taking the step to protect "the health and safety of our guests and cast members" and said refunds would be given.
Ocean Park, a rival amusement park on Hong Kong's main island, said it was also closing its doors.
On Saturday, Hong Kong classified the outbreak as an "emergency" — the city's highest warning tier — and announced ramped-up measures to reduce the risk of further infections.
The move came as city leader Carrie Lam faced criticism in some quarters over her administration's response to the crisis, including calls to halt, or limit, arrivals from the Chinese mainland where the epidemic began.
Of the five people who have tested positive for the virus in Hong Kong so far, four arrived via a newly built high-speed train terminal which connects with the mainland.
Lam has resisted closing the border, saying the crisis is not yet at a point where such a drastic measure is needed.
But she has announced all mainland arrivals must now sign health declaration forms.
A series of public events, including a Lunar New Year gala and next month's marathon have also been cancelled.
On Sunday, the nearby gambling hub of Macau announced three more cases of the novel coronavirus, bringing its total to five.
All three new cases were women who came from the central Chinese city of Wuhan, the epicentre of the epidemic. One of the women had arrived in Macau via Hong Kong, authorities said.
The closure of Disneyland and Ocean Park will pile fresh misery on Hong Kong's tourism, leisure and retail industries which have already been battered by more than seven months of often-violent pro-democracy protests.
Ocean Park is on track to receive a HK$10.6 billion (US$1.3 billion) government bailout over grim ticket sales in recent years.
Combined with the US-China trade war fallout, the protests have helped tip Hong Kong into recession and the virus outbreak has only compounded the city's economic woes.
Shanghai's Disneyland also closed from Saturday in response to the coronavirus outbreak.
Hong Kong has firsthand experience of deadly viral outbreaks.
Nearly 300 people were killed in the city by Severe Acute Respiratory Syndrome (SARS) in 2003, a tragedy that left a profound psychological impact on one of the most densely populated places on earth.
As It Happens
LATEST UPDATE: February 25, 2020 - 4:24pm
Follow this page for updates on a mysterious pneumonia outbreak that has struck dozens of people in China.
February 25, 2020 - 4:24pm
Iranian officials report three more deaths from the novel coronavirus, taking the total number of fatalities to 15, state media reports.
Two of the dead were elderly women in the central province of Markazi and the other was a patient in the northern province of Alborz, state news agency IRNA said Tuesday. — AFP
February 25, 2020 - 10:36am
The first of two Philippine Airlines flights that will bring Filipino crew members of coronavirus-hit Diamond Princess are ready to leave for Japan.
The Philippine Embassy in Tokyo, along with the Department of Health team, are also ready at Yokohama Port for the arrival of over 400 Filipinos aboard the Japanese cruise ship.
Officials of the Philippine Embassy in Tokyo and the DOH team are ready at Yokohama Port for the disembarkation of over 400 Filipino crew members of coronavirus-infected Diamond Princess cruise ship. | via @patriciaviray

???? DFA pic.twitter.com/x35jXrKWBo

— Philstar.com (@PhilstarNews) February 25, 2020
February 25, 2020 - 9:10am
China on Tuesday reports another 71 deaths from the novel coronavirus, the lowest daily number of fatalities in over two weeks, which raises the toll to 2,663.
The National Health Commission also reports 508 new confirmed cases, with all by nine in hard-hit Hubei province.
It is up from Monday's 409 cases nationwide. — AFP
February 24, 2020 - 9:20pm
Hong Kong will bar non-residents arriving from South Korea from Tuesday morning in response to the growing coronavirus outbreak, the city's security chief said late Monday.
"Considering the development of the epidemic in South Korea, the Security Bureau will issue a red travel alert," John Lee told reporters.
"We also urge Hong Kong residents not to travel there unless necessary," he added. — AFP
February 24, 2020 - 3:29pm
Authorities in Wuhan on Monday reversed a decision that would have allowed some people to leave the quarantined city at the centre of China's deadly virus epidemic, and reprimanded officials who had made the announcement.
The city government said in a statement that the previous announcement had been made by a traffic prevention and control group "without the consent" of the local leadership.
"The announcement is declared invalid. In this regard, we have seriously dealt with the relevant personnel," the city said on its official account on Twitter-like Weibo.
"Wuhan resolutely implements the spirit of General Secretary Xi Jinping's important instructions on 'preventing leaks (of the virus)' ... strictly manages the passages leaving from Wuhan, strictly controls personnel, and strictly prevents the epidemic from going out," it said. — AFP