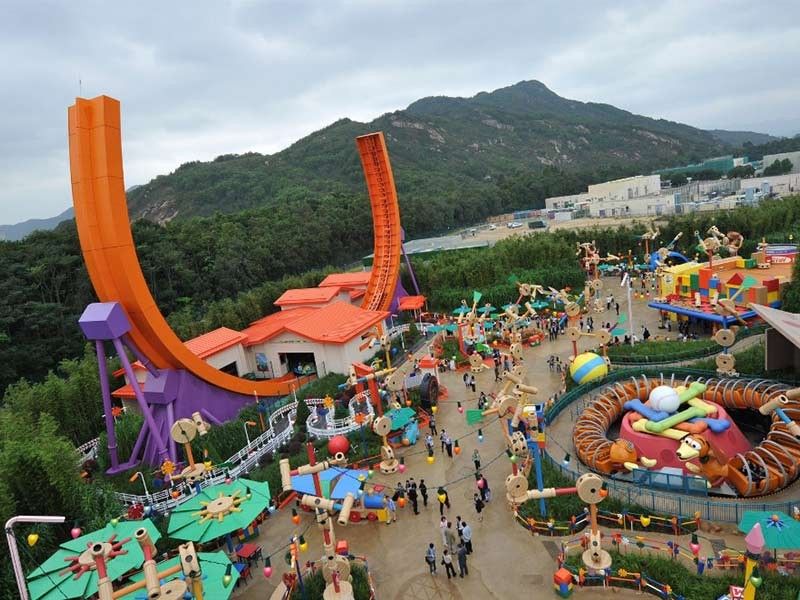 This file photo taken on November 17, 2011 shows a general view of Toy Story Land at Hong Kong's Disneyland. Hong Kong's Disneyland announced it was shutting its doors on January 26, 2020 until further notice over the deadly virus outbreak in central China, a day after city authorities classified the crisis as an emergency.
AFP / Aaron Tam
Hong Kong Disneyland closing over novel coronavirus fears
(Agence France-Presse) - January 26, 2020 - 12:10pm
HONG KONG, China — Hong Kong's Disneyland announced it was shutting its doors on Sunday until further notice over the deadly virus outbreak in central China, a day after city authorities classified the crisis as an emergency.
The park said it was taking the step to protect "the health and safety of our guests and cast members" and said refunds would be given.
Ocean Park, a rival amusement park on Hong Kong's main island, said it was also closing its doors.
On Saturday, Hong Kong classified the outbreak as an "emergency" — the city's highest warning tier — and announced ramped-up measures to reduce the risk of further infections.
The move came as city leader Carrie Lam faced criticism in some quarters over her administration's response to the crisis, including calls to halt, or limit, arrivals from the Chinese mainland where the epidemic began.
Of the five people who have tested positive for the virus in Hong Kong so far, four arrived via a newly built high-speed train terminal which connects with the mainland.
Lam has resisted closing the border, saying the crisis is not yet at a point where such a drastic measure is needed.
But she has announced all mainland arrivals must now sign health declaration forms.
A series of public events, including a Lunar New Year gala and next month's marathon have also been cancelled.
On Sunday, the nearby gambling hub of Macau announced three more cases of the novel coronavirus, bringing its total to five.
All three new cases were women who came from the central Chinese city of Wuhan, the epicentre of the epidemic. One of the women had arrived in Macau via Hong Kong, authorities said.
The closure of Disneyland and Ocean Park will pile fresh misery on Hong Kong's tourism, leisure and retail industries which have already been battered by more than seven months of often-violent pro-democracy protests.
Ocean Park is on track to receive a HK$10.6 billion (US$1.3 billion) government bailout over grim ticket sales in recent years.
Combined with the US-China trade war fallout, the protests have helped tip Hong Kong into recession and the virus outbreak has only compounded the city's economic woes.
Shanghai's Disneyland also closed from Saturday in response to the coronavirus outbreak.
Hong Kong has firsthand experience of deadly viral outbreaks.
Nearly 300 people were killed in the city by Severe Acute Respiratory Syndrome (SARS) in 2003, a tragedy that left a profound psychological impact on one of the most densely populated places on earth.
As It Happens
LATEST UPDATE: September 22, 2020 - 6:44pm
Follow this page for updates on a mysterious pneumonia outbreak that has struck dozens of people in China.
September 22, 2020 - 6:44pm
Spain's health minister on Tuesday calls on residents of Madrid to limit their movements and social contacts to the "essential" to put the brakes on a surge in COVID-19 infections, a day afer new restrictions came into effect in part of the region.
Spain is struggling to contain a second wave of the virus, which has already infected over 670,000 people and claimed over 30,000 lives, one of Europe's highest tolls.
Madrid has become the epicenter of the contagion with a rate of infection of nearly 700 cases per 100,000 inhabitants in the last two weeks — nearly three times the national average. — AFP
September 22, 2020 - 5:26pm
WHO statistics show the coronavirus pandemic appears to be accelerating worldwide, with new cases soaring last week to a new seven-day high of almost two million, even as new deaths decreased.
In a fresh global update, the World Health Organization says that during the week ending on September 20, 1,998,897 new cases of the novel coronavirus were registered around the world.
That marks a six-percent increase over a week earlier and "the highest number of reported cases in a single week since the beginning of the epidemic," the UN health agency says. — AFP
September 22, 2020 - 4:11pm
The Department of Health reports 1,635 more people got infected with the coronavirus disease, which brings the national tally to 291,789.
There are 50 new deaths and 450 additional recoveries.
September 22, 2020 - 7:22am
The novel coronavirus has killed at least 961,531 people since the outbreak emerged in China late last year, according to a tally from official sources compiled by AFP at 1100 GMT on Monday.
At least 31,110,400 cases of coronavirus have been registered. Of these, at least 21,082,500 are now considered recovered.
The tallies, using data collected by AFP from national authorities and information from the World Health Organization (WHO), probably reflect only a fraction of the actual number of infections. — AFP
September 21, 2020 - 6:42pm
A Chinese primetime TV drama about the coronavirus pandemic has been slammed by social media users, who accused it of sexism for downplaying the role of women in battling the deadly outbreak at ground-zero.
China has largely brought the virus under control since it first emerged late last year, though Beijing has rushed to reshape the official narrative following criticism that it mishandled its initial response and punished whistleblowers.
But the new show, "Heroes in Harm's Way" — first aired by state broadcaster CCTV on Thursday — has triggered a fierce online backlash for its depiction of women in the virus battle.
One controversial scene set in the virus ground-zero city of Wuhan showed female bus drivers being reluctant to volunteer for a delivery team due to family commitments — while their male colleagues did not hesitate.
Users on the Twitter-like platform Weibo re-posted state media news reports praising real-life female bus drivers and volunteers, and argued women had been vital in transporting supplies and medical staff around the locked-down city.
"Women have made such a huge contribution to (fight) the epidemic... The pandemic is still not over, but they rushed to smear (women)," read one comment with over 15,000 likes. — AFP