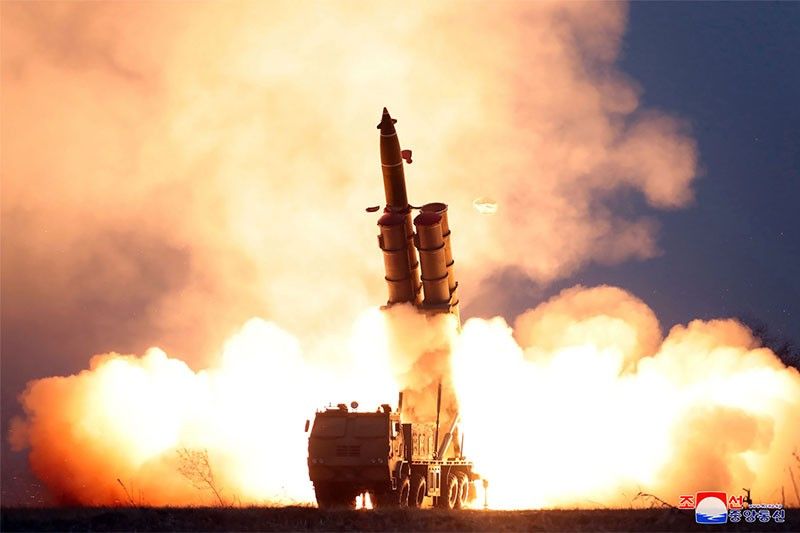 This undated and undlocated picture released from North Korea's official Korean Central News Agency (KCNA) on November 29, 2019 shows the test-fire of a super-large multiple launch rocket system.
AFP/KCNA via KNS
North Korea fires two 'unidentified projectiles' on Thanksgiving
Sunghee Hwang
(Agence France-Presse) - November 29, 2019 - 9:00am
SEOUL, South Korea — North Korea fired two "unidentified projectiles" on Thursday -- the Thanksgiving holiday in the US -- Seoul said, as nuclear talks between Pyongyang and Washington remain deadlocked.
The projectiles were fired eastwards from South Hamgyong province and came down in the Sea of Japan, also known as the East Sea, South Korea's Joint Chiefs of Staff (JCS) said.
They added that the launch, the latest in a series by Pyongyang, was carried out at 16:59 pm local time (0859 GMT) -- or the early hours on the east coast of the United States, during one of the country's biggest annual holidays.
It was also one day short of the two-year anniversary of the North's first test of its Hwasong-15 intercontinental ballistic missile, which analysts say is capable of reaching the entire US mainland.
Pyongyang is banned from firing ballistic missiles under UN Security Council resolutions, and Japanese Prime Minister Shinzo Abe said that Thursday's launch was the latest in a series of violations.
"North Korea's repeated launches of ballistic missiles are a serious defiance to not only our country but also the international community," he told reporters in Tokyo.
In Washington, a State Department official said the US was monitoring the situation and consulting with allies in the region.
"We call on North Korea to avoid provocations, abide by obligations under UN Security Council Resolutions, and return to sustained and substantive negotiations to do its part to achieve complete denuclearization," the official said.
Thursday's launch came after Pyongyang fired what it called a "super-large multiple rocket launcher" system last month, and the JCS said the latest devices were presumed to be of a similar type.
They flew 380 kilometres (236 miles) and reached a maximum altitude of 97 kilometres, the JCS added.
Nuclear negotiations between the US and the North have been at a standstill since the Hanoi summit between President Donald Trump and leader Kim Jong Un broke up in February, and Pyongyang has since demanded Washington change its approach by the end of the year.
"North Korea is growing anxious as its deadline approaches," said Shin Beom-chul of the Asan Institute for Policy Studies.
"That's why it's carrying out these provocations, which is the typical North Korean playbook to get more concessions from the US."
Test moratorium
Last month Pyongyang also claimed to have tested a "new type" of submarine-launched ballistic missile -- a potential strategic game-changer.
Trump has played down the recent launches, repeatedly pointing to North Korea's moratorium on nuclear tests and intercontinental ballistic missile launches as foreign policy successes for him.
Trump and Kim adopted a vaguely-worded statement on the "complete denuclearisation of the Korean peninsula" at their first summit in Singapore in June last year, but little progress has since been made.
North Korea is under multiple sets of international sanctions over its nuclear weapon and ballistic missile programmes and lifting some of them was a key demand of the North's in Hanoi.
In June, Trump and Kim agreed to restart working-level talks during a meeting at the Demilitarized Zone dividing the peninsula and the two sides met in Sweden in October, only for Pyongyang to walk away.
Earlier this month, Seoul and Washington said they would postpone planned joint military exercises to ease diplomacy with the North, an announcement Pyongyang dismissed.
The North has long condemned the joint drills, which it calls preparations for invasion, and carried out multiple missile launches in the summer in protest as the allies carried out their annual exercises.
North Korea has issued a series of increasingly assertive comments in recent weeks as time runs down on its end-of-year deadline.
Trump hinted at the prospect of a fourth meeting with Kim in a tweet earlier this month, only to be rebuffed by the North, which said it had no interest in summits "that bring nothing to us".
As It Happens
LATEST UPDATE: December 8, 2019 - 9:21am
South Korean officials were briefing the White House Thursday on the outcome of their pathfinding meeting with North Korean leader Kim Jong Un.
Seoul has already publicized that North Korea offered talks with the United States on denuclearization and normalizing ties, a potential diplomatic opening after a year of escalating tensions over the North's nuclear and missile tests. The rival Koreas also agreed to hold a leadership summit in late April.
Top Trump administration officials were getting a chance to hear firsthand from South Korean national security director, Chung Eui-yong, who led the delegation that went to Pyongyang. — Associated Press
December 8, 2019 - 9:21am
North Korea carries out 'very important test' at Sohae launch site, KCNA reports — Agence France-Presse
October 2, 2019 - 7:32am
A North Korean projectile appears to have breached Japan's Exclusive Economic Zone, Tokyo says.
North Korea on Wednesday fires "projectiles" toward the sea, South Korea's military earlier said, a day after Pyongyang signalled a resumption of nuclear talks with the US.
"North Korea fired unidentified projectiles from Wonsan ... towards the East Sea (Sea of Japan) this morning," the South's Joint Chiefs of Staff said without providing further details.
"Our military is monitoring the situation for additional launches and maintaining a readiness posture," the JCS said in a statement.
The launch came a day after the North's Vice Foreign Minister Choe Son Hui said that Pyongyang had agreed to hold working-level talks with Washington later this week. -- Agence France-Presse
August 11, 2019 - 1:12pm
North Korean leader Kim Jong Un supervised a "new weapon" test, state media reports, the latest in a series of launches that US President Donald Trump has played down as Washington seeks to restart nuclear talks with Pyongyang.
The report carried by the Korean Central News Agency followed Trump's comments that Kim had expressed a willingness to meet once the US-South Korean exercises are over and apologized for the slew of missile tests.
Saturday's launch was the North's fifth test in two weeks as it protests the annual military drills under way between Seoul and Washington which always infuriates Pyongyang. Defense officials in Seoul said Pyongyang fired what appeared to be two short-range ballistic missiles Saturday, flying 400 kilometers (250 miles) before splashing down in the sea between the Korean peninsula and Japan. — Agence France-Presse
August 2, 2019 - 8:02am
North Korea carried out its third missile test in eight days Friday, according to the South's military, but US President Donald Trump says he has "no problem" with the spate of launches by Pyongyang.
The nuclear-armed North is barred from ballistic missile tests under UN resolutions and its actions have drawn condemnation from European members of the Security Council but a comparatively sanguine response from Trump, who has met North Korean leader Kim Jong Un three times, generating global headlines on each occasion.
"I have no problem, we'll see what happens but short range (missiles) are very standard," Trump told reporters as he left the White House for a rally in Ohio. — Agence France-Presse
August 1, 2019 - 7:50am
South Korea's military said Wednesday that two ballistic missiles had been fired from the Wonsan area on North Korea's east coast.
Kim "repeatedly expressed satisfaction over the result of the test-fire," and "highly appreciated" the national defense science and munitions industry personnel who have "made another wonderful Korean-style multiple launch rocket system," KCNA said.
While there was little further detail on the weapons, the guided rockets "will play a main role in ground military operations," KCNA said.
The North is banned from ballistic missile launches under UN Security Council resolutions, but Wednesday's firings were the second such in less than a week, despite a meeting between leader Kim Jong Un and US President Donald Trump last month.
Pyongyang and Washington are engaged in a long-running diplomatic process over the North's nuclear and missile programmes that has seen three high-profile encounters between their leaders in the space of a year. — Agence France-Presse