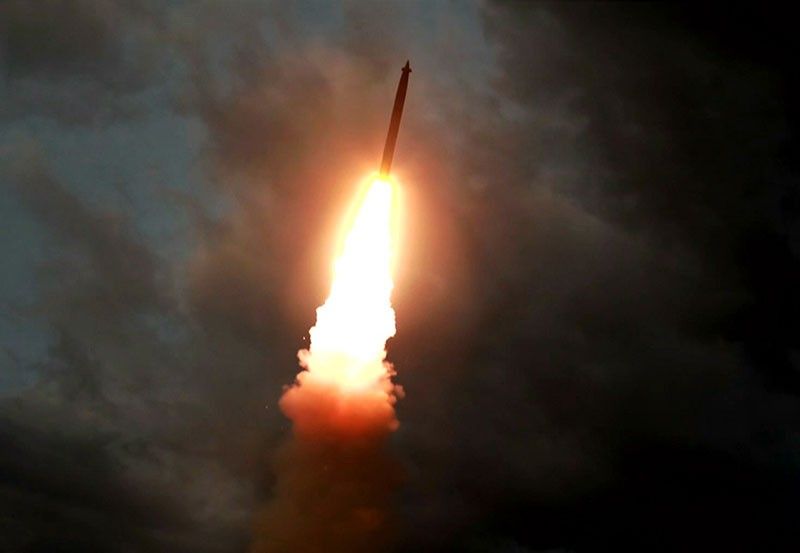 This screen grab image taken from North Korean broadcaster KCTV on August 1, 2019 shows a ballistic missile being launched from an unknown location in North Korea early on July 31. Kim "guided a test-fire of newly-developed large-caliber multiple launch guided rocket system on July 31," state-run KCNA said.
AFP/KCTV, Handout
EU countries at UN condemn North Korean missile tests
(Philstar.com) - August 2, 2019 - 9:08am
UNITED NATIONS, United States — European Union members of the UN Security Council condemned North Korea Thursday over its recent spate of missiles tests that have fueled fears Pyongyang is developing more advanced weapons.
Britain, France and Germany urged North Korea to "take concrete steps towards its complete, verifiable and irreversible denuclearisation and to engage in meaningful negotiations with the US as agreed between President Trump and Kim Jong Un on 30 June."
UN Security Council resolutions ban Pyongyang from ballistic missile launches but Seoul said devices fired on Wednesday from the Wonsan area on North Korea's eastern shore were two short-range ballistic missiles that travelled around 250 kilometers (155 miles).
"Serious efforts by North Korea to re-engage diplomatically and make progress on denuclearisation are the best way to guarantee security and stability on the Korean Peninsula, as well as a brighter future for the people of North Korea," the European countries said in a joint statement.
Pyongyang and Washington are engaged in a long-running diplomatic process over the North's nuclear and missile programs that has seen three high-profile encounters between their leaders in the space of a year.
They agreed to resume talks during their impromptu June encounter in the Demilitarized Zone that divides the peninsula, but that working-level dialogue has yet to begin.
"International sanctions must remain in place and be fully enforced until North Korea's nuclear and ballistic missile programmes are dismantled. It is vital that the Security Council shows unity in upholding its resolutions," said Britain, France and Germany.
As It Happens
LATEST UPDATE: June 16, 2020 - 4:04pm
South Korean officials were briefing the White House Thursday on the outcome of their pathfinding meeting with North Korean leader Kim Jong Un.
Seoul has already publicized that North Korea offered talks with the United States on denuclearization and normalizing ties, a potential diplomatic opening after a year of escalating tensions over the North's nuclear and missile tests. The rival Koreas also agreed to hold a leadership summit in late April.
Top Trump administration officials were getting a chance to hear firsthand from South Korean national security director, Chung Eui-yong, who led the delegation that went to Pyongyang. — Associated Press
June 16, 2020 - 4:04pm
North Korea blew up a liaison office with the South in the border city of Kaesong on Tuesday, Seoul's Unification ministry says, after days of increasingly virulent rhetoric from Pyongyang.
"North Korea blows up Kaesong Liaison Office at 14:49," the office of the spokesman for the ministry, which handles inter-Korean relations, says in a one-line alert sent to reporters. — AFP
March 2, 2020 - 12:04pm
North Korea fires an unidentified projectile on Monday, the South's military says, weeks after Pyongyang declared its moratorium on long-range missile tests over.
The statement from the South's Joint Chiefs of Staff gave no further details. The North carried out a series of weapons tests late last year. — AFP
January 1, 2020 - 3:51pm
North Korean leader Kim Jong Un appeared to skip his set-piece New Year speech Wednesday, with analysts suggesting the move may have been to avoid implicitly admitting mistakes in the last two years of diplomacy with the US.
Kim has been giving the annual speech since 2013, after he revived the tradition started by his grandfather -- North Korea's founding leader Kim Il Sung.
It has been a key moment in the North Korean political calendar, reviewing the past and setting out goals for the future, and printed in full in the Rodong Sinmun mouthpiece newspaper.
At first he wore a party uniform and stood at a lectern to address troops, but the format has evolved over time as Pyongyang modernises its messaging, and last year he sat in his office in a Western-style suit and tie.
But this year there was no January 1 morning broadcast -- as has been standard recently -- or even at noon, considered the latest likely time. -- AFP
January 1, 2020 - 12:08pm
North Korean leader Kim Jong Un has declared an end to moratoriums on nuclear and intercontinental ballistic missile tests and threatened a demonstration of a "new strategic weapon" soon.
Analysts said the announcement, reported by state media on Wednesday, amounted to Kim putting a missile "to Donald Trump's head" -- but warned that escalation by Pyongyang would probably backfire.
Washington was swift to respond, with Secretary of State Mike Pompeo urging Kim to "take a different course" and stressing that the US wanted "peace not confrontation" with the North, while Trump played down the development.
Pyongyang has previously fired missiles capable of reaching the entire US mainland, and has carried out six nuclear tests, the last of them 16 times the size of the Hiroshima blast, according to the highest estimates. -- AFP
December 29, 2019 - 9:21am
North Korean leader Kim Jong Un has convened a key meeting of top ruling party officials, state media said Sunday, ahead of a year-end deadline for Washington to shift its stance on stalled nuclear talks.
The plenary session, which opened on Saturday, follows widespread speculation that Pyongyang is preparing to test an intercontinental ballistic missile -- as a threatened "Christmas gift" for Washington.
Kim presided over the meeting which discussed a new "transparent, anti-imperialist independent stand", the official Korean Central News Agency (KCNA) reported.
The ruling Workers' Party of Korea will also "discuss important matters arising... in the building of the state and national defence", KCNA added.
Talks on denuclearizing the Korean peninsula have been largely deadlocked since the second summit between Kim and US President Donald Trump collapsed in Hanoi at the start of this year. — AFP