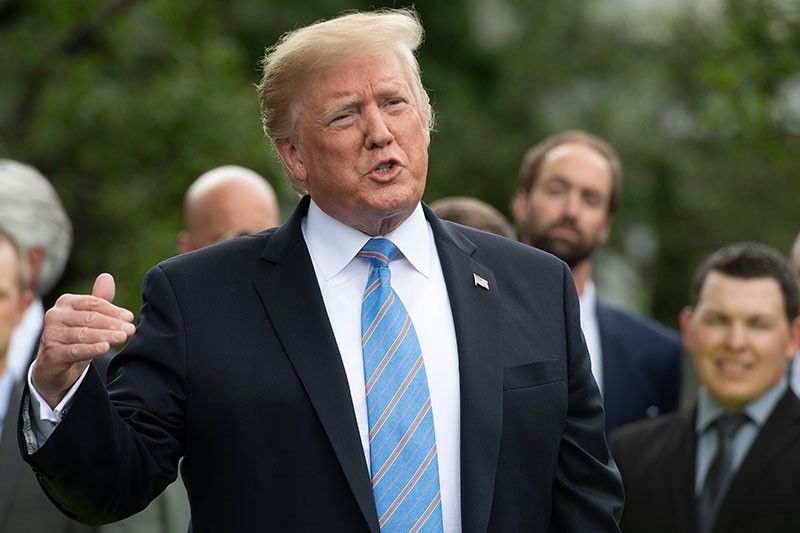 US President Donald Trump gives remarks after receiving a helmet from French race car driver and Indianapolis 500 winner Simon Pagenaud at the White House in Washington, DC, on June 10, 2019.
AFP/Jim Watson
Trump delivers hard line on new China tariffs threat
WASHINGTON, United States — President Donald Trump warned Monday he will slap huge new tariffs on China if his counterpart Xi Jinping doesn't show up for a planned face-to-face meeting later this month and insisted the Chinese economy will never overtake the United States.
Trump delivered his hardline message ahead of the G20 summit on June 28-29 in Osaka, Japan, which could mark a turning point in the trade dispute between the world's two biggest economies.
Asked if a failure by Xi to come to the summit would lead to tariffs kicking in on a further $300 billion in Chinese imports, Trump told CNBC television: "Yes it would."
Trump said the meeting was "scheduled" and that he expects Xi to attend.
"I would be surprised if he didn't go," Trump said. "I think he's going, I haven't heard that he's not."
However, as US-Chinese tensions mount, a spokesman for Xi's government said last month that he had "no information at present" on Trump-Xi talks.
Trump has been trying to strongarm China into fundamental change on trade policies that the president argues have for decades put the United States at an unfair disadvantage.
The two sides seemed to be close to striking a bargain until talks stalled last month. Washington says that Beijing walked away at the last minute, while the Chinese side has signaled it is prepared for a long fight against unreasonable demands.
Trump has already imposed 25 percent duties on $200 billion of Chinese imports. China has responded with punitive tariffs on $60 billion in US goods.
Last month he threatened to slap tariffs on a further $300 billion of goods -- virtually everything American companies import from China -- if no breakthrough is achieved.
The US Trade Representative office has launched the process to impose the huge new duties, with a hearing scheduled for June 17 -- but Trump has said he has yet to decide whether he will ultimately impose the levies.
'They'll never catch us'
Trump has made tariffs a pillar of his foreign policy, arguing that US economic power puts him in a win-win situation when he threatens rivals like China and even close allies, such as Canada, the European Union and Mexico.
The United States says that China cheats in bilateral trade by forcing US importers to give up intellectual property, subsidizing its own companies, and running a huge trade surplus with Washington.
Trump told CNBC that by ratcheting up tariffs, he can ultimately force manufacturers to leave China.
"Those companies are going to move into other locations and there won't be a tariff," he said.
In a game of tit-for-tat, Trump added, China will lose simply because they have far fewer US imports they can target. "We have the big, big advantage," he said.
"China's going to make a deal because they're going to have to make a deal."
Trump's tariff rattling has spooked global markets and also run into pushback from many in Congress.
But in his lengthy CNBC interview, Trump said he is doing what previous presidents avoided because they "either didn't understand it or they were bored by it or they weren't smart enough."
His overall aim, the Republican said, is to ensure that China never overtakes the United States as the world's top economy.
"Had a Democrat gotten in..., China would have caught us," he said. Now "they'll never catch us."
As It Happens
LATEST UPDATE: October 8, 2019 - 11:01am
US President Donald Trump says North American neighbors Canada and Mexico will get no relief from his new tariffs on steel and aluminum imports unless a "new and fair" free trade agreement is signed.
The Trump administration says the tariffs are necessary to preserve the American industries—and that doing so is a national security imperative. But Trump's latest tweets suggest he's also using the upcoming tariffs as leverage in ongoing talks to revise the North American Free Trade Agreement. The latest round of a nearly year-long renegotiation effort is concluding this week in Mexico City. — Associated Press
October 8, 2019 - 11:01am
President Donald Trump says he would prefer to strike a comprehensive trade bargain with China, in comments days before top US and Chinese officials are due to resume trade talks in Washington.
But with little sign the two sides have made progress in bridging the distance between them, speculation has mounted in recent months they may reach a deal which addresses only some of Washington's extensive grievances.
"I think it's not what we prefer at all. My inclination is to get a big deal," Trump tells reporters when asked if he could accept a partial agreement. — AFP
September 26, 2019 - 4:55pm
Beijing expresses "strong dissatisfaction" after the United States announced sanctions on Chinese companies for buying Iranian oil.
China, which is embroiled in a trade war as well as myriad other disputes with Washington, is believed to be the biggest foreign buyer of Iranian oil.
Speaking to a pressure group opposed to the Iranian regime on the sidelines of the United Nations, US Secretary of State Mike Pompeo said Wednesday the actions were in response to violations of unilateral US sanctions. — AFP
September 20, 2019 - 5:37pm
Asian markets edge up as investors turn their attention to the China-US trade talks, while keeping an eye on the Gulf region after last week's air strikes on Saudi oil facilities fanned geopolitical tensions.
With a delegation from China in the US to prepare for higher-level negotiations next month, there are hopes the economic powerhouses can find a solution to their tariffs row that has dragged on the global economy for a year.
Stock markets have enjoyed a broadly positive September thanks to hopes for the talks, with both sides appearing to offer olive branches and sounding less confrontational than they did in July and August. — AFP
September 17, 2019 - 12:21pm
A Chinese vice finance minister will visit the United States on Wednesday to lay the groundwork for trade talks next month, state media says.
The United States and China have been embroiled in a bruising trade war for more than a year but they have eased off some of their tit-for-tat tariffs ahead of negotiations in October.
The official Xinhua news agency says vice finance minister Liao Min will lead a delegation visiting the United States on Wednesday to "pave the way" for the higher level talks. — AFP
September 12, 2019 - 8:53am
After an apparent conciliatory move by China, US President Donald Trump on Wednesday made one of his own, announcing that he agreed to delay an increase in tariffs on $250 billion worth of Chinese goods by two weeks.
Speaking weeks ahead of the resumption of talks aimed at resolving a grinding trade war, Trump said the tariff delay was requested by Beijing.
Top negotiators expect to reconvene in Washington early next month after an acrimonious summer in which trade relations deteriorated sharply and both governments announced waves of new tariffs in a stand-off that is dragging on the global economy.
"We have agreed, as a gesture of good will, to move the increased Tariffs on 250 Billion Dollars worth of goods (25% to 30%), from October 1st to October 15th," Trump tweeted late Wednesday.
He said the delay was requested by "Vice Premier of China, Liu He, and due to the fact that the People's Republic of China will be celebrating their 70th Anniversary," on October 1. -- Agence France-Presse