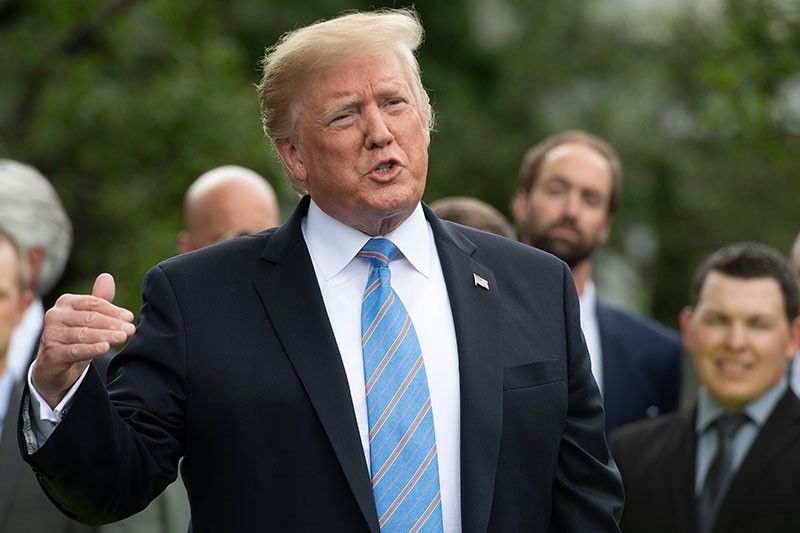 US President Donald Trump gives remarks after receiving a helmet from French race car driver and Indianapolis 500 winner Simon Pagenaud at the White House in Washington, DC, on June 10, 2019.
AFP/Jim Watson
Trump delivers hard line on new China tariffs threat
WASHINGTON, United States — President Donald Trump warned Monday he will slap huge new tariffs on China if his counterpart Xi Jinping doesn't show up for a planned face-to-face meeting later this month and insisted the Chinese economy will never overtake the United States.
Trump delivered his hardline message ahead of the G20 summit on June 28-29 in Osaka, Japan, which could mark a turning point in the trade dispute between the world's two biggest economies.
Asked if a failure by Xi to come to the summit would lead to tariffs kicking in on a further $300 billion in Chinese imports, Trump told CNBC television: "Yes it would."
Trump said the meeting was "scheduled" and that he expects Xi to attend.
"I would be surprised if he didn't go," Trump said. "I think he's going, I haven't heard that he's not."
However, as US-Chinese tensions mount, a spokesman for Xi's government said last month that he had "no information at present" on Trump-Xi talks.
Trump has been trying to strongarm China into fundamental change on trade policies that the president argues have for decades put the United States at an unfair disadvantage.
The two sides seemed to be close to striking a bargain until talks stalled last month. Washington says that Beijing walked away at the last minute, while the Chinese side has signaled it is prepared for a long fight against unreasonable demands.
Trump has already imposed 25 percent duties on $200 billion of Chinese imports. China has responded with punitive tariffs on $60 billion in US goods.
Last month he threatened to slap tariffs on a further $300 billion of goods -- virtually everything American companies import from China -- if no breakthrough is achieved.
The US Trade Representative office has launched the process to impose the huge new duties, with a hearing scheduled for June 17 -- but Trump has said he has yet to decide whether he will ultimately impose the levies.
'They'll never catch us'
Trump has made tariffs a pillar of his foreign policy, arguing that US economic power puts him in a win-win situation when he threatens rivals like China and even close allies, such as Canada, the European Union and Mexico.
The United States says that China cheats in bilateral trade by forcing US importers to give up intellectual property, subsidizing its own companies, and running a huge trade surplus with Washington.
Trump told CNBC that by ratcheting up tariffs, he can ultimately force manufacturers to leave China.
"Those companies are going to move into other locations and there won't be a tariff," he said.
In a game of tit-for-tat, Trump added, China will lose simply because they have far fewer US imports they can target. "We have the big, big advantage," he said.
"China's going to make a deal because they're going to have to make a deal."
Trump's tariff rattling has spooked global markets and also run into pushback from many in Congress.
But in his lengthy CNBC interview, Trump said he is doing what previous presidents avoided because they "either didn't understand it or they were bored by it or they weren't smart enough."
His overall aim, the Republican said, is to ensure that China never overtakes the United States as the world's top economy.
"Had a Democrat gotten in..., China would have caught us," he said. Now "they'll never catch us."
As It Happens
LATEST UPDATE: June 7, 2019 - 5:38pm
US President Donald Trump says North American neighbors Canada and Mexico will get no relief from his new tariffs on steel and aluminum imports unless a "new and fair" free trade agreement is signed.
The Trump administration says the tariffs are necessary to preserve the American industries—and that doing so is a national security imperative. But Trump's latest tweets suggest he's also using the upcoming tariffs as leverage in ongoing talks to revise the North American Free Trade Agreement. The latest round of a nearly year-long renegotiation effort is concluding this week in Mexico City. — Associated Press
June 7, 2019 - 5:38pm
China's central bank chief says the country has plenty of policy tools left to handle the trade war with the United States.
There is "tremendous" room to counter the deepening trade war, People's Bank of China governor Yi Gang says in an interview with Bloomberg TV.
"We have plenty of room in interest rates, we have plenty of room in required reserve ratio rate, and also for the fiscal, monetary policy toolkit, I think the room for adjustment is tremendous," Yi says on Bloomberg TV. — AFP
June 6, 2019 - 2:13pm
Top financial policymakers from the world's 20 most powerful nations gather this weekend in Japan as a protracted US-China trade war clouds the global economy with no end in sight.
G20 finance ministers and central bankers gathering in the southwestern Japanese port city of Fukuoka will also tackle the thorny conundrum of how to tax huge multinational digital firms like Google and Facebook. — AFP
June 5, 2019 - 1:37pm
China has imposed a $23.6 million fine on US automaker Ford's joint venture for "price fixing" in violation of anti-monopoly laws -- a move coinciding with growing trade tensions with the United States.
Changan Ford Motor Co. "set a minimum resale price" since 2013 for vehicles sold in the southwestern city of Chongqing that "deprived dealers of pricing autonomy... and damaged fair competition and legitimate interests of consumers", the State Administration for Market Regulation says in a statement.
The fine amounted to four percent on the company's sales value in Chongqing in 2018, the regulator says. — AFP
June 2, 2019 - 1:02pm
Washington's escalating trade war with Beijing has not "made America great again" and has instead damaged the American economy, China said Sunday, stressing that while it wants resolution through talks there will be no compromise on core principles.
Beijing's broadside is the latest act in a bruising conflict between the world's top two economies that has spooked markets and sparked fears about the global economy.
With trade talks stalled, the dispute has intensified in recent weeks with US President Donald Trump imposing fresh tariffs on imports from China and moving to blacklist Chinese tech titan Huawei over national security concerns.
"The (US) tariff measures have not boosted American economic growth. Instead, they have done serious harm to the US economy," the Chinese government said in a white paper, pointing to what it described as increased production costs and consumer prices in the United States and threats to economic growth. — Agence France-Presse
May 24, 2019 - 7:52am
President Donald Trump says there is a "good" possibility that Washington and Beijing will strike a bargain ending their trade war, and it could include a settlement over blacklisted telecom firm Huawei.
"If we made a deal, I can imagine Huawei being included in some form or some part of a trade deal," Trump tells reporters during an announcement about increased aid to farmers hurt in the trade war with China.