Trump heads to G20 primed for new conflicts
November 30, 2018 | 12:00am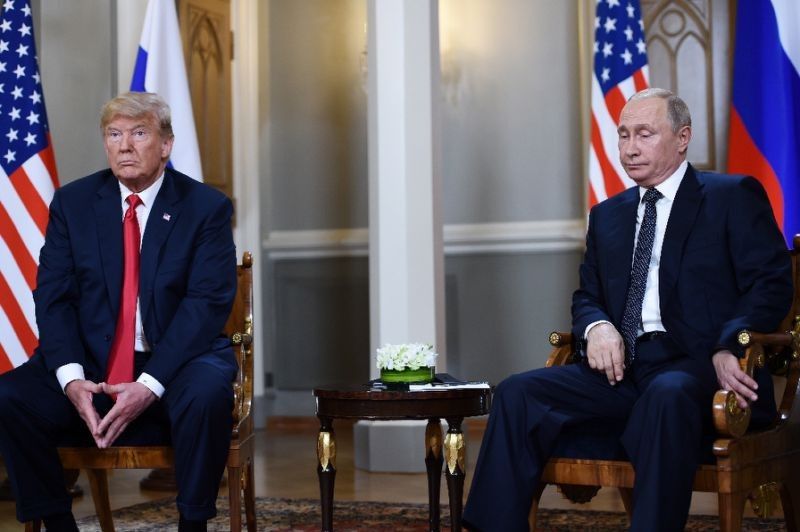 Buenos Aires - President Donald Trump headed to Argentina yesterday for a fractious weekend of G20 summitry boasting that his trade war with China had injected billions into the US economy.
After heaping huge tariffs on Chinese goods, and threatening more to come in January, Trump is slated to sit down with President Xi Jinping on the G20 margins to press for wholesale reform of the world's second-biggest economy in favor of access for US companies.
Ahead of a separate meeting in Buenos Aires with Russian President Vladimir Putin, Trump also again ridiculed probes into allegations of election meddling by Moscow and accused his former lawyer Michael Cohen of lying, after Cohen pled guilty to misleading Congress.
Trump's tough talk set the stage for a fractious two days at the G20 gathering starting Friday, with new tensions over Ukraine deepening fissures carved open by the US president on trade and climate change.
Following Russia's seizure of three Ukrainian ships, Trump had threatened to cancel his planned talks in Buenos Aires with Putin. But the Kremlin said the meeting was on for Saturday.
He told reporters at the White House before his departure for Argentina that it would be "a very good time" to meet Putin.
"I probably will be meeting with President Putin. We haven't terminated that meeting. I was thinking about it, but we haven't. I think it's a very good time to have the meeting," he said.
In Moscow, Kremlin spokesman Dmitry Peskov said that even if it may be "impossible" to agree on the all the issues, "we need to talk".
"That's in the interests not only of our two countries, it's in the interests of the whole world," said Peskov.
- Xi pledges China 'efforts' -
En route to Argentina, Xi vowed on Wednesday that China would "make a lot of efforts to speed up market access, improve the investment environment and increase protection of intellectual property."
But foreign firms in China complain that such promises are all too routine, and analysts doubt that Trump and Xi's talks over a working dinner will serve up much beyond a commitment to negotiate further.
For starters, US officials have lined up this week to take new shots at Chinese trade policy and on yesterday, Trump tweeted: "Billions of Dollars are pouring into the coffers of the USA. because of the Tariffs being charged to China, and there is a long way to go."
"If companies don't want to pay Tariffs, build in the USA. Otherwise, lets just make our Country richer than ever before!" he added, after General Motors announced a raft of factory closures and job cuts.
In an interview with Argentine daily La Nacion, French President Emmanuel Macron warned against the risk of "a destructive trade war for all" emanating from the G20 discussions.
"If we do not show concrete progress, our international meetings become useless and even counterproductive," he said.
Paul Haenle, director of the Carnegie–Tsinghua Center for Global Policy in Beijing, said Trump needs to properly overhaul the US-China trading relationship and press for lasting reforms by Xi.
"An agreement that simply results in the purchase of more US products from China, or promises vague commitments with unclear timelines, will only serve to kick the can down the road, and would further harm the state of the relationship for years to come," he commented.
The G20 summit is already confronted with dire warnings, by the International Monetary Fund among others, of the potential harm faced by the world economy from Trump's tariffs on Chinese goods and his stated threats of action to come against European and Japanese cars.
- United front? -
G20 leaders, whose countries account for four-fifths of the world's economic output, first met in November 2008 to forge a united front against the global financial crisis.
A decade on, that unity has vanished as the "America First" Trump shreds the consensus underpinning international trade and other G20 countries such as Brazil, Italy and Mexico turn to populist leaders.
Trump has repeatedly shown his disdain for international summitry by blocking final communiques at other recent gatherings such as the G7 and the Asia-Pacific bloc APEC.
G20 sources said agreement about the communique in Buenos Aires was hitting trouble on climate change. Trump now has an ally on that issue in Brazil's incoming, far-right president Jair Bolsonaro, their skepticism defying scientists' increasingly urgent warnings that the planetary threat is real and needs policy redress now.
Meanwhile the US, Canada and Mexico are expected in Buenos Aires on Friday to sign a revamped version of the North American trade pact NAFTA, which Trump excoriated when running for president.
If that negotiation has averted one trade war, the IMF said Trump's threatened auto tariffs on Europe and Japan could lop three-quarters of a percent off the global economy.
Britain's "Brexit" separation from the European Union is another threat to global growth, IMF chief Christine Lagarde said.
G20 host Argentina is grappling meanwhile with an economic crisis of its own, and mass protests are planned during the summit.
"There's a lot of people that don't have houses and don't have work. They are not focusing on the people who have needs," barber Ariel Villegas, 47, said at one protest outside the Argentine Congress building.