Kobani key to US strategy against Islamic State
Lara Jakes
(The Philippine Star) - October 17, 2014 - 2:34pm
WASHINGTON — Dusty and remote, the Syrian city of Kobani has become an unlikely spoil in the war against Islamic State militants — and far more of a strategic prize than the United States wants to admit.
Perched on Turkey's border, the city of about 60,000 has been besieged for weeks by IS fighters. Kobani is now a ghost town: the U.N. estimates that fewer than 700 of its residents remain as its people flee to safety in Turkey.
The Obama administration has declared Kobani a humanitarian disaster, but not a factor in the overall strategy to defeat the Islamic State group.
"Kobani does not define the strategy of the coalition with respect to Daesh," Secretary of State John Kerry told reporters in Cairo earlier this week, using an Arabic acronym for the Islamic State group. "Kobani is one community, and it's a tragedy what is happening there, and we don't diminish that." But, Kerry said, the primary U.S. military focus is in neighboring Iraq.
But this week, the U.S. dramatically upped its air power strikes against IS in and around Kobani, including 53 strikes over the last three days alone. Several hundred IS fighters were killed, the Pentagon said.
Now, the U.S. cannot afford to lose Kobani, said Robert Ford, the former U.S. ambassador to Syria. That means the city's fate is tied, in part at least, to the success of the U.S.-led strategy against the Islamic State.
"The most important thing about Kobani now is that if it falls to the Islamic State, it would be seen as a defeat for the Americans, and thus would touch on the credibility of the American policy to contain and degrade the Islamic State," said Ford, now at the Middle East Institute in Washington. "We have made a real effort to help the defenders in Kobani by targeting various Islamic State assets. And if it falls nonetheless, then it makes it looks like the U.S. military couldn't contain that, and that's how it would be seen in the region."
Said Navy Rear Adm. John Kirby, the Pentagon's spokesman on Thursday: "We never said Kobani didn't matter."
Here is a look at why Kobani matters:
A Kurdish appeal
Despite the barrage of airstrikes, the U.S. so far has been unable to help Kurdish defenders break the siege. The U.S. and its allies have said that airstrikes alone will not be enough to beat back the extremists. That requires ground troops, both in Syria and Iraq.
Since President Barack Obama is adamant that American troops will not join the fight on the ground, the U.S. has been working to help arm, equip and revamp training programs for national and Kurdish Peshmerga security forces in Iraq and moderate rebel fighters in Syria. The Peshmerga and other Kurdish forces have been key in containing — if not defeating — IS across much of northern Iraq. Making sure they keep up that front is a top priority for the U.S.
Irbil, the Kurdish capital in Iraq, asked the Obama administration to increase airstrikes in Kobani, said Mahma Khalil, a Kurdish lawmaker from northern Iraq. While there's no formal link between the government in Irbil and the Kurdish population in Syria, both dream of an independent nation for ethnic Kurds.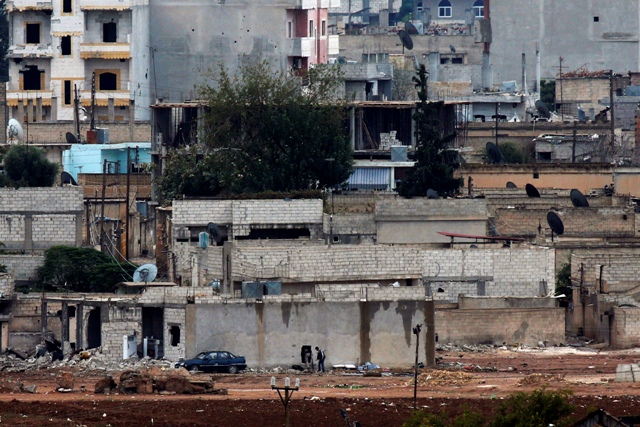 In this Oct. 16, 2014, photo, made with an extreme telephoto lens from a hilltop in Mursitpinar on the outskirts of Suruc at the Turkey-Syria border, Kurdish fighters, bottom, enter their positions in a house in Kobani, Syria, during fighting between Syrian Kurds and the militants of Islamic State group. AP/Lefteris Pitarakis
"The current level of airstrikes are not enough to stop the terrorists from seizing Kobani," Khalil said this week. "The U.S. airstrikes against the Islamic State group in Kobani and Iraq should be accelerated more and more" to avoid the extremists from reclaiming areas they were pushed from earlier this summer, he said.
A U.S. military official confirmed Khalil's account and noted that maintaining good relations with Irbil is an important part of Washington's strategy against the Islamic militants. The official was not authorized to discuss the diplomatic issue by name and spoke on condition of anonymity.
Publicly, the Pentagon and State Department say the reasons for the increased airstrikes at Kobani are twofold: The city has become an easier target in recent days due to an influx of Islamic State fighters who have gathered there. And the strikes serve as a humanitarian relief mission to protect the city while Kurdish fighters reorganize their front.
Where's Turkey?
Kobani also has become a symbol of Turkey's reluctance to fight the Islamic State — even in a city right across its border.
If Kobani falls, the Islamic extremists will have a border way-station for militants to slip in and out of Turkey. Already, Turkey is grappling with how to tighten its borders against thousands of foreign fighters, mostly from Western and Eastern European nations, who have traveled through Turkey to join the insurgency.
The U.S. has tried for months to coax Turkey into providing more assistance, including border security, to the global coalition against the Islamic State group. So far, Turkey has provided sanctuary to an estimated 200,000 Syrian and Iraqi refugees, and recently agreed to train and equip moderate Syrian rebel fighters trying to remove Syrian President Bashar Assad from power.
In this Friday, Oct. 10, 2014 file photo, a Turkish Kurd, standing in Mursitpinar,Turkey, on the Turkey-Syria border, uses binoculars to watch intensified fighting over the border in Kobani, Syria, between Syrian Kurds and the militants of Islamic State group, as Turkish Kurds offer their Muslim Friday prayers. . AP/Lefteris Pitarakis
But Turkey is not expected to send troops or aid to the Kurdish fighters who are defending Kobani due to a decades-long dispute it has waged against a Kurdish guerrilla group linked to the city's defenders. The fighters in Kobani are affiliated with the Kurdistan Workers Party, or PKK, which both Turkey and the U.S. consider a terrorist organization.
Turkey has openly said it is blocking Turkish Kurds from joining the fight in Kobani. And neither Turkey nor the Syrian Kurds are enthusiastic about joining ranks if Turkey sends army troops to Kobani.
Further complicating the issue, the U.S. said it has begun talking directly to the Kurdish fighters' political wing in Kobani — a diplomatic move that is likely to anger Turkey.
Obama administration officials concede that Kobani is a messy intersection of U.S. military and diplomatic interests. But retired Marine Gen. John Allen, the U.S. envoy coordinating the global front against IS, said Turkey is "focused with laser-like quality on the issue."
"They're very concerned about ISIL for a whole variety of reasons," Allen said, using an acronym for the Islamic State.
The propaganda battle for Kobani
The U.S. isn't sure why IS is fighting so hard for control of Kobani, a city with few resources and far removed from any capital. But like the U.S. with Kobani, a loss to a ragtag group of Kurdish fighters would be a propaganda loss for IS.
Much of the daily fighting in Kobani is caught on camera, where TV crews and photographers on the Turkish side of the border have captivated the world's attention with searing pictures of refugees, black plumes of smoke from explosions, and the sounds of firefights on the city's streets. In video after video, refugees just across the border can be seen and heard cheering as U.S. airstrikes pound the extremists.
Last week, in pictures and Tweets, the militants' supporters declared Kobani as theirs, and changed the city's name to Ayn al-Islam, or Spring of Islam. The online jeering has quieted considerably after the airstrikes of the last several days.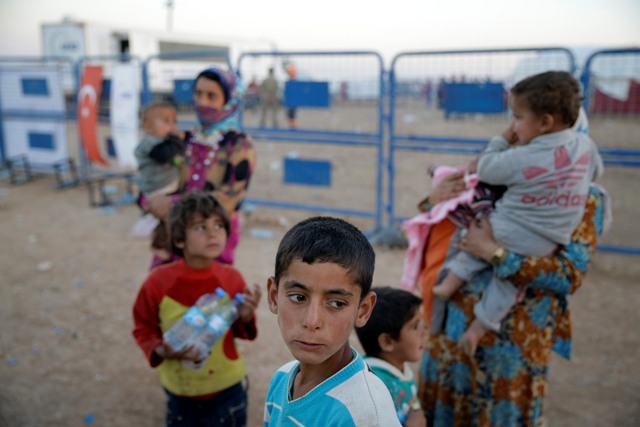 In this Sunday, Oct. 5, 2014 file photo, Syrian Kurdish refugees get ready to board a truck near Suruc, Turkey, after their arrival from Kobani, Syria, as fighting intensified between Syrian Kurds and the militants of Islamic State group. AP/Lefteris Pitarakis
The Islamic State relies on its global online propaganda machine, run largely by supporters far from the battle, to entice fighters, funding and other aid to the front. If the militants' victories begin to ebb in such a public forum, U.S. officials believe, so too will their lines of support. That alone makes the battle for Kobani a must-win fight for the U.S. strategy.
And that is not lost on Washington. "What makes Kobani significant is the fact that ISIL wants it," Kirby said.
___
Associated Press writers Sameer N. Yacoub in Baghdad and Desmond Butler in Istanbul contributed to this report.