EDITORIAL - The meal that cost too much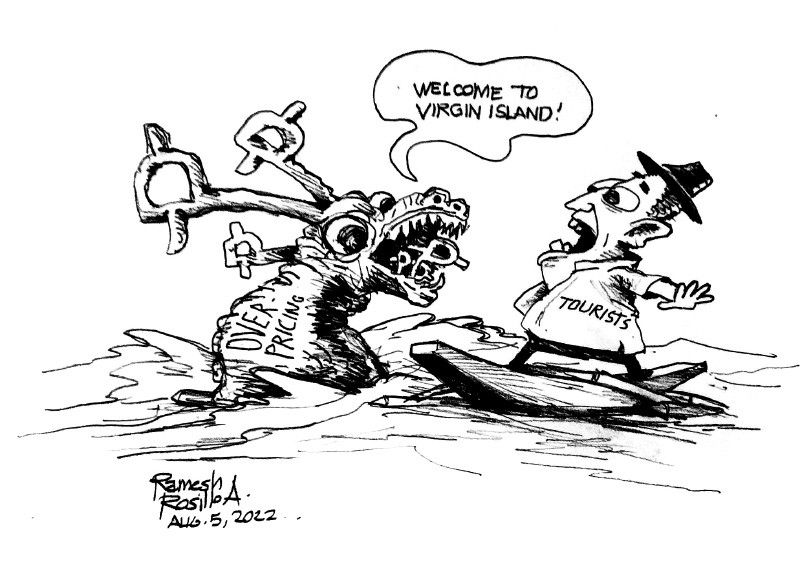 You may have already heard about the incident involving a group of tourists who went to Virgin Island in Bohol and were charged with a whopping ?26,100 for seafood and fruits.
According to the social media post now gone viral, a party of 13 racked up a bill of that amount for a meal consisting of abalone, kinilaw, grilled fish, soup, scallops, oysters, squid, urchins, sea grapes (lato), and bananas.
While it may be true that some seafood can be very expensive, especially when these are fresh, for a meal like this to cost that much is just irregular, if not ridiculous. It appears to cost even more than a banquet at a high-end restaurant for the same number of people.
We understand that some local vendors are eager to recoup their losses from the pandemic, but this is certainly not the way to do it.
There is also another disturbing observation. The "bill" presented to the tourists was handwritten, with no indication it was issued from a machine registered with the Bureau of Internal Revenue. Was this done to make it easy to disclaim later on in case of complaints?
The fact that it was handwritten means that it's unlikely the local government will get taxes from this transaction.
The Department of Tourism has taken notice and promised to coordinate with authorities and agencies on the island to look into the matter.
We have yet to hear the side of the vendors and the findings of the DOT, but for now it looks to be like some vendors may be taking advantage of the fact that they were the only source of food for those tourists.
Now, the inevitable question: Are vendors in other tourist spots also doing the same? This may not be the last viral post about an overpriced meal.
Our tourism industry is one of our main economic drivers. It suffered a lot during the times of lockdown and is only now slowly getting back on its feet. However, incidents like these may give that industry a black eye and drive tourists away.