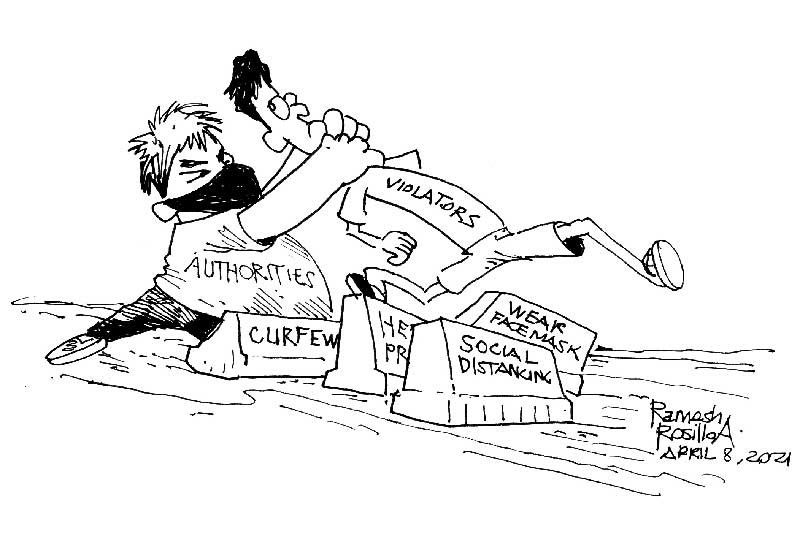 EDITORIAL - A deterrent is still necessary, but what?
(The Freeman) - April 8, 2021 - 12:00am
A death that we can still say is somewhat related to COVID-19 happened recently.
According to a report, Darren Manaog, 28, was arrested after he left his house in Cavite after curfew hours to buy water last April 1. Policemen allegedly made him do 300 squats as a punishment. This allegedly led to a stroke that killed Manaog last April 3.
The policemen involved in the incident have been relieved.
It is tempting to quickly blame the policemen for power-tripping and enforcing harsh penalties, and that may be the truth as well as a valid topic for another editorial, but for now let's just focus on the penalties themselves.
It's a sad fact that stubbornness is a Filipino trait. While this may not have been the case in Manaog's situation as he was reportedly out to buy water at that time, this still applies to the majority of us.
No matter how many times some of us have been told to follow the rules, there are still many of us who insist on flaunting or even totally ignoring them, even if these are for our own safety. Sure, we might be able to follow some rules for a while, but sooner or later we end up disregarding them.
This is why the COVID-19 cases are still on the rise. And this is why authorities still have to have something that can deter would-be violators.
And that brings us to the issue of what penalties should be applied.
Fines are the ideal, but considering how many people have lost their jobs or businesses as a result of the pandemic, we understand that this adds another layer of hardship to people who are already at the end of their budget.
This makes physical punishment ideal for those who cannot afford the fines. But to what extent? Do we make the healthier ones do more of a physical exercise? The old and sickly less? How can authorities tell between who is actually healthy or not? Considering how young Manaog was, who could have seen he would die of a stroke.
What about just making them dance for a while?
Last year, some people who were arrested for quarantine violations were made to dance the Sinulog as a penalty. We wrote against it in an editorial because we did not want this hallowed tradition to be associated with something negative such as a punishment. Thankfully, that practice did not last long.
Considering how many people still flaunt the rules, deterring bad behavior is still necessary. But considering what happened to Manaog, our authorities should give more thought as to what should be applied and to whom and when.