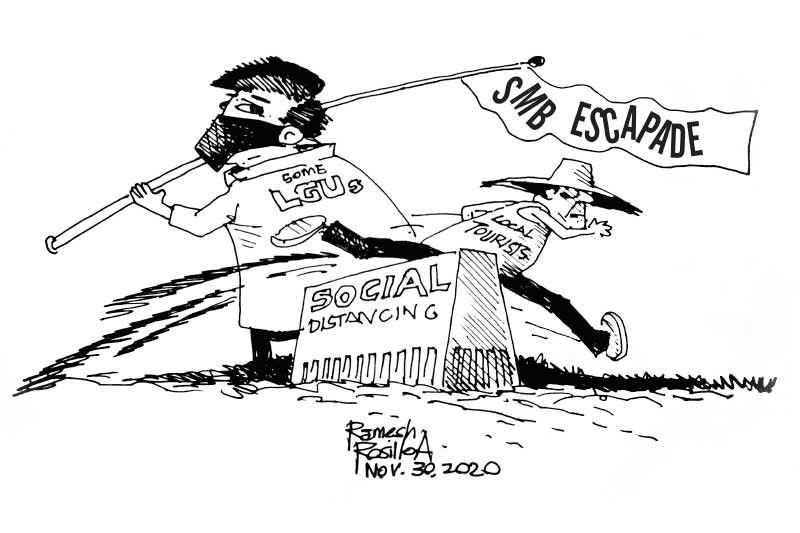 EDITORIAL - The rules should have been enforced
(The Freeman) - November 30, 2020 - 12:00am
As one of its stops, the recently-held Sante Fe-Madridejos-Bantayan escapade, joined by presidential spokesman Harry Roque, Governor Gwendolyn Garcia, Office of the Presidential Assistant for the Visayas Secretary Michael Dino, and some candidates of the recently-concluded Miss Universe Philippines pageant, dropped by the Kota Park in Madridejos.
A huge crowd gathered to watch the events as well as to see who the VIPs were.
But to the dismay of many netizens, many in the crowd did not wear masks or practice physical distancing. Now fingers are being pointed as to who should be held responsible for the violations.
"Sa amo nga parte, medyo wala mi ka-control tungod man gud sa kahibalo na ka nga diri sa isla intawon panagsa ra gyud maarian sa mga bisita...nag-advise gyud ta nga kinahanglan they will observe social distancing but because of the eagerness and enthusiasm sa mga tawo, diri man gud sa Madridejos kon diin nia ra man sa isla gustong makakita og secretary, gobernador, so wala na papugngi," said Madridejos Mayor Salvador "Sally" Dela Fuente.
According to information they received, the crowd swelled after many people made their way inside the resort through the back entrance.
This incident wasn't the only recent event where people broke protocol. In Boracay Island recently, a resort held a Halloween party for its guests. A video now circulating online shows that the while some of the guests were wearing costumes, none of them had a face mask. None of them also practiced physical distancing.
This is where sticking to the rules gets tricky.
Filipinos are very sociable and friendly by nature. If there are a few people gathered, others are likely to join them. Then before you know it you have a crowd. Then a really huge crowd.
It's also our nature to ignore social distancing. We are raised in an environment where close physical contact with others is unavoidable. Just look at our crowded classrooms and our public transportation system. Getting physically close to others is something we don't think twice about, so it becomes so easy to forget.
We understand that people are missing the times when we could all just leave the house and be with family friends without wearing any protective gear, or maintaining a certain distance.
However, these are not those times. These are times when certain regulations have to be obeyed. The rules should have been enforced.
With that said, we pray that nothing untoward happens as a result of what happened in Madridejos.