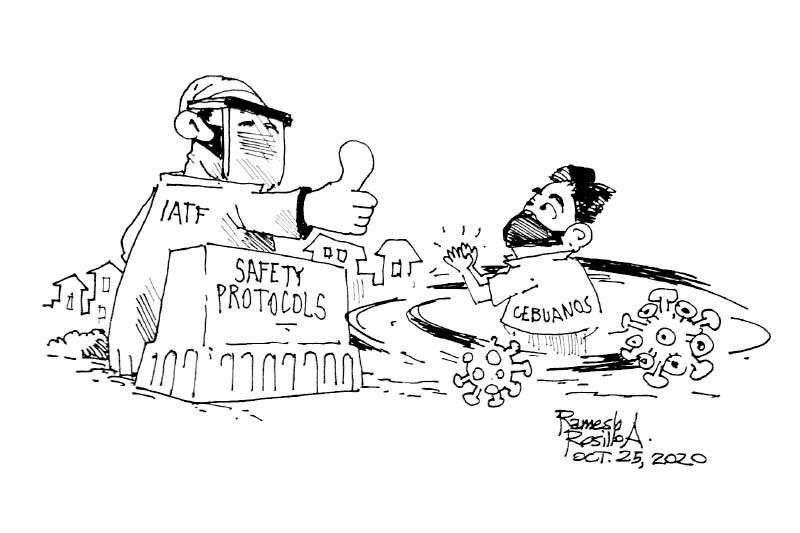 (The Freeman) - October 25, 2020 - 12:00am
According to reports, Inter-Agency Task Force in Cebu designated overseer Secretary Roy Cimatu gave Cebu City the highest rating of 10 for its COVID-19 response.
"Ten, because there is no substitute for success. Walang semi-success. It's either failed ka or success ka. So, I'll rate 10," Cimatu was quoted as saying during a press conference a few days ago.
We thank Cimatu for this high rating, but let's not let this go to our head. We are not being graded like students in a school, and his giving us this high score is just symbolic gesture of his appreciation for the efforts that have been made. It will not have an impact on anything at all.
It will not be listed on some national report card, it will not guarantee us more tourists when the worst is over, or mean that our economy will recover faster. The virus will not look at our score and decide to skip town. Maybe it gives us some bragging rights to some extent, but that's it and no more.
Let us also not let this high rating lull is into a false sense of complacency.
Just as news came out about Cimatu's high rating, news also came out that at least 189 households have been placed on granular lockdown in two sitios in Barangay Hilotongan, Bantayan town, Cebu, after a reported spike in COVID-19 cases.
This means we aren't out of the woods just yet.
While Bantayan town may not be part of Cebu City, and is in fact very far away from it on another island, remember that the virus doesn't recognize borders or even natural barriers like the sea. It will spread as long as people are moving from one place to another.
The latest easing of restrictions for certain age groups should also not fool us into thinking the worst is over. As we have seen from other areas in the Philippines, as well as other countries, COVID seems to have a nasty habit of bouncing back when just enough people drop their guard.
We don't have to remind everyone what will happen if we suddenly find ourselves under harsher quarantine restrictions again.