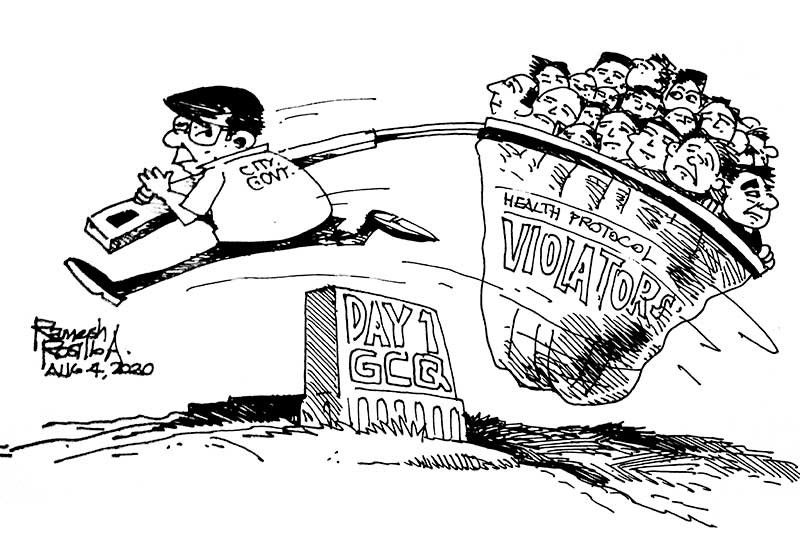 EDITORIAL - Have we learned nothing?
(The Freeman) - August 4, 2020 - 12:00am
According to a report in this newspaper, a total of 355 individuals all over Cebu City were arrested for violating quarantine protocols during the first day of General Community Quarantine (GCQ) last August 1.
Their violations ranged from not wearing a mask in public, being outside without a quarantine pass, and staying outside during curfew hours.
"When they were apprehended, they were disappointed kay abi nila GCQ na, pwede na sila kagawas, but no, we will have to sustain the gain sa atong nakuha for the past one month nga ni-menos atong active cases," Cebu City Police Director Josefino Ligan said.
If that number is an indication of how things are going to play out while we are under GCQ then we should be very worried.
Why is it that some people never learn? Was there not enough information disseminated on what can and cannot be allowed under GCQ? Did the city government or media fall short in telling people who can and cannot go out during this time?
This is not the first time we have been placed under GCQ after being under Enhanced Community Quarantine twice already.
If people think that GCQ was declared because the medical situation has improved, think again. The number of infected continues to rise. Our hospitals are still full. The reason why GCQ was declared was that the government realized that some businesses have to be allowed to operate to some extent to keep the economy and people alive.
Even with GCQ the COVID-19 virus —and the threat of getting infected, getting sick, and dying from it— is still very much out there.
Let's hope the most hardheaded among us realize that being under GCQ doesn't mean all is fine and dandy, and that even under GCQ they still have to act like they are still under ECQ.
Because if things don't improve, it's not unlikely that we will be placed under ECQ for a third time.