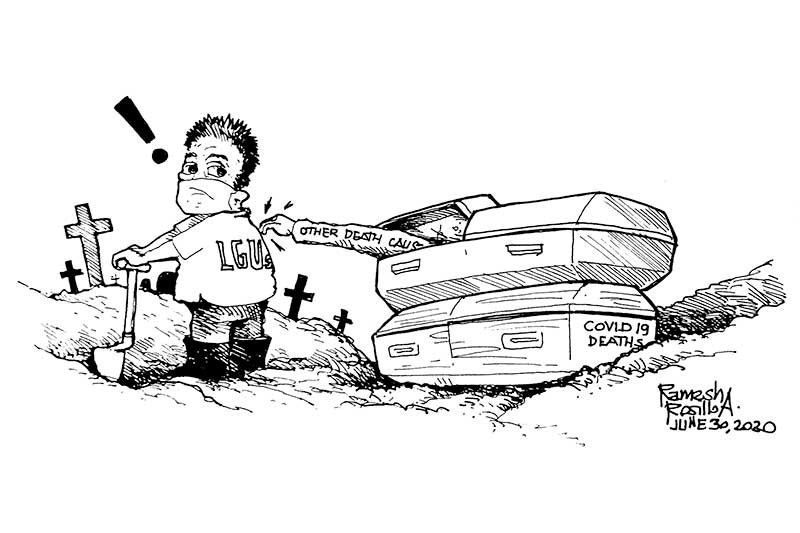 EDITORIAL - Where to take the dead
(The Freeman) - June 30, 2020 - 12:00am
These days our problem is no longer just about where to take our sick and ailing, now we also have to worry about where to take our dead.
According to Cebu City Councilor David Tumulak, the city is running out of places to bury its dead, not only those who have died from COVID-19 but also those who died of natural and other causes.
Tumulak recently authored a resolution asking the Department of Health and the Housing and Land Use Regulatory Board to "expedite the processing of clearances and approval, if not waive altogether, except the legal requirements and safety and health standards required under the establishment of public cemetery."
He said the cemeteries are full, even the biggest public cemeteries.
"Puno na g'yud ang menteryo," were Tumulak's ominous words.
Of course, we don't fear a zombie apocalypse scenario, but what we fear is another looming health crisis that usually results when people have nowhere to bury their dead, or don't bury them fast enough.
Remember that after calamities or disasters with high losses of life, authorities always encourage quickly burying bodies to prevent the possible spread of disease. While it will be unlikely that we will be putting bodies into mass graves, we cannot help but worry about how some people with dead to bury will deal with their predicament.
So that goes without saying this problem has to be addressed immediately.
We certainly don't envy those who have been tasked to look for suitable sites for a new public cemetery within the city. They have their job cut out for them.
Remember a few years back when the city was hard-pressed to look for a dumpsite within its own premises? They may face a similar scenario.
No, we aren't comparing human remains to trash; we are merely saying that a cemetery has more or less the same health issues as such a facility, what with leachate problems and other similar issues.
Tumulak is right in bringing attention to this problem, now if only a solution comes just as quickly.