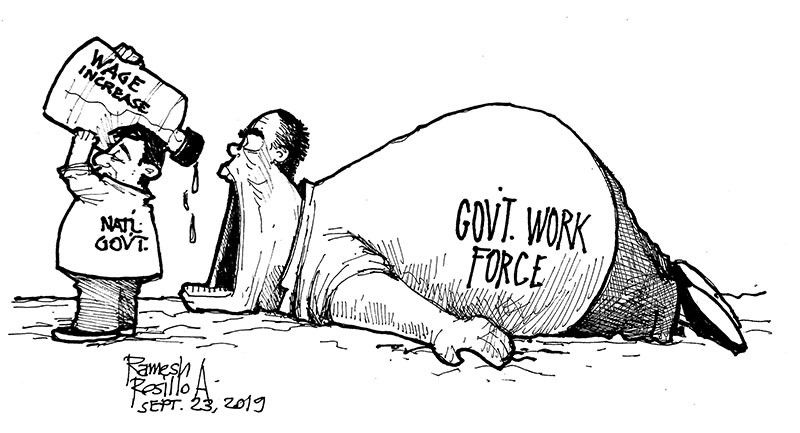 (The Freeman) - September 23, 2019 - 12:00am
A partylist congressman has criticized the plan of the Duterte administration to increase the salaries of government employees by five percent in the next three years, arguing that the move will hardly make an impact on the lives of state workers and their families.
Bayan Muna partylist Representative Carlos Zarate contended that the increase is just a "pittance" considering the fact that Filipinos are presently facing serious economic crisis.
"It's barely enough for inflation, which means that in real terms, the more than one million rank-and-file personnel will not be getting any pay hike," he said, explaining state nurses and school teachers still wait for the government's promise of a wage increase.
Well, Zarate's recent criticism is not really new for an organization that has always been critical of the government. Cause-oriented groups, especially those left-leaning, will never run out of ammunitions against whoever is sitting on the highest post of the land.
However, on the other hand, Zarate and other critics of the government have a point. The government cannot deny the fact that, for decades, it has miserably failed in the drive to improve the lives of thousands of its workers.
Of course, not only the state workers who are suffering from low compensation. Those in the private sector have more serious problem, even receiving far lower wages from business sector that would immediately move to stifle any salary hike proposal.
Members of the labor sector - whether they are in government or private - are the most valuable tool in nation-building. A country cannot really move forward economically if its inhabitants are denied the means to exist comfortably.
Those cause-oriented groups may have sounded like a broken record in their fight for the welfare of the ordinary masses. And we cannot blame them since the government has always been remiss in its mission to uplift the lives of the people.