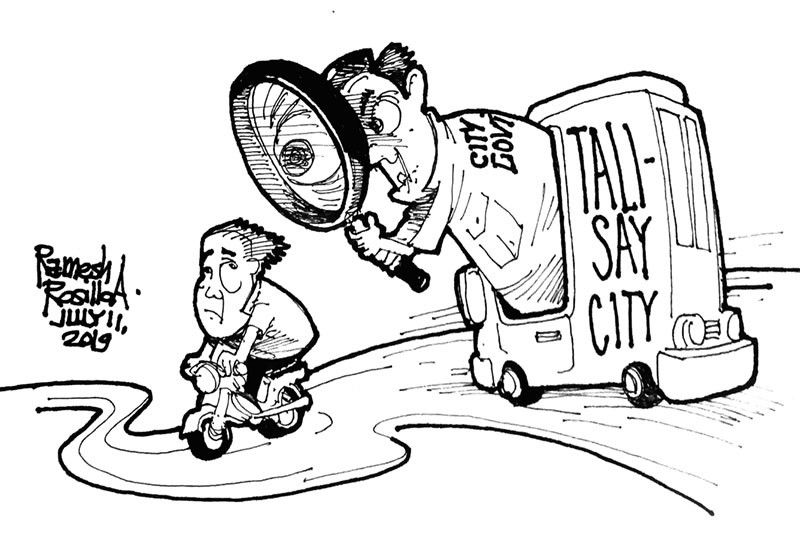 EDITORIAL - Talisay crackdown
(The Freeman) - July 11, 2019 - 12:00am
It seems authorities in Talisay City are serious in enforcing traffic laws, especially on the safety of motorists. Since Mayor Gerald Anthony "Samsam" Gullas assumed office, his focus has been on improving the city's traffic situation.
The other day, dozens of motorists were apprehended for not wearing helmet, in violation of the "no helmet, no driving" policy. They were accosted in only a span of three hours by the City of Talisay - Traffic Operation Development Authority (CT-TODA).
Gullas, the former Cebu First District congressman, launched a serious crackdown on erring motorists after noting a series a fatal incidents involving motorcycles in the city, especially along Cebu South Coastal Road.
To strengthen their campaign, the city's traffic czar, Jonathan Tumulak, said they are asking the Land Transportation Office for power that allows CT-TODA personnel to issue a temporary operator's permit and confiscate the driver's license of erring motorists.
Not only that. The local traffic authorities should impose higher penalties on motorcycle drivers who disregard the need to use helmet and other safety measures to see to it that everyone complies with the laws.
Not wearing a helmet in Talisay City carries a penalty of just P300, an amount that is too small to carry power to teach erring motorcycle drivers a lesson. For it to be effective, the City Council should step in and raise the penalty amount.
Another thing that traffic authorities in Talisay City should look into is the speed limit. That is because there are many who drive irresponsibly, steering their motorcycles beyond the allowable limit, raising the chances of accidents.
Of course, the duty to drive responsibly comes from the driver himself. And yes, it's true that safe driving requires self-discipline. However, discipline cannot be practiced unless traffic laws are strictly complied with.