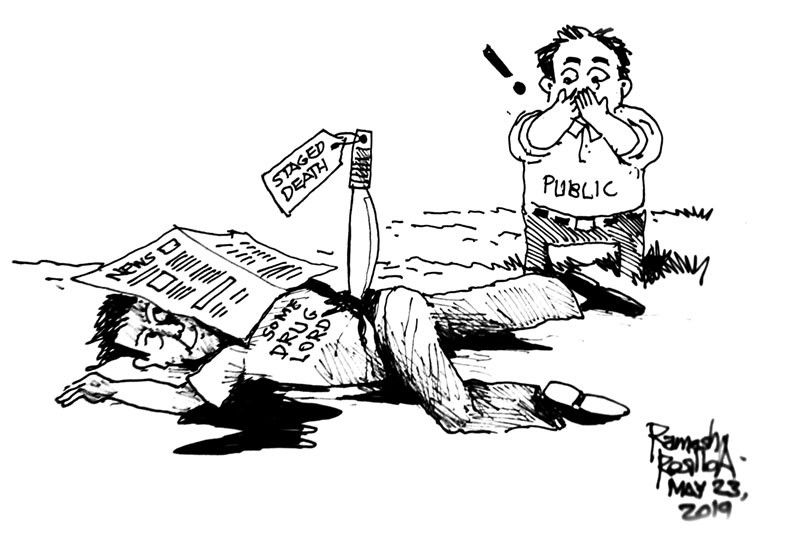 EDITORIAL - Is Sabalones really dead?
(The Freeman) - May 23, 2019 - 12:00am
Confusion is brewing about whether it was really self-confessed Cebuano drug lord Franz Sabalones who was shot and killed by unidentified perpetrators near a billiard hall in Metro Manila last April.
Brigadier General Debold Sinas, director of Police Regional Office-7, revealed that the fingerprints taken from the man reportedly identified as Sabalones failed to match with those in Sabalones' file with the Commission on Elections.
This led Sinas to theorize that if Sabalones is still alive, his records at the Comelec are not authentic and that the bigtime local drug personality must have faked his death to avoid the long arm of the law.
The next move, according to Sinas, is to test the DNA of the man killed in Quezon City to determine whether he was really Sabalones. But the problem is that Sabalones no longer has relatives living in San Fernando who could provide DNA samples. Or so it seems.
If the man killed in Quezon City is not really Sabalones, then there must be something wrong with the information released by the police. That they publicly announced his supposed death based on a witness account without proper verification is a lousy result stemmed from a poor collection of sources.
In the absence of any relative claiming Sabalones' remains, which still lie at a funeral parlor in Manila, we cannot blame those who doubt the alleged drug lord's "death," which came few months after authorities raided his house in Minglanilla town.
However, it seems likely that Sabalones' loved ones have already disowned him because of his illegal activities, because if the body was really his, any member of his family would have already claimed it for proper burial.
So what really is the real score about this Sabalones thing? Was he really the one gunned down in cold blood in Quezon City last month? Or was he taking advantage of a man's death to mislead the authorities? These are the questions authorities ought to answer.