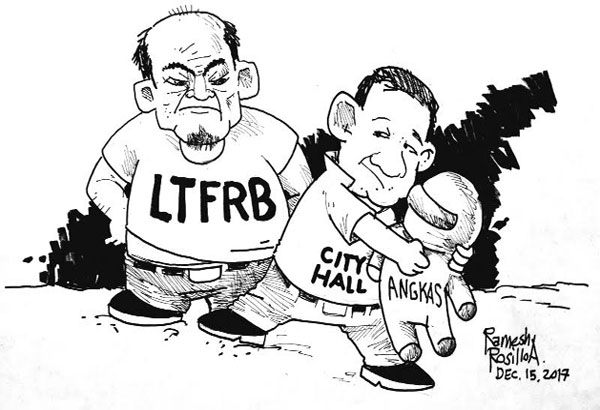 EDITORIAL - Any idea adding more motorcycles is bad
(The Freeman) - December 14, 2017 - 4:00pm
In a spiel before officials of the Land Transportation Franchising and Regulatory Board in Metro Manila, Cebu City Mayor Tomas Osmeña defended and pushed the app-based motorcycle ride Angkas which the LTFRB earlier declared illegal. According to Osmeña, Angkas drivers are trained to observe traffic rules, are registered and therefore identifiable and accountable, and the service helps ease traffic as more people may be enticed to ride the motorcycles instead of using cars.
If only Osmeña did not make it sound too good to be true, it might even be necessary to ask transport officials to simply roll over on their backs and have the Cebu City mayor have his way with transport issues, for he seems to know all the solutions to every problem. But talk is cheap. Besides, everybody in Cebu knows Osmeña will not be talking so gloriously about Angkas if somebody else had beaten him to it.
As the saying goes, if it sounds too good to be true, better be wary of it. Angkas is not what Osmeña cracks it up to be. It has not been tested to a degree that conclusions might be derived from the tests conclusively. All that is being heard favorably about Angkas is what Osmeña is insisting it to be. But Osmeña does not have a monopoly on intelligence.
The traffic problem in Metro Cebu is, on a slightly lower scale, pretty much like Metro Manila's. And like Metro Manila's, it is not the result of one factor but a combination of many. Any solution, therefore, needs to address not just one factor but the whole gamut of others. To speak of Angkas as if it is a silver bullet or a miracle pill is to invite suspicion that either the speaker does not know what he is talking about or he is speaking with an eye on something.
For example, since Osmeña talks so glowingly of Angkas, what training and respect for rules is he talking about that makes Angkas drivers any different from the hundreds of thousands of other public utility drivers that are already plying the streets on any given day that makes them so trustworthy and safe to ride with? Has he made a study that shows people will drop their cars and hop aboard Angkas motorcycles as if they were the greatest and most exhilarating ride in the world?
What assurance can Osmeña give that adding more motorcycles to streets already bursting at the seams with vehicles, many of them also motorcycles, will ease traffic other than his supposition that people will abandon cars in favor of motorcycles? Did he already talk to individual car owners? Did he even just talk to ten? Is Osmeña really sincere in his motorcycle advocacy or does he have something else in mind?