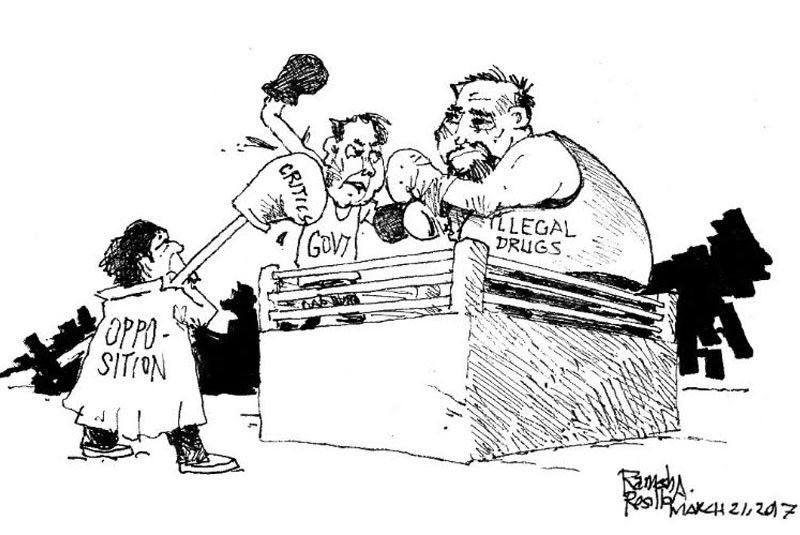 EDITORIAL - What if we drop the war on drugs?
(Associated Press) - March 21, 2017 - 12:00am
As critics of the Duterte administration are not about to stop their relentless bashing of its aggressive war on illegal drugs, and since it has become sort of fashionable for those who do not understand what is going on to be on the side of what is popular, which is, again, to bash the president, then perhaps it is time this nation considers a few of the things that might happen if Duterte simply cries uncle and gives in to his detractors.
First, it would be the height of naiveté to consider everything will become all hunky-dory once more. The killings, by whatever name they will be called now, will continue, but with even greater aggressiveness. They will not be impelled by a singular goal, like putting an end to the drug menace was. This time the killings will be driven by three things — vengeance, redrawing of turf, and recovery of losses. This time, extrajudicial killings will be truly extrajudicial killings.
Second, if the trade in illegal drugs continued to proliferate despite the Duterte crackdown, this time it will be open season for drugs. With law enforcers standing down and looking away, or in all likelihood drawn into the illegal drug trade themselves, business will no longer be done in the shadows but out in the open, like selling pirated DVDs.
Third, we will become a very dangerous place for all. Crimes committed by the zonked and the zombies will double, triple, or even quadruple. The crazies know they have won. They have put down a president. They have made law enforcement irrelevant. More importantly, they have the backing of a church that would rather have them alive and continuing to do evil, than finding peace in God's unquestioning mercy.
Fourth, the huge amounts of money to be made from a-now-unbridled trade in drugs will quickly contaminate every institution of Philippine society. They will begin to dictate the outcome of elections and influence the formulation of state policies. Education will eventually become irrelevant when drugs begin to infest the academe. Private lives will be shattered as more and more families get broken.
Finally, the Philippines will become a failed narco state where it becomes every man for himself. And it is not going to happen in fifty years, or forty, or even thirty. It is already beginning to happen even if nobody has the balls to accept the painful truth that it is. It is far easier to pretend that there is still a way out other than seizing the bull by the horns. So what is it really, Filipinos? Do we seize the horns, or do we lull the bull to sleep with a nursery rhyme?