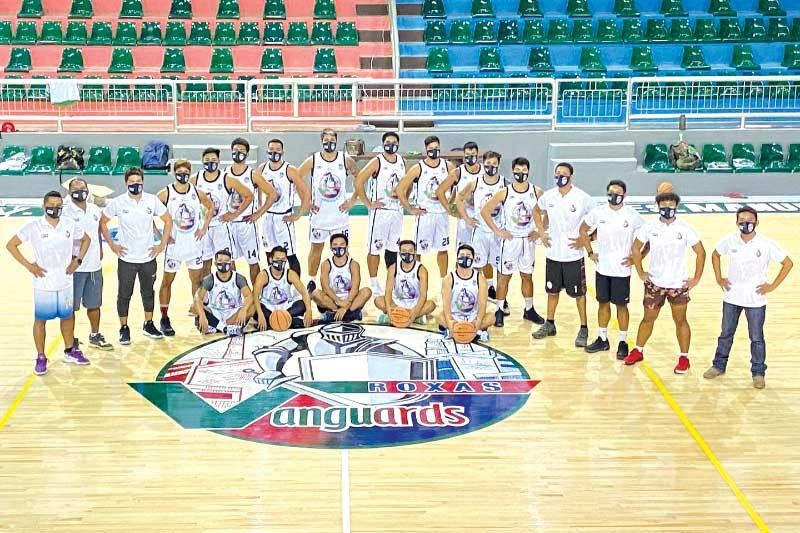 The Roxas Vanguards led by mayor Jan Hendrik I. Vallecer, head coach Eddie Laure, and Cebuano assistant coach Edsel Vallena are primed and ready for the Mindanao leg of the inaugural Pilipinas Vismin Super Cup set to kick off in July in Pagadian City, Zamboanga del Sur. Contributed photo
Roxas Vanguards all set for Vismin Super Cup
(The Freeman) - June 20, 2021 - 12:00am
CEBU, Philippines — Another action-packed hardcourt battle will unfold as the Mindanao leg of the inaugural Pilipinas VisMin Super Cup gets underway next month in bubble set-up in Pagadian City, Zamboanga del Sur.
The Roxas Vanguards of mayor Jan Hendrik I. Vallecer are among the nine teams from Mindanao who assembled the best roster they can to bolster their respective campaigns for the coveted championship.
Under the guidance of coach Eddie Laure, the Vanguards will contend against Basilan Peace Riders, JPC Zamboanga City, Clarin Sto. Nino, Kapatagan Buffalo Braves, Alza Alayon Zamboanga, Iligan Archangels, Pagadian Explorers, and Misamis Oriental-Brew Authoritea.
The Zamboanga-native Laure will be assisted by Cebuano bench tactician Edsel Vallena, who downplayed their title chances for the time being.
"We can't really say what our chances are because the teams in Mindanao are extremely strong," Vallena said. "For now, the only thing we can promise is that we will give them a good game and that they will not bring us down easily. We will always work hard and give it our all."
As a defense-oriented coach, Vallena emphasized that he can help Laure out on the defensive side of their system and in identifying the weakness of their rivals as well.
"As an assistant coach, I will share to the team my coaching experience in Cebu especially on defense and spotting the weaknesses of our opponents," Vallena said. "We are following coach Eddie's system to the letter because he is a very flexible coach. He doesn't fix what's not broken, rather, he improves what needs to be improved and that's what makes our team primed and ready for the tough battle ahead."
The winner of the Mindanao leg will take on the Visayas champions KCS Computer Specialist-Mandaue City for the Super Cup grand crown sometine in August. - Jay Mar Y. Baynos, CNU Journalism Intern