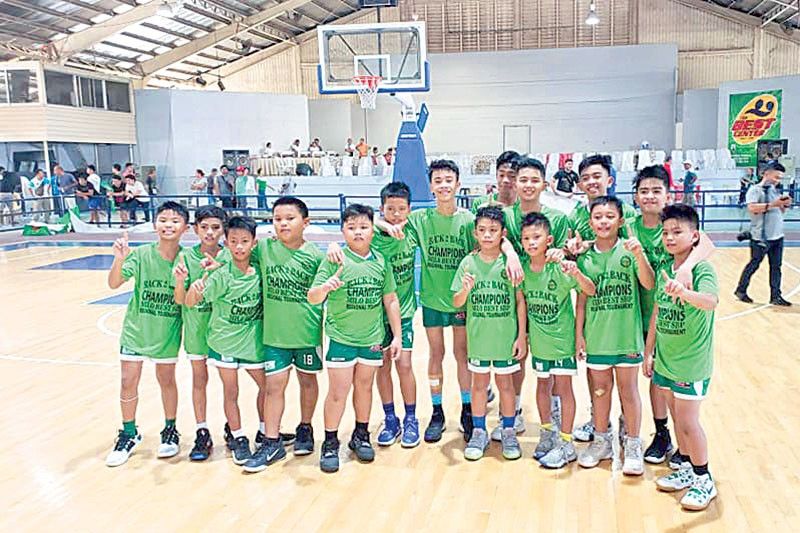 The young but promising UV cagersjubilate after emerging as national champions in the Small Basketeers Philippines division of the 34th SBP Passerelle Twin Tournament backed by Milo over the weekend at the DinggoyRoxas Civic Center in Roxas City, Capiz. Contributed photo
Small but terrible: Iron will key to UV's success
CEBU, Philippines — The University of the Visayas (UV) Small Basketeers Philippines (SBP) team did not only personify craftiness but also fortitude and big fighting heart in earning the bragging right as the country's best basketball team in the 12 Under age group.
Last Sunday, UV dethroned four-time defending champion La Salle Greenhills, 62-58, in their knockout championship match to grab the SBP title during the national finals of the 34th SBP Passerelle Twin Tournament backed by Milo at the DinggoyRoxas Civic Center in Roxas City, Capiz.
It was UV's first national SBP crown since it started its grassroots program in 2010 under the stewardship of UV Basketball team manager Gerald Anthony "Samsam" Gullas, who is also the beloved mayor of Talisay City.
"We are extremely happy for this accomplishment. To be named the best Under 12 team in the country is very humbling," said Gullas. "We have won the Passerelle national championships but this is very humbling."
Likewise, UV SBP head coach Ronald 'Magic' Bucao seemed to float in cloud nine followiNg their monumental triumph.
"Our hearts overflow with happiness seeing that after all our hard work and sacrifices, we won the national championship at last," said Bucao, himself a decorated Visayanian who won a grandslam title both in high school and college wearing the Lancers uniform.
Bucao, the juniors Most Valuable Player in 1999 when the CESAFI was still known as the CAAA (Cebu Amateur Athletic Association), said their breakthrough triumph only goes to show that provincial teams have the capacity to vanquish powerhouse teams in Manila.
"We 'Promdis' somehow gained a certain measure of respect out of that victory," said Bucao, a consistent All-Star during his colorful playing career.
Gullas shared the same sentiment.
"To beat a school with the pedigree of La Salle, , the 4 times defending national champions just goes to show that provincial teams are at par with Manila competition," said Gullas.
One of their driving force to savor the sweet nectar of success is UV's failed campaign in the 19th Cebu Schools Athletic Foundation, Inc. (CESAFI) basketball season recently.
The Baby Lancers were booted out by eventual champions Sacred Heart School-Ateneo de Cebu (SHS-AdC) Magis Eagles in the juniors division, while the Green Lancers, after a three-year reign, were unseated by the Southwestern University (SWU)-Phinma Cobras in the collegiate level.
"Honestly, it is one of our motivation. We want to make up for our failed campaign in the CESAFI in the nationals," shared Bucao. "I told my players that this game is for UV and for your parents. When we won the championship, that's the end result of it."
But before reaching the zenith of glory, Bucao unequivocally admitted that he is not that confident on their chances of slaying the formidable Greenis who dominated the SBP division for the past four years.
"I really had doubts at first because we're up against a taller and bigger opponents," said Bucao. "But my boys showed iron will and determination. I can see in their eyes that they really wanted to win and become champions. They maybe smaller in height but they stand the tallest in terms of fighting heart. I'm really proud of them."
"For what we have achieved, I'm always thankful to boss Samsam (Gullas) and the entire UV community for their all-out support to our basketball program and for giving our student-athletes the opportunity to showcase their talents," he ended.