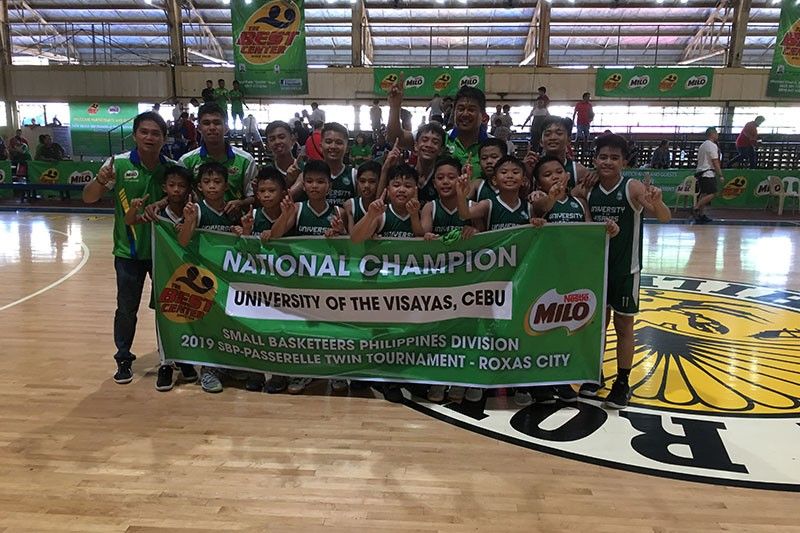 The young UV cagers celebrate after clinching the Small Basketeers Philippines division championship of the national finals of the 34th SBP Passerelle Twin Tournament yesterday at the Dinggoy Roxas Civic Center.
UV clinches historic crown
ROXAS CITY, Philippines — The youngest of UV's basketball program are national champions.
Digging deep and counting on its swarming defense, UV squeaked past four-time defending champion La Salle Greenhills, 62-58, to bag the national title in the Small Basketeers Philippines division of the 34th SBP Passerelle Twin Tournament backed by Milo at the Dinggoy Roxas Civic Center.
Needing a good start to control the tempo of the game, UV took a slim 16-15 lead at the end of the first period.
UV then leaned on huge second and third periods to gain control of the match and create a buffer before the fourth period. The lead ballooned to 35-24 at halftime behind the leadership of Denver Bisnar who had eleven points in the period. The stifling full-court pressure of UV limited La Salle to nine second period points.
UV maintained the 11-point margin at the end of the third period, 53-42, as Jan Mark Toring took over with his 12 points in that stretch.
But as expected, the defending champions didn't back down and rallied in the end-game.
After UV took a 57-42 lead early in the fourth period and a championship was dawning, the Greenies charged back and chipped away at the deficit slowly but surely, and the closest they got was at four, 62-58, on a triple by Camilo Miguel Jugo Jr. with 19 seconds left in the game, the final tally.
Bisnar led UV with 18 points while Toring added 14. Bryan Hachuela had 23 points, including all 15 of LSGH's points in the first period.
The championship is a first national SBP title for UV ever since it started its age group program in 2010.
Its Passerelle team had won a national title in 2014, and this completes their cycle of an SBP Passerelle double. This same UV age group/grassroots program has produced the likes of Paul Desiderio, Jun Manzo, Leonard Santillan andRoyce Alforque.
The win will also surely make up for the losses of UV in the CESAFI Finals of the collegiate division and its bowing out in the semifinals of the CESAFI High School division.
In the Passerelle championship, National University cruised to a 91-55 win over International School for Better Beginnings, with Mark Rainier de Leon leading the souped-up offense with 15 points. Cebuanos Carl Vincent Manding and Kim Tamayo added 13 and 12 points, respectively.
In the games for third place, Corpus Christi School of Cagayan de Oro tripped Berkeley School of Baguio, 59-36, in the SBP division,Hercor College of Roxas outsteadied Xavier University High School of Cagayan de Oro, 67-61.