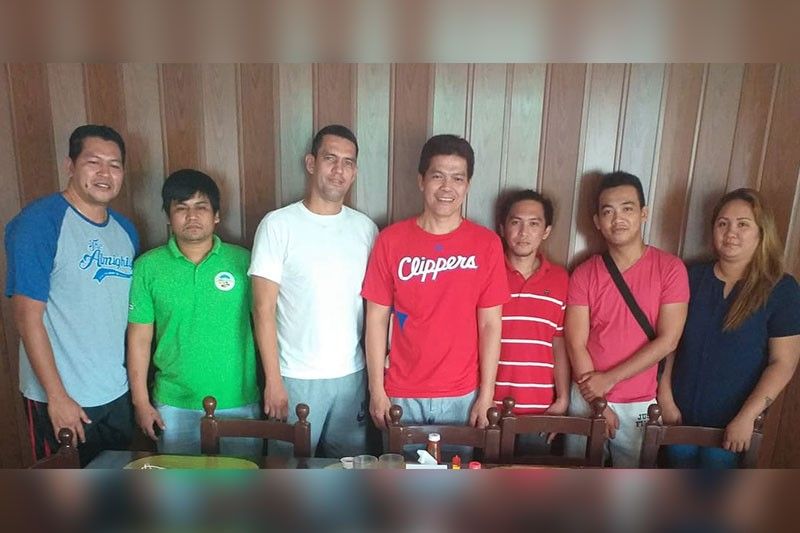 Tournament organizer Tyrone Anthony Bayle (third from right) and coach Edsel Say Vallena (C) pose with team representatives during a press conference yesterday at Sunburst-Mango to promote their twin events this weekend highlighted by the exhibition game between the PBA Legends and the UV Green Lancers in Danao City.
Manny Villaruel
PBA Legends to dazzle Danao fans
CEBU, Philippines — A bunch of former and active PBA players will be coming over to Danao City up north for a goodwill match against the three-time Cebu Schools Athletic Foundation, Inc. (CESAFI) defending champions University of the Visayas (UV) Green Lancers on Saturday, November 23, at the Danao Sports and Civic Center.
Ex-pro stars forming part of the PBA Legends in John Ferriols, Willie Miller, Gary David, Lordy Tugade and Sunday Salvacion will team up with Paul Desiderio, Brian Heruela and Mac Belo of the Blackwater Elite as they square off against the most winningest collegiate ballclub outside of Metro Manila.
They will be reinforced by college mainstays Jessie Aloro, JC Escalona and John Jabonete.
Tickets are priced at P100 for the upper box, P200 for the lower box and P250 for the VIP section.
The exhibition game will usher in the Chauncey Open Basketball League 2019 set to kick off on Sunday, November 24, at the Mayor Panphil B. Frasco Sports Memorial Complex in Liloan, Cebu.
Tournament organizer Tyrone Anthony Bayle, who also serves as the league's commissioner, said in a press conference yesterday at Sunburst-Mango that a total of nine teams have already confirmed their participation in the three-week tilt that dangles close to P200,000 in cash prize to the winners.
These are the Kyrie Dave, first runner-up in this year's Carcar City Mayor's Cup, KCS, SPI, Bogo LGU, Fighter 50, San Remigio Properties, Good Harvest, Jie Espina and Lapu-Lapu Aguila.
They will be divided into two groups of four. The top two teams in each bracket after the single round robin elimination will advance to the crossover semifinals. The winners will dispute the title in a winner-take-all affair.
Deputy commissioner Edsel Say Vallena, who is also the head coach of the Cebu Institute of Technology-University (CIT-U) Wildcats, said the champion will take home P100,000 while the second and third placers will pocket P50,000 and 20,000, respectively.
For further details, Vallena said interested parties may visit their Chauncey Basketball League 2019 Facebook page.