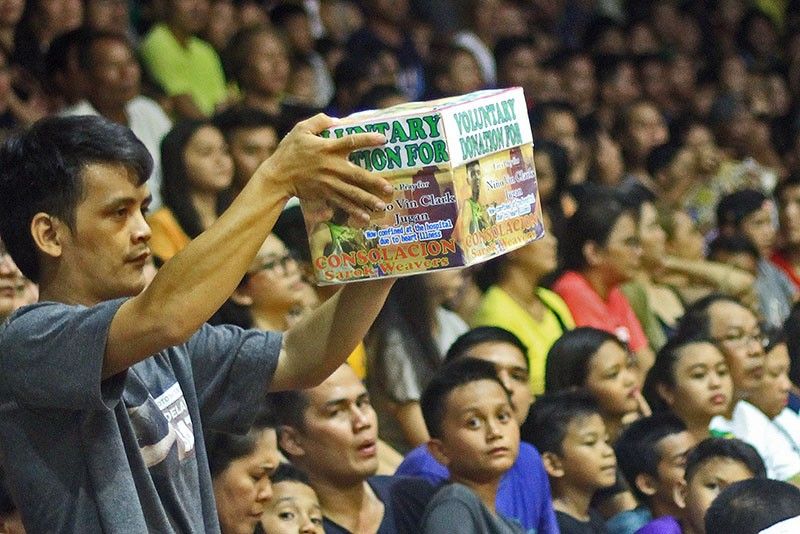 A man passes over the donation collection box to the crowd at halftime during Game 1 of the best-of-three Governor's Cup basketball finals between the Talisay City Aquastars and the Mandaue City Ballers last May 3 at the Talisay City Sports Complex. The Talisay City Sports Commission initiates the fund-raiser for the benefit of the ailing Consolacion player Niño Vin Clark Jugan.
Aldo Nelbert Banaynal
Champions with a heart of gold
CEBU, Philippines — The Talisay City Aquastars did not only clinch an unprecedented back-to-back championships in the 2019 Governor's Cup Inter-Cities and Municipalities Under 21 Developmental Basketball Tournament, they also win hearts for touching the lives of others especially the needy ones.
Through the initiative of the Talisay City Sports Commission, the Aquastars will be sharing a portion of their P500,000 prize money to Niño Vin Clark Jugan, the player of Consolacion Sarok Weavers who is battling for his life because of a critical heart ailment.
Unknown to many, the Talisaynons extended their helping hand to the ailing Consolacion cager long before they successfully defended their title last May 11 when they edged the Mandaue City Ballers, 74-69, in the deciding match of their best-of-three finals at the University of San Carlos (USC)-Main gym.
It all started when Jeanneth Villagonzalo of Talisay's sports commission got a call from Consolacion head coach Paul Alelu Flores in the last week of April informing her of the sorry plight of Jugan who had been diagnosed with enlargement of the heart.
"When coach Alelu (Flores) called me about what happened to Jugan and asked for financial assistance, we have no second thoughts in saying yes," said Villagonzalo. "But since we are not allowed to collect entrance fee during our home games, I thought of something else. It was then that I made a donation box bearing Jugan's name, put it beside the entrance of our gym and then pass it over to the crowd during halftime."
They first did it during their knockout semifinal game against the Balamban Shipbuilders last April 30 and then during Game 1 of their best-of-three title series against Mandaue last May 3.
In both games that they won, Villagonzalo said they have raised a certain amount of money that they personally handed out to the family of Jugan.
"In my opinion, we should help if someone reach out to you for help as long as we can. It is better to give than to receive. It's a great achievement to help others," said Villagonzalo.
The Aquastars further spotlighted their admirable act of kindness when Talisay councilor Rodi Cabigas announced moments after they retained their crown that they will donate part of their cash prize to help defray the medical expenses of Jugan.
"It always feels good to able to help someone in need. That is one jewels of life that is priceless," said Cabigas.
Coach Alelu Flores, on his end, said the overwhelming support they generated out of Jugan's predicament left him in utmost sense of speechlessness.
"When I learned of Jugan's condition, I immediately asked for financial assistance to all people I know. I really pity my player who comes from a poor family. His father is a taxi driver while his mother is a plain housewife. He is the eldest in a brood of five and their youngest has a down syndrome. They are really in dire need of help," said Flores.
"I'm really at a lost for words in thanking all those who readily responded to my call for help. All the assistance that was extended to the family of Clark really mattered and highly appreciated," added Flores. I may not be able to mention them all, but I'm forever grateful to all the people who supported the fund-raising and to the good heart from the people of Talisay and Mandaue as well as the men behind the Cebu Provincial Sports Commission. Now, Clark is still fighting for his life that's why we are asking for your prayers for him."
The family of Jugan also expressed their profound gratitude to those who were with them that somehow eased their troubles during these trying times of their life.
"First of all, I thank God for giving us kind-hearted individuals whom He made instruments of help in times of our need. Thank you all from the bottom of our hearts," said Clark's father Agvin P. Jugan.
They say that helping others is the first step towards making the world a better place. That makes the Talisay Aquastars great champions on and off the court worth emulating for.