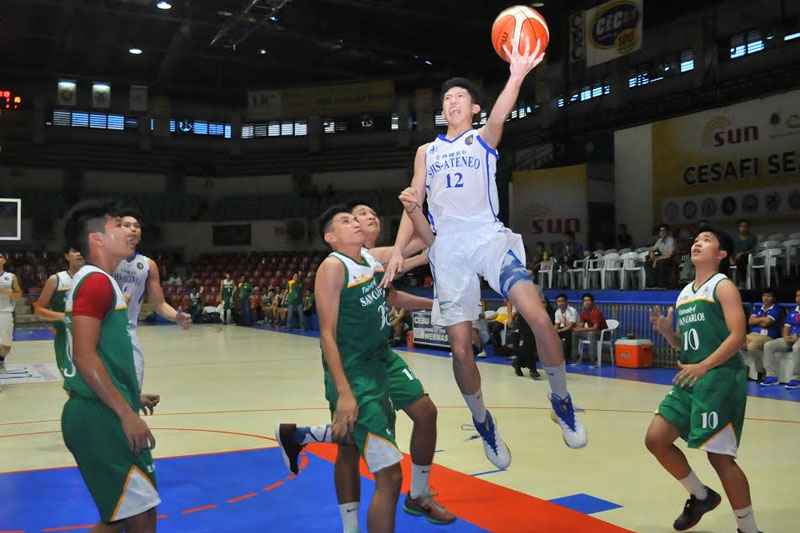 Magis Eagles annihilate Baby Warriors in CESAFI
CEBU, Philippines — Four-time champions Sacred Heart School-Ateneo de Cebu (SHS-AdC) Magis Eagles unleashed their full might in a 63-37 obliteration of the University of San Carlos (USC) Baby Warriors in the 17th Cebu Schools Athletic Foundation, Inc. (CESAFI) men's basketball tournament last night at the Cebu Coliseum.
The Magis Eagles sent an ominous warning to their rivals right after the opening buzzer.
Christian Manaytay went 4-of-4 from the foul line, Justin Javelosa sank a 3-pointer and Franz Diaz scored on back-to-back layups as the Magis Eagles sprinted to a lightning 11-0 start.
After holding off the Baby Warriors to a paltry four points in the first quarter, the Magis Eagles opened the second period with a 9-0 blitz and used it as a bridge to mount a 25-8 lead at halftime.
The Baby Warriors bettered their total output in the first half by scoring 11 in the third but the bad news for them is that the Magis Eagles sustained their offensive fire on the way to blow up their lead to 45-19 heading into the last 10 minutes of play.
The Magis Eagles kept that imposing 26-point advantage three times, the last time turned out to be the final tally.
Patrick Yu pumped in all of his 16 points in the final half, while Diaz and Manaytay connived for 21 points as the Magis Eagles stretched their winning streak to four and improved to 7-1 overall, good for second place in the juniors division standings behind the undefeated University of the Visayas (UV) Baby Lancers (7-0).
No player came in double figures for the Baby Warriors, who dropped to 3-4 that somehow dimmed their chances of making it to the round of four. (FREEMAN)