Cebu City, Central Visayas on priority list of achieving herd immunity vs COVID-19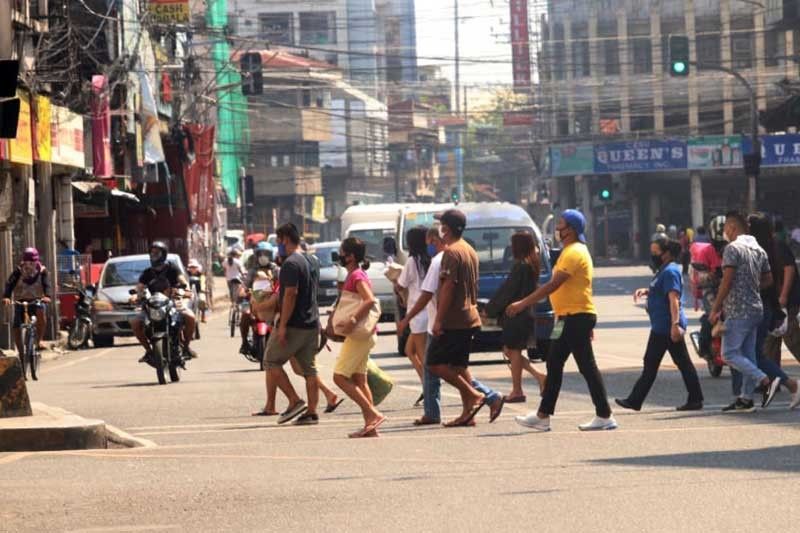 CEBU, Philippines — Cebu City and the rest of Region 7 are among the priority areas targeted to achieve herd immunity versus COVID-19.
This is the proposal of vaccine czar, Secretary Carlito Galvez, presented during a recent meeting with President Rodrigo Duterte.
"Considering magkaron tayo ng fall-off or shortfall sa ating mga supply (vaccine), we are recommending na magkaroon po tayo ng prioritization," Galvez explained.
He said prioritization will be based on economic and social importance. Areas that have been affected badly by COVID-19 in 2020 like Cebu will, naturally, be a priority.
Cebu City was tagged as epicenter of the crisis in June last year. And because the city is a focal point in the region, other local government units in Central Visayas have also been affected.
"So ang recommendation po namin ay mag-concentrate po tayo sa areas na tinatamaan. Ito po nung 2020, ito po ang mga lugar na natatamaan ng malakas, so kung titingnan natin, instead mag-concentrate tayo sa 110 million population, we have to concentrate only on 83 million population, and then, kung makuha natin yung 70 percent, yung herd immunity ng mga areas na ito, malaki ang chances natin na ma-recover natin ang economy po natin at malaki po ang chances na ma-prevent natin ang tinatawag nating surge sa mga traditional areas na naging vulnerable," Galvez said.
Cebu City has received two batches of vaccines from the national government through the Department of Health. It is still on its second round of vaccinations focusing on senior citizens.
Mayor Edgardo Labella said the city is in constant communication with Galvez.
"Nagsigi ta'g communicate ni Sec. Galvez. Gitagaan ta niya'g assurance nga aside from the NCR, kita sa Dakbayan sa Sugbo, tagaan gyud ta niya'g priority kay nakasaad siya nato," Labella said.
He said the city will not use the P400 million budget for COVID-19 vaccines until supply from the national government runs out.
"Suma na sa akong giingon, nag-appropriate na ta ana ug P400 million pero dili sa nato gastuhon samtang naa pay gisaad ang Manila nga libre… atong hinay-hinayon og gasto kay kwarta man na's katawhan… Ato lang sang huwaton gyud… sige ma'g saad si Sec. Galvez," Labella said.
Cebu City
Among those vaccinated Tuesday were Mayor Edgardo Labella and his wife, Joy. The mayor said he did not feel major side effects after inoculation.
"I feel good. Aside from the natural pain inig turok sa injection, wala man ko'y laing gibati… My vital signs were monitored as part of the process didto sa vaccination site, and I am okay. Normal pud akong BP tungod sa exercise and sa sigi'g kaon og mga prutas ug gulay," Labella wrote on Facebook shortly after the vaccination.
The mayor encouraged other senior citizens in the city, as well as those with comorbidities, to have themselves vaccinated.
"Dunay gyu'y risgo ang tanan sa kinabuhi sama sa pag-drive o pag-kaon. In this case, ang risgo sa COVID-19 mas delikado man kaysa gikahadlokang side effects sa pagpabakuna," he said.
Labella was provided with a COVID-19 Vaccination Card where it was noted that the mayor will receive his second dose on June 4.
Other city officials who have already received the first dose are Vice Mayor Michael Rama and Councilors Lea Japson, Joy Augustus Young, and Raul Alcoseba, all senior citizens.
Cebu City residents who belong to the A3 priority group are now urged to register online. Those under the A3 priority are persons with comorbidities.
Examples of conditions under priority group A3 are chronic respiratory disease and infection, cardiovascular disease, chronic kidney disease, immunodeficiency state, among others.
They can register at https://mics.cebucity.gov.ph/vims/page/register or https://www.PaBakunaTa.com./
Other Rollouts
Cebu City's neighboring local government unit, Mandaue City, also resumed its vaccination of senior citizens. On Tuesday, May 4, it vaccinated 320 senior citizens and 10 frontliners.
The city's Vaccine Board chairman, Ernie Manatad, said they have already given the first dose to 1,400 of the 24,097 eligible senior citizens in Mandaue.
The city recently received 1,600 doses of Sinovac – 1,000 doses for the first dose for senior citizens and 600 doses for the first dose for healthcare workers.
Manatad said vaccination will end this Friday.
Meanwhile, the vaccination roll-out of the Project Balik Buhay Batch 2 commenced on May 3, 2021 with the vaccination of the A1/A2/A3 Priority Groups (healthcare workers, senior citizens and adults with comorbidities).
These came from the second batch of Company Applications and Employee Masterlists duly approved by DOH-7 and the respective LGUs as of April 16, 2021.
The PBB vaccination initiative is part of the national government vaccination program intended for employed/corporate sector in Cebu. This is a public-private partnership upon the request of the Office of the Presidential Assistant for the Visayas (OPAV), IATF-Visayas, and DOH-7 to help augment the capacity of the government vaccination centers.
Efforts
In the Visayas, OPAV has visited provinces to cascade the Visayas COVID-19 Vaccination Operations Center Manual to governors and mayors.
The Vaccination Operations Manual aims to unify and strategize the vaccination operations in all local government units in the Visayas and harmonize data to ensure most of the general population is vaccinated against COVID-19.
DOH-7 Director Jaime Bernadas said fighting COVID is not a national government fight but a fight of the local government.
"Because the national government and national agencies can only do so much. We can only give technical support, maybe a part of financial and human resources, but the people on the ground are our real frontliners," Bernadas said.
Galvez said that based on data gathered from the Department of Foreign Affairs (DFA) and other foreign postings, the Philippines now ranks third in vaccination among ASEAN countries.
The country's ranking is expected to go higher when 2 million more Sinovac doses and 1 to 2 million doses of Gamaleya-Sputnik V arrive in the country in the next few days.
In June, there are about 9 to 10 million doses of vaccines that are also expected to arrive in the country including 194,000 doses of Moderna; 4,500,000 doses of Sinovac; 2,000,000 doses of Gamaleya/Sputnik; 1,300,00 of AstraZeneca (private sector); and 2,355,210 doses of Pfizer from Covax.
More deliveries of AstraZeneca from Covax may also arrive in June, which will give the national task force a breather even with the expected delay of vaccine supply from India.
If all goes well, Galvez said, the general public may start to get vaccinated by August. — Caecent No-ot Magsumbol and Mitchelle L. Palaubsanon, JMO (FREEMAN)