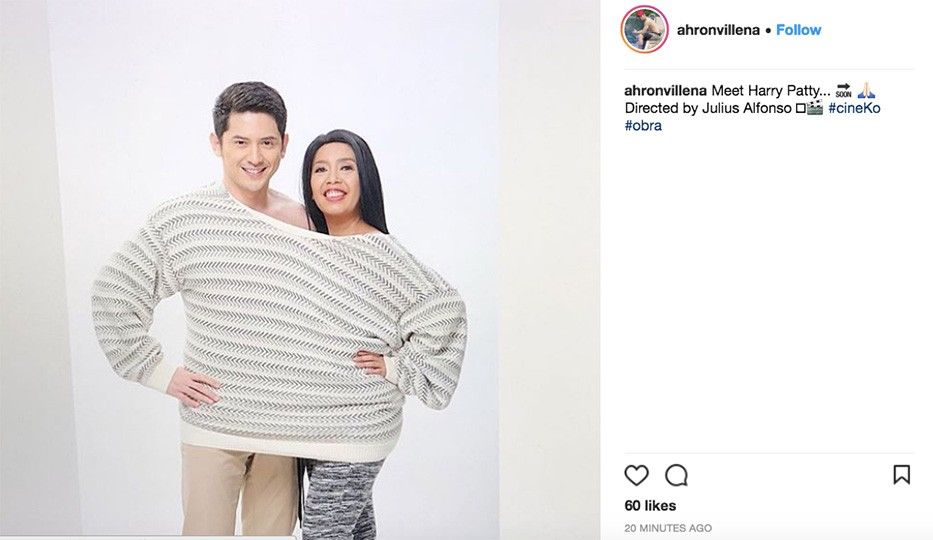 Ahron Villena and Kakai Bautista of the upcoming romantic-comedy film "Harry & Patty"
Former frenemies star in rom-com flick
Newbie filmmaker Julius Alfonso, who directed the award-winning film "Deadma Walking" (one of the top nominees in the 2nd Eddys Awards) is enjoying himself so much in doing his sophomore movie titled "Harry & Patty" under Cineko Productions.
Playing the leads in this romantic-comedy are Ahron Villena and Kakai Bautista. This is the story of childhood friends who got separated but secretly want to see each other again.
Direk Julius said he talked separately with Ahron and Kakai before the shoot. The two had a misunderstanding that became a big issue. While Ahron and Kakai had reportedly patched up their differences, Direk Julius just wanted to make sure that the two are okay.
"Ayoko naman na kung kailan kami nasa sa shoot ay saka sila mag-away. Gusto ko lang matiyak na in good terms na talaga sila," said the director. "Ahron and Kakai assured me that they are in good terms and there is no cause for worry."
Direk Julius is happy with the break given him Cineko Productions to direct "Harry & Patty." He is likewise thankful to Viva Films (where he is under contract) who allowed him to accept the job.
"Nakatutuwa naman na may mga bagong producers na nagtitiwala sa akin after nila mapanood ang 'Deadma Walking,'" said Direk Julius, who is looking forward to attending the 2nd Eddys Awards where "Deadma Walking" garnered several nominations including Best Picture, Best Direction, Best Screenplay and Best Actor for Edgar Allan Guzman.
"I am attending the awards to show my appreciation to Eddys for recognizing our work in 'Deadma Walking,'" he added.
***
Blind Item: Before this handsome actor (HA) became very popular and became the toast of showbiz, he was allegedly offering himself as a "boy toy" to gays.
According to rumors, young actor is often seen making "tambay" in the premises of a popular coffee shop located in a plush condo somewhere in the metro.
That is where HA waits for his client and if HA's contact is already in the condo, he makes a move and disappears from the coffee shop.
Allegedly, a gay guy can have HA for a short time for P7,500. That was years ago before he became famous. Back then, he was a virtual newcomer not minded much by people in showbiz. But HA was really a looker and a head-turner if you see him in a mall or a coffee shop. And he has that winsome smile that can melt a gay's heart.
But when HA was paired with a young actress, they formed a lethal combination that brought them fame and fortune. Money and projects kept coming and there was no need for HA to do his sideline of making his gay "friends" happy. More projects came after he was signed by a major film studio and got a big break in the number one TV station.
HA is still very much sought after as an actor. He just finished a recent project that his fans loved very much.
***
At the recent press conference of "My 2 Mommies" (which earned P5.5 million on its opening day), Joem Bascon said he is proud to admit that he is a Mama's Boy.
He said he learned a lot of valuable lessons from his mom which serves as his guide in his day-to-day living. One of them is being respectful to people regardless of age and gender.
"Whatever we achieve, we owe to our mom's advice and guidance," added Joem who did very well in his role as Paolo Ballesteros' partner in "My 2 Mommies." He enjoyed himself so much doing the film with his co-actors Solenn Heussaff, Ms. Maricel Soriano and child actor Marcus Cabais and Direk Eric Quizon.
"Direk Eric is such a cool worker on the set. We did have fun. He is a fast worker but with good results."
***
Ariane Bautista is tonight's guest on "Bubble Gang." Among the featured segments are Hype Beast gags, Hapitot (a short comedy skit pondering about certain ideas that will cheer you up from the negative), Basa Basa Pik, Mas Pinakabonggang Sumbong Sumbong Kay Bonggang-Bonggang Bongbong, Ilaw ng Tahanan, Barangay Election, OA na Direk, Break, Best Bakasyon, and Manipis Makapal.