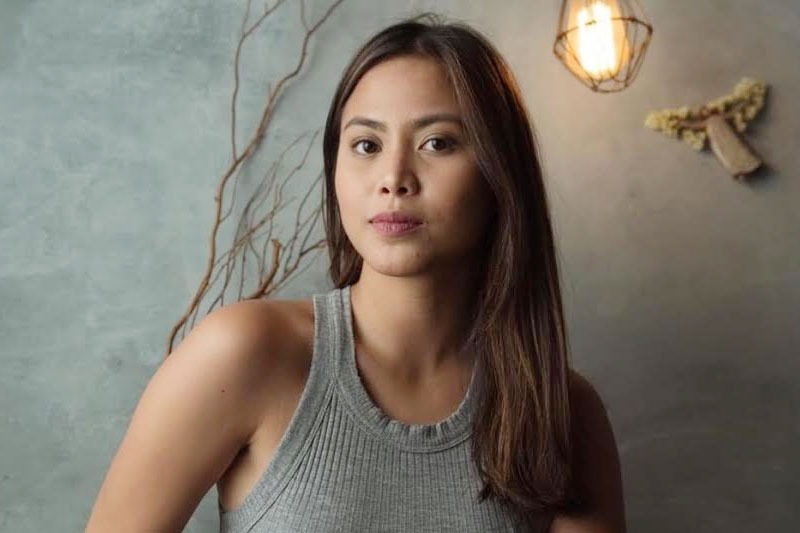 Anna Luna: Actress on the rise
Anna Luna won Best Actress at the Five Continents International Film Festival held at Venezuela last October 2 for her performance as a school teacher in the movie "Maestra" directed by Lemuel Lorca for Dr. Carl Balita Film Productions. It was her first international acting award and she still can't believe it happened.
At the recent press preview of "Maestra" at Black Maria Cinema, Anna was at a loss for words when asked how she felt bagging her first international acting award.
"It hasn't really sunk in," said Anna whose father, a former actor in PETA, named her after the TV series "Anna Luna" so that she can continue her father's dream as an actor. "It was my dad who inspired me to go into acting because he has always told me that I am destined to become an actress."
When asked what could have been her acceptance speech, Anna said she really doesn't know what she could have said. "Hindi talaga ako makapaniwala that I really won an award," said Anna, who also bagged a best supporting actress award for a Cinema One Originals entry. She also received a Best Ensemble Award for "Changing Partners," also an entry at the 2017 Cinema One Originals.
In the film, Anna played the role of Iah Seraspi, a fisherman's daughter from Romblon who topped the Board Exam for teachers. Seraspi, who is now working as a Board Reviewer herself, was present the entire time while Anna portrayed her character.
"Maestra" pays tribute to educators whose life-long struggle is highlighted by their unwavering commitment to their profession.
Also nominated for Best Actress at the Five Continents International Film Festival was Angeli Bayani, the talented actress who was called "national treasure" by award-winning filmmaker Ang Lee.
Angeli really looked like an Aeta in the movie produced by Dr. Carl Balita, who is an educator and owner of a review center for teachers. The award-winning actress' performance as an Aeta teacher from Tarlac named Gennie Panguelo will make you believe that she is indeed an Aeta. For her role, the one-time Gawad Urian best actress had to learn the Mag-Anchi Ayta language.
Gennie had been a teacher for more than two decades and took the licensure exam many times but always failed. But it did not dampen her spirits until she finally passed. Her determination paid off.
She is the teacher who walks four hours a day, traversing rivers and mountains just to reach the school. That's how dedicated she is to her work.
"Maestra" will be shown as part of CineLokal on December 8 and 9 at
SM Megamall, SM Manila, SM Sta. Mesa, SM MOA, SM North EDSA, SM Fairview, SM Southmall at SM Bacoor.
The PR and distribution of "Maestra" is headed by controversial producer Shandii Bacolod. Do yourselves a favor and watch this award-winning film.
***
No, Maine Mendoza is not suspended from "Eat Bulaga" and is just on vacation. That came from Vic Sotto, one of the show's main hosts and the star of the filmfest entry "Meant to Beh" that will open on Christmas Day.
"I am not really in the know. I am not privy to anything that is Maine's personal decision. For me, whatever might be the problem, let us just respect the issues confronting her. Whatever it is that she might be going through, she is the only one who knows about it," said Vic at the presscon of "Meant to Beh" last Tuesday.
His interaction with Maine is very limited because they only see each other at the "Eat Bulaga" studio every Saturday. So Vic can't really comment if Maine has issues.
"We only see each other once a week. Personally, I don't feel that Maine is going through a problem or something," said the actor-producer.
Vic also said he is clueless when Maine is coming back to "Eat Bulaga," although he is certain that Maine is not suspended.
"If you wish to ask something about Maine, I guess it is best that you ask Mr. Tony Tuviera," referring to the big boss of TAPE. "There is no reason for her to be suspended in the first place. Mr. Tuviera respects the opinion of everyone in the show."
When asked on his opinion on the loveteam of Maine and Alden Richards, Bossing Vic said the screen partnership wil endure. "The loveteam will always be there so let us wait for further developments," said Vic.
As for his MMFF return, Vic said he is definitely happy. "I miss the parade of stars," he quipped.