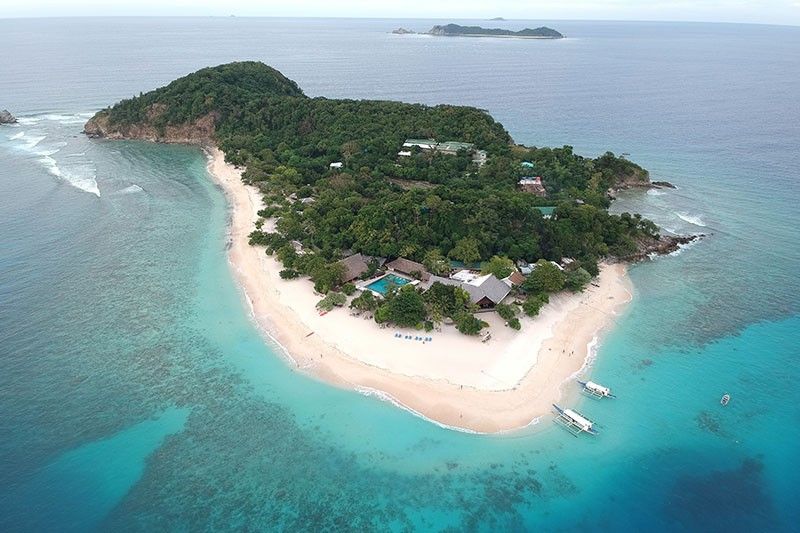 One of Palawan's treasured jewels is Coron. The island is blessed with a wealth of biodiversity. Maybe, one of the few places in the world where nature's harmony is best kept.
Photo By Ian Limpangog
CEBU, Philippines — Despite Cebu's "worldclassness" in the tourism segment, it has to have more sensational offerings to draw more tourists in – it being the gateway to the country's best destinations.
While it has become the doorway for the Philippine's treasures in tourism, Cebu has recently got another "ace" in tourism, as it added an important air access to the world's most talked about island in Palawan — Coron.
It is not hard to believe that including this world's sensational island to Cebu's loop, perhaps could make the greatest success story in the history of Cebu tourism.
Recently, Cebu Pacific Air re-opened its twice-daily flight direct to Busuanga, Palawan, a connection most young and old travelers, here and abroad, are dreaming to visit or revisit again and again.
Department of Tourism (DOT-7) regional director Shalimar Tamano said that with Cebu's position as the gateway to all the wonderful destinations in the Philippines, this is a "million-dollar" opportunity. A hub that makes the province the Philippine's epicentre of tourism, not to mention that it has the best airport in Asia.
"Cebu will bring tourists from different kinds of destinations. Slowly, we are making efforts to connect Cebu to the globe, and to the wonderful islands that we are proud to showcase to the world," Tamano continued.
The latest addition to Cebu tourism's winning cards is Coron, Palawan. From the world class Queen City of the South, travelers' can recharge their bodies' batteries with loads of negative ions, and where else? To the country's last ecological frontier—Palawan.
Coron
One of Palawan's treasured jewels is Coron. The island is blessed with a wealth of biodiversity. Maybe, one of the few places in the world where nature's harmony is best kept.
There are technically two Corons in the Philippines. One is the name of the largest town on Busuanga Island and another Coron, a smaller island 30-minutes offshore from Coron Town. Coron makes up the eastern half of Busuanga Island.
Coron is often listed as one of the top tourist places in the Philippines. Palawan, its mother province, was recently named the most beautiful island in the world. It is also home to Puerto Princesa's underground river, which was voted in 2012 among the seven new wonders in the world.
Palawan Island in general is recently becoming a big hit being mentioned in the Netflix's hit Spanish series "Money Heist". Now, everyone is looking at Palawan with its myriad of heaven-like islands and islets.
The heart of Coron
At the heart of this little paradise is a secluded island called "Dimakya Island" where the best of nature meets harmoniously with modern luxury. A good combination that suits the new bunch of tourists who yearn the comfort of modern day, but keeping the environment intact, in harmony with all the island dwellers—living or non-living.
This is how the Manila-based hotelier Discovery Hospitality Corporation transformed the island Dimakya, making it the heart of the sensational Coron.
Hidden among the group of islands and islets within Coron's jurisdiction, Dimakya Island is an oasis of luxury, a refuge for busy souls. A desired green and tropical retreat to anyone who wants to taste how it is like to live in a modern paradise.
Club Paradise Palawan is a luxurious resort, a lone resident of Dimakya Island, an island dotted along UNESCO Biosphere Reserve. It is a tropical paradise strategically located amid Coron's tourist attractions, exhilarating dive sites, and romantic getaways, or just plainly enjoy the downright serenity— hearing the voice of your soul (perhaps).
The resort's management led by general manager and captain of the island Joegil Magtanggol Escobar, takes every guest to arrive on the island to a new world of experience and beauty. People are authentically kinder. Animals roaming around are friendlier. Birds with stunning and technicolors dine with some of the guests (if you are lucky).
From the nature-starved cities like Cebu, a quick, if not a week of recharging to the source of energy is more than worthwhile. Pure Air. Balanced lifestyle. And the silence each of us needs—maybe once in a while.
Sustainability system is well in place. It uses the latest technology on desalination. The resort maintains its own organic farm. It develops its own eco conserve program such as Pet bottle project and Eco-brick making, among others. "Nothing is wasted from the kitchen."
Family adventure
Club Paradise Palawan has everything put together. It is designed to accommodate the entire family to enjoy the entire stay, without needing to go off the island. It's like our slightest idea of heaven—it has everything we need, and even want—trekking to the peak of the island to see the entire of sparkling blue ocean surrounding the island. More interestingly to savor the beauty of sunrise from the peak of the island.
Snorkelling on the other hand is another priceless experience—to see "Dugong" , sea turtles, and other sea creatures that might have vanished in other places and lots of activities a family could productively do together to refuel the bond.
Dimakya Island is also placed in the right location on earth, where anyone on the island can see the greatest show on earth—sunset, right in front of its quaint villas' patios, steps away from the beach.
At night, one can hear the universe roaring with its long-playing soundtrack of waves, and the sweet hum of birds on every pause.
There could be no other exciting adventure as the showcase of nature right in-front where you are standing, or hear them while you are half-sleep. Both young and old would surely want to extend their stay as long as they can.
Destination weddings
Cebu becoming an international destination wedding choice, could actually share with Coron's strength as a magnet for most one of the exclusive wedding locations.
Club Paradise Palawan has purposely adopted an islet called "Mapagalen" islet, a few minutes boat ride from Dimakya Island.
The islet is bare and lonely. There are only gorgeous formations of rocks and its powdery dirty-white sand. This is the favourite wedding locations of some famous showbiz personalities and the ultra rich foreigners, shared Escobar.
The islet has a certain exclusivity that even in a fine weather, a motor boat could hardly park on its shore. It has a metaphoric signal of profound soleness. Yet, the resort's personnel manages to stage a fairy-tale like wedding set up on an islet which rarely see a crowd.
The popularity of Palawan, as an island, has brought many wedding bookings to Club Paradise Palawan, In fact, next year the resort staff will be busier with 28 wedding bookings.
Meanwhile, the company also purchased another island another 30 minutes or more boat ride from Mapagalen Islet.
A little larger than an islet, this another lonesome piece of beauty surrounded by ocean called "Diatoy Island" is another hide-away for an exclusive "no holds barred" party or maybe a place to be alone and finding one's self. It has a function facility, enough to accommodate a group or more people to get wet and wild.
There are millions of reasons why Coron is becoming anyone's destination sensation—the famous twin lagoon, Malcapuya Island, Mt. Tapyas, Barracuda Lake, Maguinit Hot Spring, Coron Bay, and myriad of nature's beautiful display of wonders.
What is certain this time is Cebu is bound to make history if Palawan, Coron and other wonders and fun destinations in the Philippines will be added to its loop of routes.
Last year, Central Visayas fetched 8.099 million tourists in, a whooping 16 percent increase from 2017.
DOT-7 reported that the 8.099 million tourists contributed a total of P44.2 billion to the region's economy. About 77 of these tourists stayed in Cebu province.
The region remains to be the country's top tourism drawer, Tamano said.
With more and more destinations added to its portfolio of air connections, Cebu is poised to make another historical success. Who knows, its improved connection ( an hour and a half flight) to the wonder islands in Palawan is its winning card, this time.