PNVF's Fil-Am recruits feel pressure to win SEA Games gold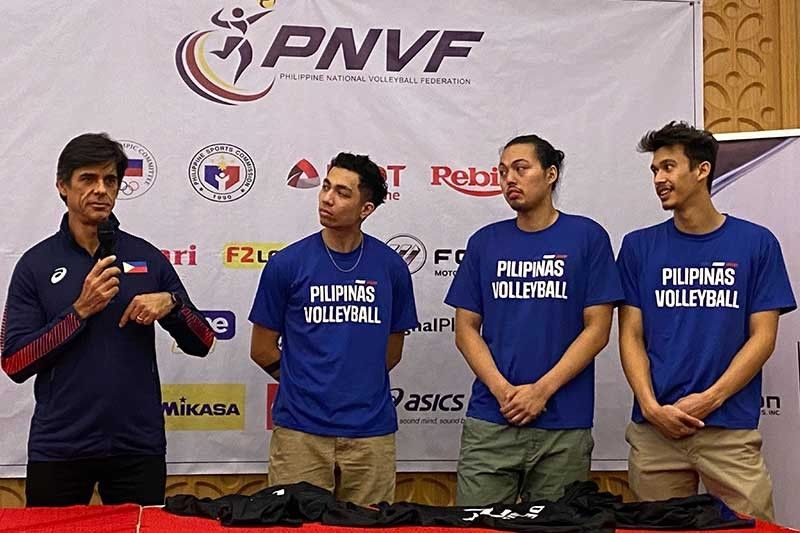 MANILA, Philippines — The Philippine National Volleyball Federation's latest recruits for the men's national team admit feeling the expectations of delivering the gold medal in the 32nd Southeast Asian Games in Cambodia this May.
Highly touted to revamp a national team which last won silver in the 2019 SEA Games in Manila, Steven Rotter, Cyrus De Guzman, and Michael Vicente recognized all the hopes of the country's volleyball community.
Along with a new coach in Sergio Veloso, Rotter said that SEA Games win is in the back of their heads even as they have yet to begin their preparations.
"I think there's a little pressure, knowing in 2019, you guys won the silver medal and you guys are always aiming to go bigger, go big or go home. So, pressure of having that gold medal in the back of our minds, puts a little anxiety for me," he told media during their introductory press conference at the Golden Bay Fresh Seafoods Restaurant in Pasay City on Saturday.
"But knowing the players we have, the new coach we just added, I think we have a good chance of competing in the SEA Games and hopefully achieving what everyone wants which is a gold medal," he added.
De Guzman, for his part, said that there are lofty goals for them heading into the program. Apart from raking in the medals, the former Volleyball League of America player also wants to banner men's volleyball across the country.
"They have big expectations for us but I think we're ready to live up and deliver. You know, our goal here is to win SEA Games but also just put Philippines volleyball on an international stage. You know, just raise the level, make it more popular here," he said.
Vicente, who is the youngest of the troika, said he remains focused on developing his skills as he aims to be the best version of himself for the national team.
The youngster is also mulling the opportunity to play collegiate volleyball in the country.
"For me, I'm trying to focus on training each day, getting better each day so that we're prepped and ready [for SEA Games]," said Vicente.
The national team is expected to travel to Japan soon for their training camp in preparation for the SEA Games.