Bolts score emotional victory for Black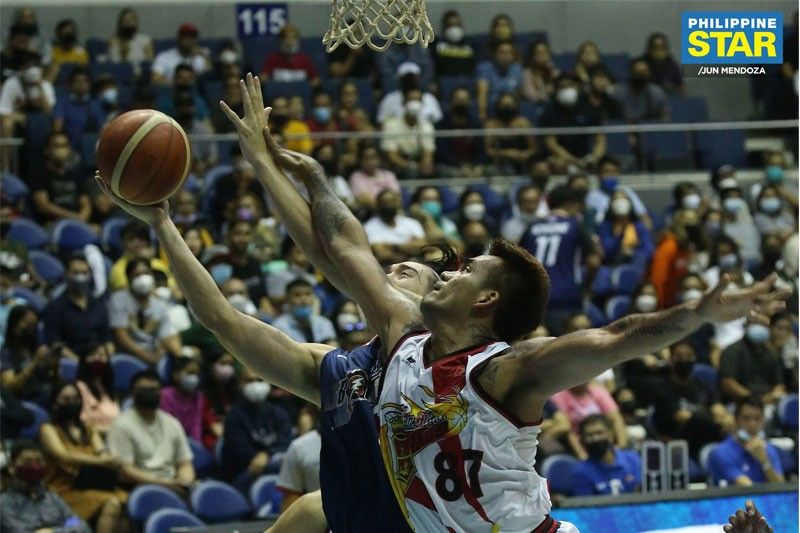 MANILA, Philippines — Meralco hacked out a gutsy 89-86 win over tournament leader San Miguel Beer and booked a ticket to the quarterfinals of the PBA Philippine Cup last night at the Smart Araneta Coliseum.
Allein Maliksi and Aaron Black, though in mourning, drained big hits in crunch time as the Bolts came up with an emotional victory dedicated to coach Norman Black, whose mother passed away in the United States.
Maliksi finished with 18 points including the go-ahead triple in the last minute before Aaron braved a heartache for his grandmother and put on the finishing touches with a huge trey of his own in the next possession.
The veteran gunner Maliksi fired four triples in all with Aaron unloading 15 markers, seven rebounds and five assists for the Bolts, who climbed to 6-4 and followed the Beermen (9-2), TNT (8-3), Ginebra (6-3) and Magnolia (6-3) to the playoffs.
Skipper Chris Newsome threw in a 16-5-5 statsline while Cliff Hodge (9) and Raymond Almazan (8) held the fort on the defensive end for the exhausted Meralco, which wrapped up its dreaded schedule against the San Miguel Corp. troika on a bright note.
Later in the night, quarterfinal-bound Barangay Ginebra got back on track in coach Tim Cone's return from his NBA Summer League stint, pummeling NorthPort, 100-93.
Scottie Thompson collected 23 points, 15 rebounds, eight assists, three steals and three blocks as the Gin Kings improved to 7-3 to assure their place in the best-of-three series. NorthPort slid to 3-7.
"Sometimes you need that little kick in the rear end that will help us in the playoffs. It would have been nice to be in Top Two but the big goal is the process and preparation," said Cone.
Meralco smothered rival Ginebra, 90-73, before falling just short against Magnolia in overtime, 97-88, in a hectic trip this week after a long layoff. The Bolts close out their elims stint against Terrafirma.
"We're all playing for coach Norman. He means a lot to our organization. He's a real best friend to me. To Aaron also, we thanked him, as he could easily be there (in the US) but decided to stay here para tulungan kami," said acting coach Luigi Trillo.
"Coach Norman is always in our thoughts and prayers. (This win) means a lot. He can take all the time he needs there and we'll have him back when he's ready," he added.
June Mar Fajardo (21) and CJ Perez (14) led the SMB under the tutelage of deputy Ato Agustin without tactician Leo Austria together with assistants Peter Martin, Jorge Gallent and Biboy Ravanes who are observing health and safety protocols.