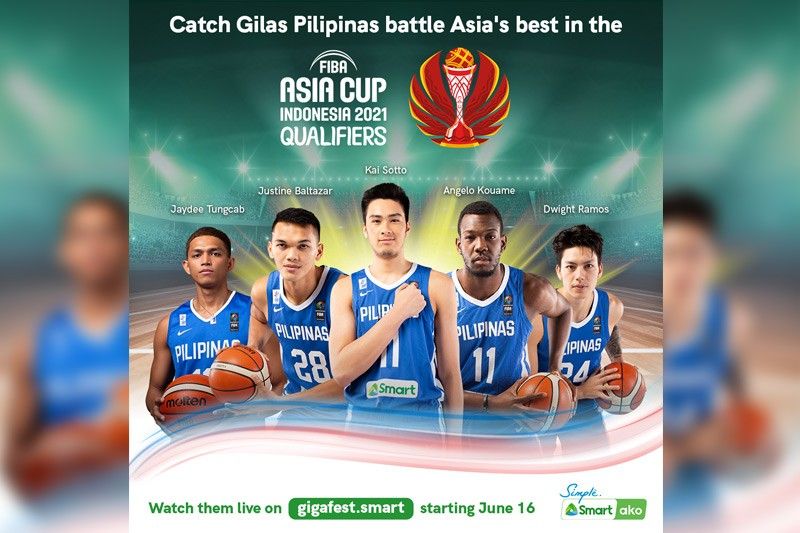 Smart Signature subscribers can also stream the show seamlessly on gigafest.smart.
Photo Release
Smart lets you watch Gilas Pilipinas' FIBA Asia Cup stint live via gigafest.smart
(The Philippine Star) - June 14, 2021 - 8:00am
MANILA, Philippines — Leading mobile services provider Smart Communications, Inc. brings high-stakes basketball action and the chance to rally behind our Gilas Pilipinas Men's National Team right at the palm of your hands for this week's leg of the 2021 FIBA Asia Qualifiers beginning June 12 at 9 p.m., Philippine time.
Catch Iran go up against Qatar in the first game, Saturday at 9 p.m., while Gilas debuts its 2021 lineup against familiar archrival South Korea on June 16 at 6 p.m.
"Filipino basketball fans like myself have waited a long time for this, and we are just as excited to have international basketball in our country again. We know at Smart that physical homecourt support is still not possible at this time, but we can maximize our virtual homecourt advantage by rallying behind our national team online," said Alfredo S. Panlilio, president and chief executive officer of PLDT Inc. and Smart Communications.
"We made sure that the game we all love makes it to the palm of every Smart subscriber's hand. This, of course, is made more special because we finally get to see our very own Gilas Pilipinas play for flag on the world basketball stage once again," added Panlilio, who is also president of Samahang Basketbol ng Pilipinas (SBP).
The Philippine team will also face Indonesia on June 18 at 6 p.m. before it wraps up its FIBA Asia assignment for this window vs South Korea again on June 20 at 3 p.m. Here's the full schedule of the FIBA Asia Qualifiers to be streamed via gigafest.smart:
June 12 - Iran vs Qatar (9 p.m.)
June 13 - Hong Kong vs Guam (9 p.m.)
June 16 - Japan vs China (2:30 p.m.) and Philippines vs South Korea (6 p.m.)
June 17 - South Korea vs Indonesia (2:30 pm) and Chinese Taipei vs China (6 p.m.)
June 18 - Japan vs Chinese Taipei (2:30 p.m.) and Philippines vs Indonesia (6 p.m.)
June 19 - China vs Japan (2:30 p.m.) and Thailand vs South Korea (6 p.m.)
June 20 - Indonesia vs Thailand (11:30 p.m.), Philippines vs South Korea (3 p.m.), and China vs Chinese Taipei (6:30 p.m.)
The venue for the games will be the Clark Bubble in Pampanga.
The Philippines currently leads Group A with a 3-0 record followed by Korea with 2-0, while Indonesia and Thailand are tied with 1-2 records each. Only two teams from each group will advance to the 2021 FIBA Asia Cup set in August to be hosted by Indonesia.
Stream FIBA Asia live via gigafest.smart
No matter where you are, you can catch the games live and on-demand on your Smart-powered device. If you are a Smart Prepaid subscriber, simply turn on your mobile data and visit gigafest.smart on your browser to watch the show.
For the best streaming experience, you can register to Double GIGA Video 99, which gives you 2 GB data every day for YouTube, Cignal, iWant, and NBA League Pass plus 2 GB of open access data, valid for 7 days. To register, just choose Double GIGA Video on the GigaLife App, or dial *123# on your smartphone.
Smart Signature subscribers can also stream the show seamlessly on gigafest.smart.
Philippines' fastest mobile data network
Basketball fans can get the best streaming experience with Smart, the country's fastest mobile data network as reported by third-party mobile internet analytics firms such as Ookla® and Opensignal.
Ookla, the global leader in internet testing and analysis, named Smart as the country's fastest mobile data network in the second half of 2020 after it achieved a Speed Score™ of 24.99, with average speeds of 20.08 Mbps for download, and 7.42 Mbps for upload, based on 3,915,679 user-initiated tests taken with Speedtest®. Ookla has also cited Smart as the country's fastest mobile data network for three years in a row now.
On the other hand, Smart has scored a rare sweep in the April 2021 Philippines Mobile Network Experience Awards* by independent analytics firm Opensignal, beating the competition across all metrics in three essential aspects of service: Coverage (4G Coverage Experience, 4G Availability), Speed (Download and Upload Speed) and Experience (Games, Video and Voice App). This is the first time an operator in the Philippines won decisively in all categories.
Smart also enables subscribers to enjoy their favorite content seamlessly with Smart 5G, the fastest 5G network in the Philippines by Ookla. Based on consumer-initiated tests taken using Speedtest® by Ookla, Smart has consistently posted the fastest 5G speeds for Q1 2021, with median download speeds of 190 Mbps – more than double the competition's speeds for the same period.
For updates on Smart's products and services, follow Smart's official social media accounts on Facebook, Twitter, and Instagram.
*Opensignal Awards – Philippines: Mobile Network Experience Report April 2021, based on independent analysis of mobile measurements recorded during the period January 1 – March 31, 2021 © 2021 Opensignal Limited