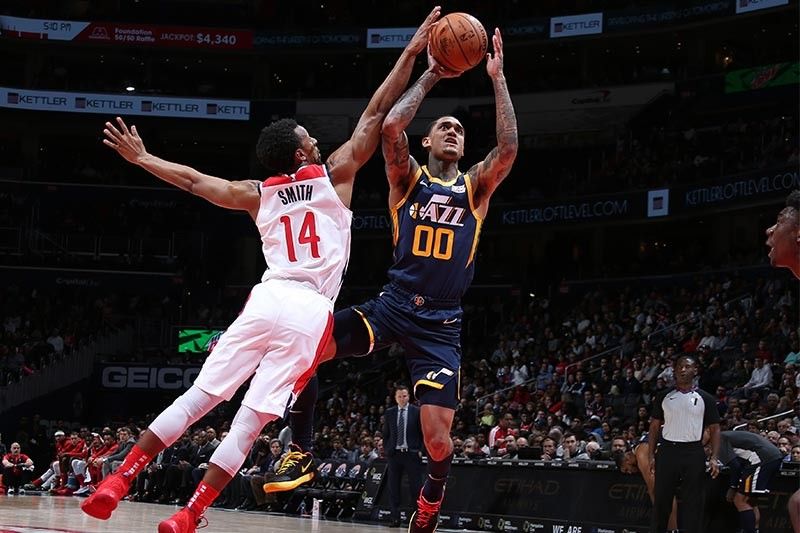 Jordan Clarkson of the Utah Jazz shoots the ball while Ish Smith of the Washington Wizards plays defense during the game on January 12, 2020 at Capital One Arena in Washington,
Stephen Gosling/NBAE/Getty Images/AFP
Report: Jordan Clarkson signs $52M extension with Utah Jazz
MANILA, Philippines — Filipino-American player Jordan Clarkson has extended his stay at the Utah Jazz, per a report from ESPN's Adrian Wojnarowski.
A free agent this offseason, Clarkson and the team agreed to a four-year, $52M contract with the Jazz where he made an impact until the squad's push in the post season.
After being traded from Cleveland before the All-Star break earlier this year, Clarkson played a total of 42 games in the season.
The 28-year-old made his presence felt with the Jazz fresh from the trade with the squad going on a winning streak directly following his arrival.
Though he came off the bench, Clarkson was a reliable scorer for Quin Snyder, posting the norms of 15.6 points per outing in his 42 appearances for the Jazz.
According to Wojnarowski, the Jazz were "determined" to re-sign Clarkson and worked to create cap space for the lengthy extension.
Jazz were determined to re-sign Clarkson after his trade from Cleveland last season. He became an elite bench scorer for Quin Snyder: 15.6 PPG in 42 games. https://t.co/E3UNSrUzIy

— Adrian Wojnarowski (@wojespn) November 21, 2020
Clarkson and the Jazz made it to the first round of the Western Conference Playoffs where they slugged it out with the Denver Nuggets in a seven-game series before ending their season in the NBA bubble.