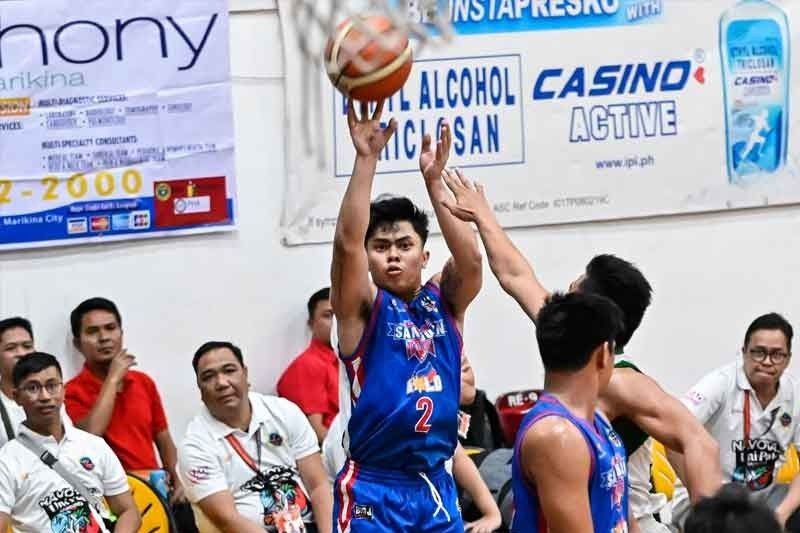 San Juan-Go For Gold
Released/File
Pampanga 5, San Juan gain head start
MANILA, Philippines — Reigning champion San Juan-Go For Gold and Pampanga-ADG Group of Companies drew first blood against their respective foes in the first round of the Chooks-to-Go/MPBL Lakan Season playoffs at the Filoil Flying V Centre in San Juan.
The Knights survived a gritty challenge by their Pasay rivals, 75-74, while the Lanterns took a tough 71-64 win over Bataan in the kickoff of the North Division best-of-three quarterfinals series.
PBA-bound Mike Ayonayon got 15 points, five assists and two steals, Jhonard Clarito made 13 markers and nine boards while John Wilson added 11 markers, eight boards and three steals to lead San Juan.
Despite the roaring homecrowd, No. 1 North Division squad San Juan encountered heavy resistance against the visitors before Wilson sprang to life after a dismal first-half performance with a timely trey in the last minute to cap their comeback from a nine-point fourth-quarter deficit.
Clarito then sealed the deal in the waning seconds with insurance freebies as Ronnel Lastimosa's buzzer-beating trey hardly mattered for the eighth-seeded Pasay.
"We preached defense. That's No. 1 for us. Credit to the boys, they did not give up," said coach Randy Alcantara.
Fourth-ranked Pampanga likewise took care of business despite nearly losing a massive 30-point edge behind Levi Hernandez (19), Reil Cervantes (13) and Jeric Fabian (10).