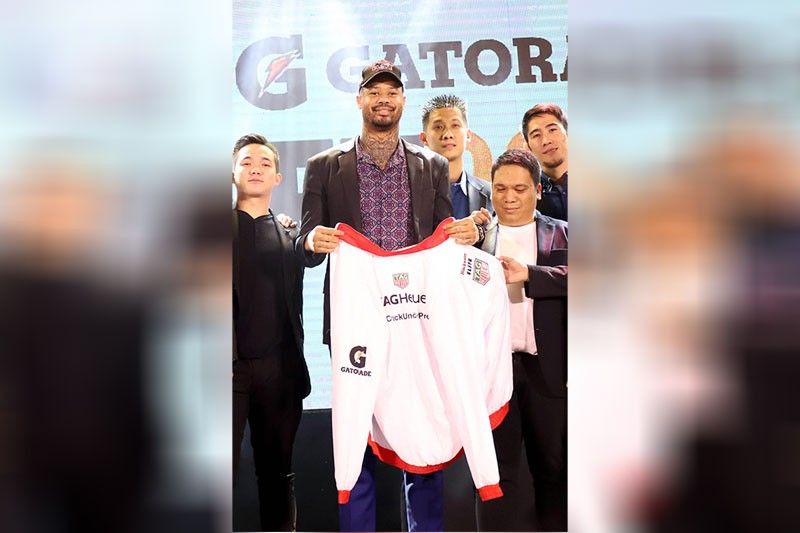 It's 'Shawtime' at Blackwater
MANILA, Philippines — When Blackwater's Maurice Shaw makes his PBA debut in the coming season, he'll be the second oldest rookie ever in the league's 45-year history after Manny Pacquiao, and the 6' 8", 260-pound Biñan-born center said yesterday it's a blessing to finally play in his late mother's homeland.
"I was the youngest ever to play for the Harlem Globetrotters at 20 in 2005 so I'm OK with being the second oldest rookie ever in the PBA," said Shaw who turned 35 last month. "I was born in Biñan but left the Philippines when my father, who served in the US military, was reassigned to Germany and I was one or two years old. I didn't get to go to the US until I was six or seven. It's only been in the last five years that I started to visit Manila and reconnect with my Titos, Titas and cousins. To be honest, I had no knowledge I could play in the PBA as a local until the Filipino players in the Thai league where I played for three seasons told me about it."
Shaw said his experience is an advantage. "Actually, I don't feel that old," he said. "I'm just glad to be here. After high school, I applied for the NBA draft but wasn't taken. I tried out with the Seattle SuperSonics under coach Nate McMillan and practiced with guys like Ray Allen and Rashard Lewis. It didn't work out because their lineup was loaded."
Shaw played five years of high school basketball then threw his hat in the NBA derby, hoping to follow in the footsteps of Kobe Bryant, Andray Blatche and LeBron James who went from the prep ranks straight to the pros. When the NBA option fizzled out, Shaw played in the junior college preseason with Hutchinson Community in Kansas then decided to join the Globetrotters in 2005. His famous Harlem teammate was showman Kevin (Special K) Daley. From the Trotters, Shaw played in Portugal and several US semi-pro leagues. He took a break from basketball to learn mixed martial arts with Nick Diaz in 2010 and later, joined the football training camps of the Seattle Seahawks and Oakland Raiders. In 2016, he came close to play for Maccabi Tel Aviv in the Israel league but injured his hand. Shaw recovered from the injury and was invited to play in Thailand where he stayed for three years.
While he was in and out of pro sports, Shaw kept busy in business, dealing in stocks and running an exotic car rental agency with a fleet that included a Rolls Royce, Aston Martin and Maserati. His journey around the world eventually led him back to where he was born.
"In the Philippine Cup, I'll play center for Blackwater but when the imports come in the next two conferences, I'll probably slide to three or four," he said. "Coach Nash (Racela) is doing an awesome job with his equal opportunity system to give everyone a chance. I think we'll surprise a lot of teams if we continue working hard and playing together. I'll try to go up and down with the guys so we can do early offense before the defending bigs can set up. I love all my guards. They feed me the ball on the court and I'll feed them off the court with a nice dinner. Kidding aside, our guards are great, they're shooting the three well, pushing it up, playing defense. Guys like Roi (Sumang) and Paul (Desiderio) are getting it done. Our goal is to make the playoffs then we'll see how far we go."
Shaw said he's looking forward to reuniting with his nine-year-old daughter Tres-chere. "She's in school in Dallas where my dad lives," he said. "I hope late in the first conference when she has a break from school, she can come over to Manila." Shaw's father, Fernandez Shaw, is of Cuban descent. His Filipina mother, Eduarda Escovina, has passed away.